Location
Royal Suite, Crowne Plaza Hotel
Wollaton Street
Nottingham
NG1 5RH
United Kingdom
REAMIT: Improving Resource Efficiency of Agribusiness supply chains by Minimizing waste using Big data and IoT sensors
About this event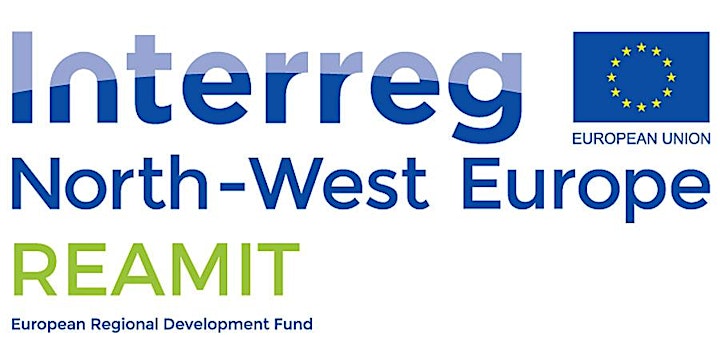 REAMIT NETWORKING SYMPOSIUM 2020
We are inviting you to the REAMIT Networking Symposium on 9th Jan 2020 focusing on minimising food waste in agribusiness supply chains, across North West Europe.
The symposium is arranged by Nottingham Trent University, who are partners in the project. This is being organised as part of the large European project (www.reamit.eu) funded by the Interreg NWE programme.
This Symposium is aimed at Agribusiness stakeholders, IoT practitioners, Academics and those from the Agri-food supply chains.
Our speakers will include some of our project partners, namely Dunbia (IR), Levstone (UK) & Images & Reseaux (FR) as well as our Project Lead, Prof. Ram Ramanathan from the University of Bedfordshire, will be conducting a brainstorm workshop .
This Symposium is an opportunity for those who want to:
• Build networks within the Food Supply Chain industry
• Explore common challenges in reducing food waste
• Understanding the importance of IoT and Big Data technologies in food supply chain
• Promote collaboration and networking
Event Details
Date: Thursday, 9th of January 2020 from 9:30am - 5pm
Location: Crowne Plaza, Nottingham NG1 5RH
Admission: FREE - PLEASE REGISTER YOUR ATTENDANCE ON THIS LINK.
A two course lunch and refreshments will be provided throughout the event. Please let us know if you have any specific dietary requirements
_______________________________________________________________________________________
REAMIT is a project funded by Interreg NWE, Improving Resource Efficiency of Agribusiness supply chains by Minimising waste using Big Data and IoT sensors. This project will bring food, logistics and technology sectors together to achieve food waste reduction in North West Europe region. REAMIT involves five countries namely United Kingdom, Ireland, France, Germany and Netherlands. This project ends in June 2022.
If you'd like more information on REAMIT, visit our website , or get in touch with the team at reamit4nwe@gmail.com , or 0115 848 3065.
Full Agenda
09:30 - 10:00
Registration & Coffee
10:00 - 10:05
Welcome Prof. Usha Ramanathan- Communication Lead, Nottingham Business School
10:05 - 10:20
Presentation on Interreg North West Europe Programme 2014-2020 and its projects Gerry Bradley, UK Contact Point, NWE Interreg Programme, Ministry of Housing, Communities and Local Development, UK
10:20 - 10:45
Introduction to the REAMIT Project and the Symposium Prof. Ram Ramanathan- Project Lead & Katarzyna Pelc- Project Manager, University of Bedfordshire, UK
10:45 - 11:45
Presentations by REAMIT partners
Valorial, France - Making the agri-food sector of western France, the home of smarter food
Ulster University, Northern Ireland- Environmental sensors as an indicator of meat quality in cattle: A pilot study
Levstone, UK - Future Trends: Express Parcel Super Hubs
University of Nantes, France - Evaluation of the impact of bad storage (temperature) on the chicken meat quality by Raman Spectroscopy
11.45 - 12:10
Tackling supply chain food waste
Harriet Illman, Senior Sustainable Food Consultant, ADAS, UK
12:10 - 12:30
How IQRF wireless mesh network can help with waste management
Simon Chudoba of the IQRF Alliance, UK
12:30 - 13:30
Lunch & Exhibition
13:30 - 13:45
Welcome note and Introduction to Nottingham Business School
Prof. Baback Yazdani – Dean, Nottingham Business School, UK
13:45 - 14:15
Quality control of fresh agro products with gas sensing technologies
Dr. Frans Harren- Institute of Molecules and Materials, Radboud University, Netherlands
14:15 - 14:45
Motivation and achievements of the FoodHeroes project
Dr Chris Bishop- University of Lincoln, UK
14:45 - 15:00
Sustainable Agriculture through Innovative Vertical Farming
Prof Chungui Lu - Professor in Sustainable Agriculture, Nottingham Trent University
15:00 - 15:30
Coffee and Exhibition
15:30 - 16:15
Brainstorming Session- The challenges in minimizing Agri-food waste using innovative technologies
Prof. Ram Ramanathan- Project Lead & Katarzyna Pelc, Project Manager- University of Bedfordshire, UK
16:15 - 16:30
Closing
16:30 - 17:00
Networking, exhibition and refreshments
Tranportation & Travel Details
Please click on this link for details on travelling to this venue.
Parking is available on site.