Description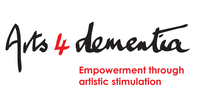 Summary
"Starting Dementia Friendly Arts Activities at the point of diagnosis could bring a new level of support to those living with dementia and also improve their symptoms and overall wellbeing." (Dr Paul French, NHS Dorset CCG)
Arts 4 Dementia Symposium, in association with Canterbury Christ Church University, Bournemouth University and Arts University Bournemouth, to launch an arts and heritage programme for dementia, with a framework to integrate the arts into dementia care services in Dorset. Dementia-Friendly guidance will be presented for arts & heritage organisations. Arts packs for dementia will be available for clinicians, memory and care services, with countywide listings by dementia need - also available from 21 September at arts4dementia.org.uk.
Suitable for
GPs, clinicians, Alzheimer's Society, memory, adult and social care services - all involved with diagnosis of dementia and post-diagnostic support
Dorset Dementia Partnership
Adult social care, local councils, older people programmes
Arts and heritage organisations - learning and participation (including the performing arts)
Arts facilitators - actors, artists, craftspeople, dancers, musicians, poets, sculptors
Churches
Libraries
National Trust
Nature reserves and Wildlife Trusts
Age UK
Carers groups
Families affected by dementia
Universities
_____________________________________________
Symposium times
9.30am registration for a 10am start. Symposium runs 10 am - 4 pm.
_____________________________________________
Aim of the day
The Symposium presents Dorset's wide-ranging arts and heritage opportunities to inspire people affected by dementia. A framework for the integration of artistic stimulation into Dorset's Memory Gateway and NHS England's Well Pathway for Dementia will be discussed, so that diagnosticians can in future direct patients to effective artistic programmes, at the same time as learning that their brain is degenerating, with at present no hope of a cure. We shall demonstrate how arts help prevent onset of dementia and override symptoms to preserve active life in the community for longer.
_____________________________________________
Programme
9.30 am - Registration & Networking
10 am - Stephen Wrentmore, Artistic Producer, The Lighthouse.
10.10 am - Alex Coulter, Director, Arts & Health South West
10.25 am - Veronica Franklin Gould, President, Arts 4 Dementia "Reawakening: Arts & Heritage versus Dementia in Dorset"
10.40 am - Reawakening - Dorset arts programmes for mild memory loss and early-stage dementia:
Art at Dorset County Museum (Emma Talbot, Head of Education)
Creative Dance with Pavilion Dance South West (Lisa Lort, Participation Producer)
Intergenerational drama at Arts University Bournemouth (Jonny Hoskins,Senior Lecturer, Jon Nicholas, Workshop Leader)
Choir & Organ, St Peter's Church, Bournemouth (T

imothy Rice, Organist)
11.40 am - Refreshments & Networking
12 pm - Joanna Malyon, Dorset Services Manager, Alzheimer's Society "Dementia-Friendly Arts & Heritage"
12.20 pm - Dorset Arts & Heritage for Dementia:
Julie Plumley, Founder and Director, "Future Roots"The Countrymen's Club
Julie Freeman, Development Librarian, Dorset Libraries
Lisa Tregale, Head of Education and Participation, Bournemouth Symphony Orchestra
12.55 pm - Nigel Franklin , Chief Executive, Arts 4 Dementia "How to find and post arts & heritage venues and events for dementia on arts4dementia.org.uk"
1.10 pm - Lunch
1.55 pm - Dr Trish Vella-Burrows, Deputy Director, Sidney De Haan Research Centre for Arts & Health "The Reawakening Integrated Arts & Heritage Framework"
2.15 pm - Discussion Panel, chair Alex Coulter
Siobhan Hann, Commissioning Manager Adult Community Services, Dorset County Council
Diane Bardsley, Principal Programme Lead, Mental Health, NHS Dorset CCG
Dr Trish Vella Burrows, Sidney De Haan Research Centre for Arts & Health
Joanna Malyon, Dorset Services Manager, Alzheimer's Society
3 pm - Dorset Arts & Heritage for Dementia:
Hazel Peperell, Volunteer Ranger, Durlston Country Park and Nature Reserve
Phil Hallett, Chief Executive, Coda Music Trust
Sarah Rampton, Peer Support Group Facilitator, Alzheimer's Society "Step Outside" Allotment Gardening at Kingston Lacy
Anna Shiels, Arts Programme Manager, The Borough of Poole Arts Service
Hilary Foggo, Reach Out Development Officer, "Sing On! - Melodies for Memories", Age UK
4 pm - Ends
_____________________________________________

Venue
Function Room 2, The Lighthouse, 21 Kingland Road, Poole BH15 1UG.
Refreshments
Tea and coffee will be available on arrival and mid-morning. A light lunch will be served.
Refunds
Arts 4 Dementia is not able to offer refunds at this stage.
_____________________________________________
Contact

For further details, please contact Beth Stansfield, Reawakening Administrator at beth@artsdementia.org.uk, 0208 7805217.