Description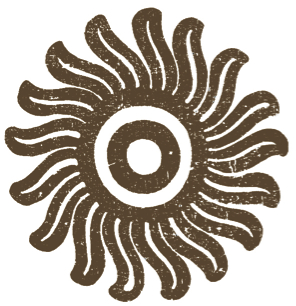 REBECCA HOSSACK ART GALLERY PRESENTS A FOUR DAY EXHIBITION AND SEATED EVENING PERFORMANCES
Tallulah Rendall - The Banshee And The Moon Exhibition, Book Launch & Performances
From 28th May - 31st May 2014 Tallulah Rendall will be celebrating the release of her third album & book, The Banshee And The Moon at Rebecca Hossack Art Gallery on Conway Street, London.
There will be an exhibition of the album's photographs as well as performances each night from Tallulah.
There will be a book reading and book signing on 31st May from 3.30 - 4.30pm. Enjoy a cup of Pukka Herbal Tea as Tallulah reads excerpts from the book.
The performances will be seated so please reserve your seat by selecting a free ticket for the day you wish to attend.
The gallery is open from 10 - 6pm daily.
The events will beginning each evening at 6pm.
Performances will be prompty at 7 - 8pm.
ON THE NIGHT - please bring..
A SET OF HEADPHONES....
Please also DOWNLOAD A FREE QR CODE READER FOR YOUR PHONE all will be revealed on the night.
For iphones https://itunes.apple.com/us/app/quick-scan-qr-code-reader/id483336864?mt=8
For Android phones https://play.google.com/store/apps/details?id=me.scan.android.client&hl=en
REMEMBER to bring some pennies or a cheque book... Available to buy on the night will be:
Limited Edition Signed Copies of the Exhibition Photographs
Limited Edition Signed Copies of The Banshee And The Moon Book & Album £15
Limited Edition Signed Copies of The Banshee And The Moon Vinyl £20
Signed Copies of Alive Book & Cd, Tallulah's second album £15
Signed Copies of Libellus Book & Cd, Tallulah's first album £15
The nearest tubes are Goodge Street and Warren Street
Any questions please email Tallulahrendall@googlemail.com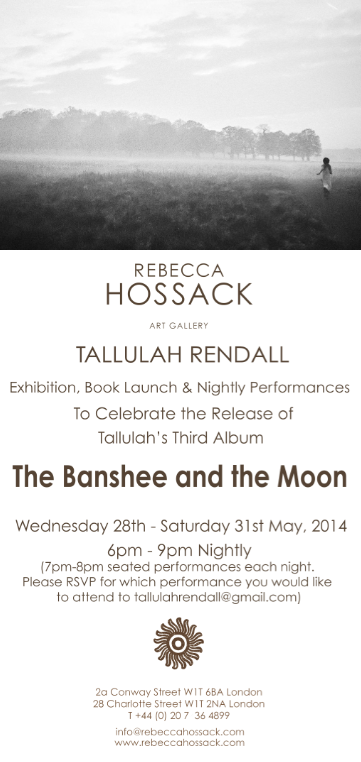 Organiser of Rebecca Hossack Art Gallery Presents Tallulah Rendall: The Banshee And The Moon Exhibition, Book Launch & Seated Nightly Performances
Tallulah Rendall is a Singer-Songwriter, Multi-instrumentalist, Producer, Sound Therapist, Qi Gong Teacher & Creative Facilitator.
To date she has crowd funded, released and toured worldwide four albums.  All within hardback books containing original artwork & on vinyl:
Libellus (2009), Alive (2011), The Banshee And The Moon (2014) and The Liminal due for release 2018.
In 2014 she began holding Wild Singing Workshops, Sound Journeys, Song-Writing Workshops, 1-2-1 Sound Therapy Sessions and Qi Gong Classes. 
Combining techniques from her studies at: the British Academy Of Sound Therapy, the Qi Gong Shiatsu College, in the jungles of India & Costa Rica and a lifetime of working with sound and energy; Tallulah holds a deeply heartfelt space which facilitates deep transformation.
She travels worldwide with this work and currently works in collaboration with the following:
Life Retreat Studio (Cape Town)
The Bristol Bravery School (UK)