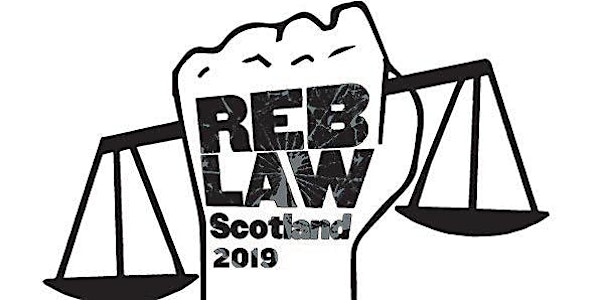 RebLaw Scotland Conference 2019
Event Information
Location
Sir Alexander Stone Building
University of Glasgow
Glasgow
G12 8QL
United Kingdom
RebLaw Scotland will be hosting our second rebellious lawyering conference at the University of Glasgow on Saturday 9 February 2019.
About this event
RebLaw Scotland was set up in 2017 with a view to looking at how law can be used as a tool for social justice in Scotland. We held our first conference in 2017 and are delighted to be partnering with the University of Glasgow once again in 2019.
This year we have speakers from practice, academia and the third sector discussing a range of social justice. The conference programme is as follows:
Registration 11—11.30
Welcome from RebLaw Scotland 11.30 - 11.45
Breakout Session 1 11.45—12.30
"Children's rights and the incorporation of the UNCRC into Scots law "
Prof. Jane Mair, University of Glasgow
Nicola Gilchrist, Advocate
Kara Brown, Office of the Children and Young People's Commissioner Scotland
"Workers' rights in the gig economy "
Michael Briggs, Thompsons Solicitors
Dr. Eleanor Kirk, Work on Demand Project
Dee Flanigan, Thompsons Solicitors
"Funding and conducting public interest and strategic litigation"
Jen Ang, JustRight Scotland
Lindsey Reynolds, Equality and Human Rights Commission
Lunch 12.30 - 1.15
Tea and coffee will be available—in keeping with our 'make do' spirit, please feel free to bring a packed lunch and join in the discussion and networking!
Breakout Session 2 1.15 - 2
"Law and vulnerable communities"
Joe Bryce, Advocate
Ryan McCuaig, Activist, Who Cares Scotland Board Member and Diploma Student
Nicola Loughran, Loughran & Company
Angus McIntosh, Castlemilk Law and Money Advice Centre
"Migration rights and the movement of people in 2019"
Andrew Sirel, JustRight Scotland
Sarah Craig, University of Glasgow
Michael Ross, Ethnic Minorities Law Centre
"Freedom of speech, religion and equality law: a discussion of the Ashers bakery case"
Dr Catriona Cannon, University of Glasgow
Prof. Nicole Busby, University of Strathclyde
Breakout Session 3 2 - 2.45
"Innovative approaches to obtaining justice for victims of sexual crimes "
Sarah Crawford, JustRight Scotland
Sandy Brindley, Rape Crisis Scotland
Chloë Kennedy, University of Edinburgh
Sharon Cowan, University of Edinburgh
"Lawyering for the right to quality housing"
Fiona MacPhail - Principal Solicitor, Shelter Scotland
Dr Nick McKerrell, Glasgow Caledonian University
David Hanson, Living Rent
"Challenges in the Scottish criminal justice system"
John Scott QC, Solicitor Advocate
Shelagh McCall QC, Advocate
Final Session 245 - 330
"Rebel Lawyers in Action"
Usman Tariq, Advocate and founder of SEMLA
Jordan Daly, TIE Campaign
Dr Javier Solana, Glasgow University GO Justice
Katy MacAskill, RebLaw Scotland
Closing Remarks 3.30 - 3.45
RebLaw is a concept developed by US lawyer and UCLA academic Gerald Lopez. A vocal campaigner for marginalised groups, Lopez has dedicated his career to "rebellious lawyering". From his work came Yale Law School's annual RebLaw conference, the largest student-run public interest conference in the US. In 2016 RebLaw came to the UK for the first time, hosted by the University of Law in London. This is now an annual event.
On the day, please bring along your tickets - either in paper form or in the Eventbrite app. Please note you will not be allowed into the lecture theatre with large bags - so please do not bring any large bags or backpacks to the event.
Date and time
Location
Sir Alexander Stone Building
University of Glasgow
Glasgow
G12 8QL
United Kingdom