REBOOT. RECOVER. GROW. 1-hour, confidential, 1:1 Business Advice Session
Our 1:1 advice sessions are now available REMOTELY via Skype / Zoom / Teams to support you and your business to REBOOT, RECOVER & GROW.
About this Event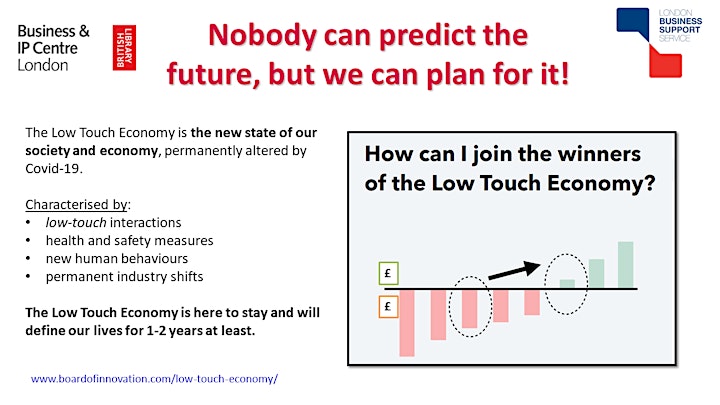 Looking for impartial business advice and support to help you navigate the post-Covid 'new normal'?
Then attend the highly rated LBSS Business Advice Session at The British Library Business & IP Centre, London. This is a great opportunity for you to discuss for one hour your business at a confidential, 1:1 meeting with an experienced business advisor.
Suitable for entrepreneurs and business owners who:
Need help developing a customer-focused business strategy
Have started a business, and want to overcome barriers to growth
Are not sure what steps to take next to rebuild their business
Need advice with business structure and funding to recover and grow
Have a specific idea and want to bounce thoughts off an experienced business advisor
Are running an established business and are having growing pains  
Our client engagement processes and outcomes are under-pinned by the Business Model Canvas – the world's most popular strategic management and entrepreneurial business tool-set used extensively by start-ups, early-stage companies, business owners and corporate teams (www.strategyzer.com).
All Senior Advisors from LBSS have started and run their own businesses, and the advice and business planning support you receive from us is therefore based on practical business experience!
Terms and Conditions:
A purchased ticket is only valid for use during the specified date and time it has been allocated and booked under. It will be refunded if the booking is cancelled in writing with more than 7 working days notice provided (excluding session day). Unfortunately, we are unable to offer a refund if we receive less than 5 working days written notice (excluding session day). Additionally, no refunds will be made on failure to attend the Business Advice Session.