This session will give you the tools to gain insight on how to cope with life's challenges
About this event
The webinar will be delivered by Victoria English and is funded by the Unite Union Wales Union Learning Fund
Webinar overview:
This session will give you the tools to gain insight on how to cope with life's challenges. Through use of the GROW coaching model participants can be energized to take action. Then create the plan to make sustainable change towards achieving the life you want. It helps you plan where you want to go in life and keeps you motivated to turn your vision of your future into a reality
• Be able to understand how to self-coach using the grow model.
• Be able to create an action plan to drive forward the changes you wish to make for a positive future.
UNITE REBOOT RECOVERY WORKSHOPS
The Unite Reboot & Recovery programme has been developed to support older people in the 50+ age bracket and are centred on building emotional resilience and recovery from setbacks.
They will empower the individuals with the tools to understand their mental health and give strategies to boost wellbeing. They will analyse how to build confidence and a growth mindset. Looking at goal setting and visualisation to plan a positive future, As well as developing self-coaching skills to build momentum and make positive changes in life.
Online Training Delivery
Once you have registered you will be sent an invitation to join the course via ZOOM. This is a FREE and easy to use online training/chat platform - a bit like Skype.
You'll need access to a computer or laptop with a microphone/webcam. You can also join via the ZOOM app on your smartphone or tablet, although the computer version is preferable.
Please log in to the training 5 minutes beforehand to allow the training to start on time
Adult Learners Week 2021
To Celebrate Adult Learners Week 2021 taking place from 20th to 26th September, the Unite the Union Wales Union Learning Fund (WULF) project has arranged a number of free courses.
Please take a look at our full range of courses on offer by visiting our home page https://unitewulf.eventbrite.co.uk/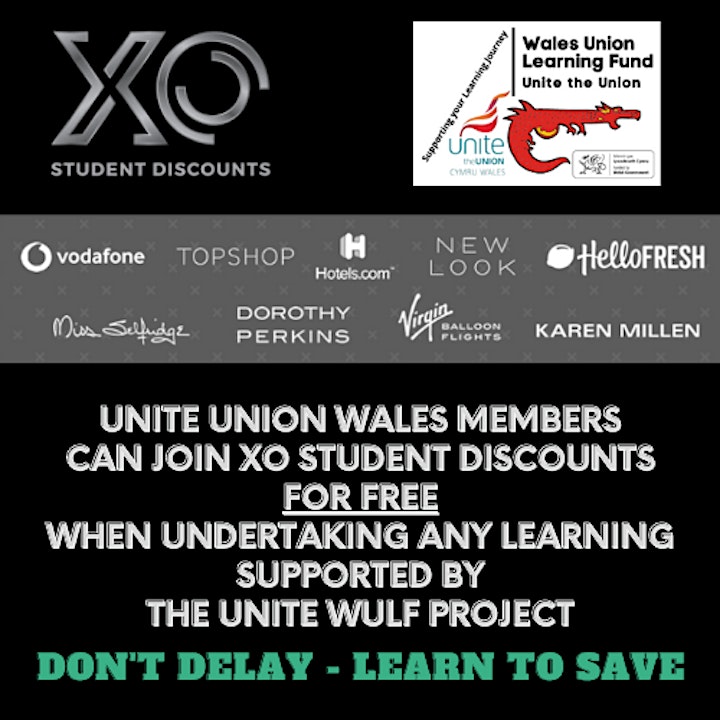 Student Discount
If you are a Unite the Union member living in Wales, who undertakes any training supported by the Unite WULF project, you can join XO Student Discounts For FREE.
Click HERE to join and select "Unite Wulf Project" as your place of study
Not a member then ......
Join Us
If you are not a member of Unite the Union, you can join by clicking HERE to access additional benefits and support as part of your Union Membership.
Follow Us
Please follow the Unite WULF social media feeds for the latest updates on training offers and courses:
Facebook: https://www.facebook.com/UniteWalesLearning Click here
Twitter: https://twitter.com/UniteWulf Click Here
Contact Us
If you have any questions, please contact the Unite Wales Learning team: learnwithunite.wulf@unitetheunion.org
About the Speaker
Award winning speaker, lecturer and Mental Health consultant specialising in Mental and Emotional Health, Special Educational Needs and Corporate Wellbeing.
After lecturing in Further Education for 25 years from Corporate Mental Health Programmes. A level Social Sciences to teaching students with profound to moderate learning disabilities. I am able to comprehend the complex nature of ensuring good mental health and wellbeing in those around us.
I believe that wellbeing comes before success and as such if we want to ensure employee engagement or academic achievement it is imperative we address the fundamentals of good mental health, resilience and wellbeing first.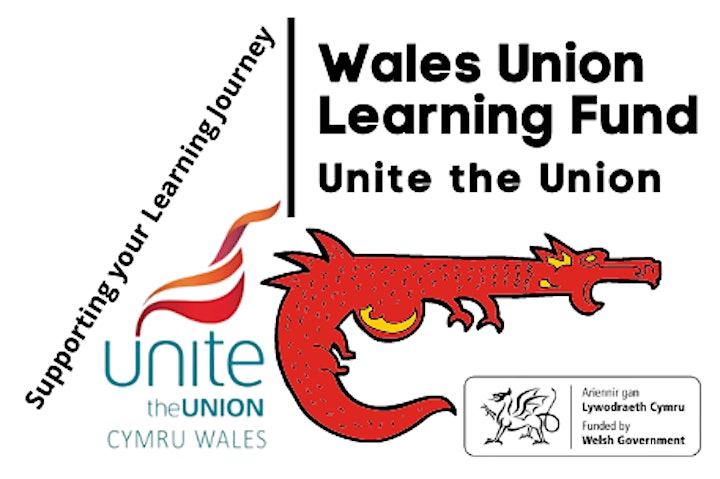 A Note About Data Collection
This training is funded by the Welsh Government funded Wales Union Learning Fund (WULF) project.
Please note that, for you to receive support from the WULF project, we are required to collect specific information from you during the registration process. This information is collected for project monitoring and evaluation purposes only.
You can view the privacy notice by clicking HERE
Get in touch with learnwithunite.wulf@unitetheunion.org prior to making your booking should you have any queries or questions about providing the information requested.
Organizer of Reboot & Recovery: HOW TO SELF COACH TO GENERATE POSITIVE CHANGE
The Unite Wales Union Learning Fund (WULF) Project is funded by Welsh Government.
The purpose of the fund is to help people living and working in unionised workplaces in Wales access support, advice and funding for vocational training and personal development.
Unite WULF covers all of Wales and most sectors where there are Unite members and has helped thousands of workers and union members to upskill and be job ready.
We organise a broad range of training including Health & Safety, Mental Health and Wellbeing, literacy. numeracy and digital skills training, and any qualifications that will help you to progress within your work and career.
The Project can signpost to a wide range of online courses that are fully funded or discounted and also takes applications for funding bursaries up to £200 per person.
The funding is available to union and non union members alike as long as you live in Wales, if you want to know more please contact us directly at learnwithunite.wulf@unitetheunion.org
If you are not a member of Unite the Union, you can join HERE to access additional benefits and support as part of your Union Membership.