Event Information
Refund Policy
Contact the organiser to request a refund.
Eventbrite's fee is nonrefundable.
About this Event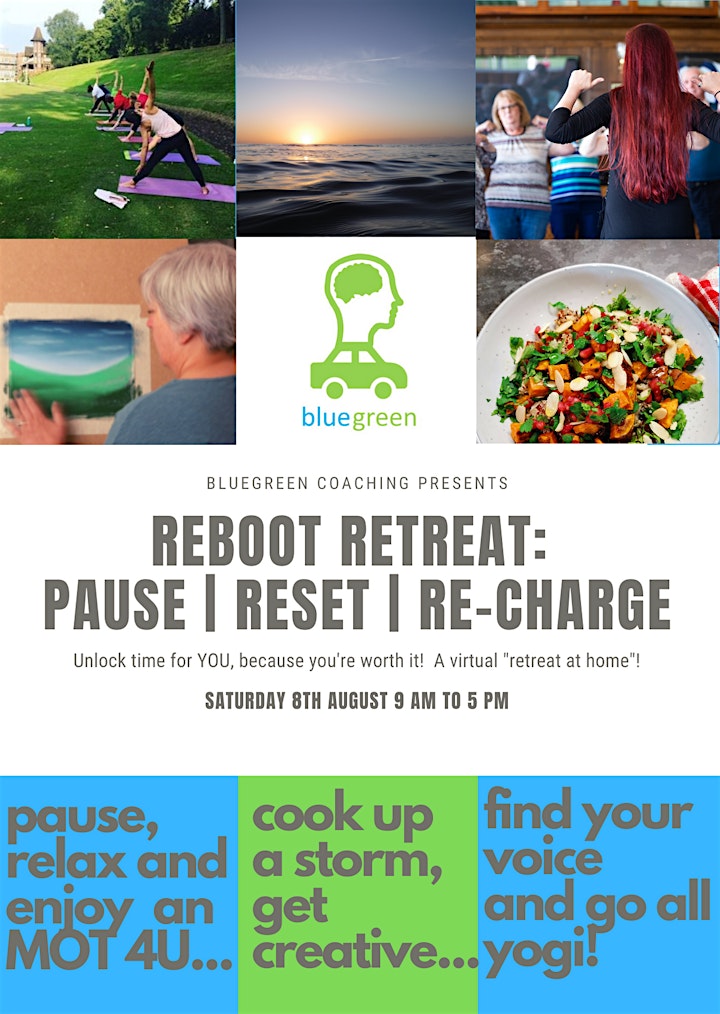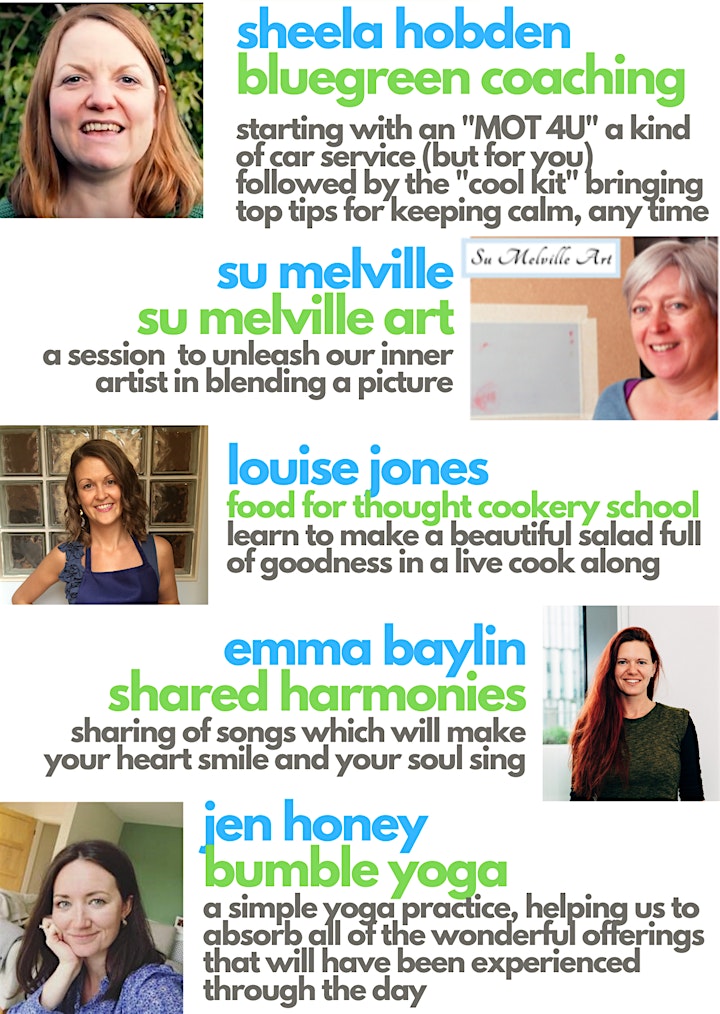 Opening Welcome – a guided grounding exercise to bring us all to the present moment
Session 1 – the "MOT 4U" with Sheela Hobden, bluegreen Coaching
Sheela will lead with an interactive guided design of your individual vehicle for well-being where you will explore evidence based content on the impact of resilience on your well-being. You can take the opportunity to reflect, discuss and evaluate which parts need attention. It brings a simple language to comfortably talk about well-being, with visual aids to retain your new awareness of your unique individual needs
What else might you need? Pen and paper – or colours if you are a "Sharpie" fan! And...open mind!
Session 2 – Get creative! with Su Melville, Su Melville Art
You will receive an art box in advance of the day, so we will explore firstly, what's in our art box? Next, with Su as our guide, she will help us to paint together, and get us blending! We will add details to our picture and explore what next! You will be provided with a full written tutorial to have to hand through the session too.
What else might you need? A table to work on, some tape (masking tape or sellotape) and a drawing board (a large chopping board will do!) these will be useful to hold the paper still, but not necessary.
Session 3 – Cook-a-long! with Louise Jones, Food for Thought Cookery School
Learn to make a beautiful, delicious and nutritious butternut squash and quinoa salad and zingy dressing full of goodness in a live cook along with Louise. Then enjoy eating it!
She will talk through the nutritional benefits of the ingredients, where to buy them, how to cook them and a few top tips thrown in as you make your healthy lunch live. She'll also share ideas on how to adapt, tweak and pimp to make different alternatives and added extras to turn it into a main or side dish. You'll get to eat what you make as lunch with enough for the next day and recipe card to make it again.
What else might you need? We will provide you with a list of ingredients to have ready
Session 4 – "Cool kit" with Sheela Hobden, bluegreen Coaching
Sheela will lead a short thought provoking session to help manage your way through uncertain times, including some quick tips and techniques that can be applied straight away
Session 5 – Share a Tune! with Emma Baylin, Shared Harmonies CIC
Our session will start with a gentle warm-up helping us to release tension from each part of the body. We will breathe fully, drawing the breath deep into the body, helping us to feel calm, routed and re energised. We will build confidence in our voices through the sharing of songs which will make your heart smile and your soul sing.
Safe session for people that have never sung before or have been led to believe they can't. You'll leave feeling connected, confident and uplifted.
What else might you need? Yourself, that is all!
Session 6 – Simple Yoga with Jen Honey, Bumble Yoga
Having started the retreat day with a short grounding meditation, allowing our mind and body to arrive fully to the present moment, we will come back to our bodies towards the end of the day.
We will enjoy a simple yoga practice, helping us to absorb all of the wonderful offerings that will have been experienced through the day. All you need is yourself, comfy clothes, a yoga mat and an open mind.
What else might you need? Yourself, comfy clothes, a yoga mat
What else is included?
As well as the mind provoking, body relaxing day packed full of time just for YOU, you will also receive:
• Delicious Nutritious Recipe with adaptations
• Essential oils for yoga worth £5
• An art kit worth at least £30
• A 20 minute coaching session…worth more than £40! (can be taken pre- or post-event)
We VERY much look forward to welcoming you to our collaborative retreat on 8th August 2020!
Questions about this event? Please contact me directly: sheela@bluegreencoaching.com
Who's who - our profiles:
Sheela Hobden is a Coach who helps GPs care for themselves as much as their patients. She believes that if we don't put our own oxygen masks on first and know where we are going, it is very difficult to help anyone else.
Her career shifted into this direction after acquiring wisdom from bitter experience!
Seeing people flourish after learning self-care and knowing oneself are necessities not indulgences is why she gets up in the morning. She is the founder of the "MOT4U" concept, a simple tool to openly talk about our well-being, as if we too were a vehicle! Sheela has designed and delivered resilience and well-being programmes with Public Health teams, Primary Care networks and Local Medical Committees across the South West. She is an Accredited Certified Coach with the International Coaching Federation, an accredited Wraw (Workplace resilience and well-being) practitioner as well as being fully CIPD qualified for over 10 years. She holds a PGCERT in Business and Personal Coaching from the University of Chester. You can find her at www.bluegreencoaching.com or swimming in the sea, in Poole, Dorset.
Su Melville is predominantly an animal artist and although she enjoys experimenting with other subjects, animals remain a firm favourite.
Originally from Manchester in the UK Su has lived all over the UK, in Connecticut, USA and is now based in Lancashire. Su never pursued a formal education in art, she has taken classes with many artists and loves to continue to learn new techniques from the many talented artists she surrounds herself with. Su is a fully qualified accountant and rekindled her love of art following an episode of stress in 2006. Knowing how much art helped her in this situation, Su now runs her own art company full-time, taking art into corporations as part of their well-being programs.
'There is nothing more fulfilling than a person walking into a session saying they can't draw and leaving with their own masterpiece and renewed sense of pride!'. Su loves teaching others and regularly holds workshops in Lancashire, releases YouTube tutorials for those further afield and sells art kits for those wanting to try professional quality Pastels. Su has exhibited both in the UK and USA and was particularly honoured to win the domestic animal category in the Association of Animal Artists 2014 exhibition.
Su still takes a limited number of commissions for pets and wildlife, to view more of Su's work, or contact her regarding commissions of pets or wildlife, visit her at www.sumelville.com
Louise Jones runs Multi Award Winning Food for Thought Cookery School in the heart of Dorset. Focusing on educating, empowering and inspiring you to put your health and well-being first and improve your gut health. Her motto is "it's got to taste naughty but be nourishing for the body".
Along with running cooking classes and gut health workshops, Louise facilitates inspirational talks on health and well-being and energy ball workshops for corporates. Her ethos is that it's got to be quick, simple and tasty, because we're all time poor, but we need to fuel our bodies with the best nutrients that we can.
Emma Baylin has always known she wanted to work with people. She started volunteering at the age of 14 and now has approaching 30 years' experience of facilitation and delivering training
Emma's main passions are the power of human connection, improving health & well-being and singing. In 2013, she created Shared Harmonies CIC with the sole purpose of sharing the health & well-being benefits of singing with others with as many people as possible…including or especially those who believed they couldn't sing!
Since then Shared Harmonies CIC have worked with over 2,500 employees from some of the UK's leading companies including Nissan, Hermes, Royal Canin, Pinsent Masons and PwC and delivers 8 regular community singing for well-being groups for participants affected by health & well-being conditions including COPD, poor mental health, cancer, Parkinsons and dementia.
https://www.sharedharmonies.co.uk/
Bumble Yoga with Jen Honey is 'yoga to help with the bumble of life'. Yoga, meditation, breathing techniques and mindfulness. I love to help people reconnect with themselves and in turn find a greater sense of balance within their lives. Yoga and meditation can benefit absolutely everybody and I'm passionate about making people feel confident enough to give it a little go. It's called yoga practice not yoga perfect for a reason!
Date and Time
Location
Refund Policy
Contact the organiser to request a refund.
Eventbrite's fee is nonrefundable.