Event Information
Refund policy
Refunds up to 1 day before event
Eventbrite's fee is nonrefundable.
Welcome to Reboot: an online wellness festival by women's mental health app Clementine.
About this event
Running from January 18th - January 28th 2021, over 8 evenings, this festival will help you to REBOOT your career, confidence, sleep, body image, love life, sex life, and much more!
Over eight days, become inspired by our kick-ass 22 female speakers, including model and activist Nyome Nicholas-Williams, sex educator Alix Fox, and entrepreneur Meg Matthews to talk about topics important to every woman. Reboot will help you to ask for a pay rise, get to sleep faster, improve your sex life and ditch imposter syndrome, just to mention a few!
Each day of the festival is focussed around a different topic, and we'll be bringing you three different speakers each day. Every talk is a bite-size 30 minutes, and as a virtual festival, everything is hosted online so that you can enjoy it from the comfort of your own home.
We've got some epic practical sessions for you including taking you through relaxing pre-bedtime routines, improving your CV, rebooting your dating profile and enhancing your personal brand.
Tickets for the event give you access to all eight days, allowing you to dip in and out of the topics that interest you most, or to watch every single minute. And for those who worry they might miss a night don't worry - we will record all the sessions and share post event so you can catch up or watch again.
Check out our full break-down of our day topics & experts below:
<< Day One - Monday 18th Jan: Reboot 2021 🍊 >>
1. Let go of 2020 and set intentions for 2021 - 6:00pm - 6:30pm
Kim is kicking off the event with a session to help everyone review 2020, let the sh**ty stuff go, hold onto the good stuff that happened and reframe boundaries for 2021.
Host – Kim Palmer, Founder at Clementine
2. Interview with Nyome Nicholas-Williams - 6:45pm - 7:15pm
On her ground breaking campaign to persuade Instagram to rewrite their policies around nudity and sexual images. Yes, yes, yes.
Hosts - Nyome Nicholas-Williams, Model and Activist & Harriet Minter, Journalist & Broadcaster
3. Pinterest Vision Boarding - 7:30pm - 8:00pm
A super practical and inspiring session with our Clementine Creative lead & Pinterest pro. She'll be helping you to create a powerful vision board for 2021.
Host - Christian Norman, Pinterest Expert
<< Day Two - Tuesday 19th Jan: Reboot Your Career ⭐ >>
1. How to Write a Banging CV - 6:00pm - 6:30pm
Do you find creating or updating your CV painful? Do you struggle to secure the interviews for the roles that excite you the most? Are you finding how to big yourself up on your CV a mystery? In this session Lucy will give you the tools and the confidence to create a standout CV that will open doors for you!
Host - Lucy Chamberlain, Recruitment specialist and founder of C&C Search
2. Rebooting your career - 6:45pm - 7:15pm
Session with Exec coach Emma Kangis, to build a 'growth mindset' and why this is important to help build confidence, overcome feeling demotivated, changing career and building and maintaining relationships at work.
Hosts - Emma Kangis, Executive Coach
3. Taking a great LinkedIn photo - 7:30pm - 8:00pm
Ahhhh who cringes at their Linkedin photo? Don't worry you don't need a professional photo shoot. Saskia will share tips on how you can create a visually compelling profile picture at home, that shows people what you look like and tells them what you're made of. Can't wait.
Host - Saskia Nelson, Photography Expert
<< Day Three - Wednesday 20th Jan: Reboot Your View Of Your Body 😌 >>
1. Can We Get Rid of the Idea of a Designer Vagina? - 6:00pm - 6:30pm
Why do so many of us get in a flap about how our flaps look? Why are we so uptight about how tight our vaginas are perceived to be? And what actions can we take to feel more peaceful, proud, pleasurable and c*nt-fident about our bodies, and to combat some of the dangerous and denigrating messages so frequently repeated by society?
In her trademark upbeat, entertaining yet educational style, Alix Fox (Script Consultant on Netflix's Sex Education; award-winning writer and presenter on shows such as Audible'sKINK!, The Guardian's Close Encounters, BBC Radio 1's Unexpected Fluids andThe Modern Mann podcast; Best Sexual Health Ambassador 2020, ETO Awards) unpicks the so-called "designer vagina" trend, and suggests a host of ideas to feel more vulva-va-va-voom about your genitals just as they are. Bring some paper if you'd like to learn how to fold an "origami punani" during the talk!
Host - Alix Fox, Writer, Broadcaster & Sex Educator
2. Body Acceptance - 6:45pm - 7:15pm
An open and honest conversation about Michelle's own journey to build body acceptance. Including helpful resources to guide our own journey towards body acceptance. She will be sharing her story of having 15 surgeries before the age of 20 and how that impacted her body image. She will discuss how the resulting surgery scars challenged her body confidence and how she overcame that to create Scarred Not Scared campaign and why we are more than our bodies.
Host - Michelle Elman, Body Confidence Coach
3. A conversation about women's bodies and the media - 7:30pm - 8:00pm
Harriet Minter is journalist and broadcaster who writes about women's issues and the future of work for publications such as The Guardian, The Times, Grazia and Psychologies Magazine. She's also a plus-sized woman. In this talk she explains how the media works and why, much as it claims otherwise, it's still more interested in what a woman looks like than what she has to say. She'll also explain how despite this we can use the media to improve our body confidence and grow our self-belief. She'll talk about how social media can actually be a force for good when we use it, rather than allow it to use us. By becoming active consumers, rather than passive ones, of the media we have an opportunity to take back the view of our bodies and claim it for ourselves.
Host - Harriet Minter, Journalist and Broadcaster
<< Day Four, Thursday 21st Jan: Reboot Your Love Life 💜 >>
1. Reboot Your Online Dating Profile - 6:00pm - 6:30pm
Over 70% of singles say that Covid has stolen a year from their dating lives, but as a result, 65% of people are more likely to look for a long-term relationship than they were this time last year.
Leading dating expert Charly Lester will help you make the most of your online dating profile and dating during a lockdown, covering advice on photos, dating profiles, making conversation and the all important first date.
Host - Charly Lester, Dating Expert
2. Maintaining Relationships in Lockdown - 6:45pm - 7:15pm
What are some of the difficulties that lockdown imposes for relationships?
How can we keep our relationships healthy during a lockdown? E.g. alone time, improving communication, reinforcing boundaries, date nights etc...
What to do if you feel your relationship is becoming toxic
How lockdown can actually strengthen your relationship with your partner.
Host - Laura Vowels, Relationship Expert
3. Effective Ways to Meet Someone in 2021 - 7:30pm - 8:00pm
Millions of singles are experiencing dating fatigue, but "not-swiping" is not an option during lockdown. Matchmaker Maria will help you discover new dating opportunities and meet quality people in 2021.
Host - Maria Avgitidis, 4th Generation Matchmaker
<< Day Five, Monday 25th Jan: Reboot Your Confidence 💃 - >>
1. From pay rises to promotions - 6:00pm - 6:30pm
Host - Lauren Langdell, Recruitment Specialist / Associate Director at Trust in Soda
2. How to Ditch Imposter Syndrome - 6:45pm - 7:15pm
What you believe about yourself is the foundation to everything you become. In this session you'll learn how to programme your mind for success to make sure it empowers you in life instead of sabotage you. In order to ditch imposter syndrome, we'll deep dive into the 5 ways it shows up in your life and explore practical ways to overcome it. Then you'll learn the secret sauce to becoming Confident and Killing It by learning to articulate and own your strengths and use them to challenge the negative thoughts and self-doubt when it arises.
Host - Tiwa Ogunlesi, Confidence Coach
3. The Importance of a Personal Brand - 7:30pm - 8:00pm
In this high impact session Ronke Lawal will be providing strategic insight into how individuals can boost their personal brands. This is ideal for business owners, entrepreneurs or professionals who want to raise their visibility and credibility within their professional or business lives. You will learn how to make more of an impact within your sector both online via social media and offline at networking events or through public speaking opportunities. Ronke will also show you how to use PR tactics to raise your personal brands effectively, develop effective relationships and build a community of personal brand ambassadors who will champion you throughout your career or business journeys.
Host - Ronke Lawal, PR Expert
<< Day Six, Tuesday 26th Jan: Reboot Your Health , powered by Yoppie.
1. Hormonal Intelligence: Understanding the Phases of The Menstrual Cycle - 6:00pm - 6:30pm
Periods tend to hog all the attention when talking about our monthly cycle. They're a bit like the demanding boss of the menstrual phases. But what about the rest of our cycle? Heck, what's going down in our bodies between the bleeding every month? Join Daniella Peri, the founder and CEO of Yoppie, for a 101 class on the phases of the menstrual cycle. By understanding each phase you can begin using the hormones at play to your advantage and much more.
Host, Daniella Peri, CEO and Founder of Yoppie
2. The Realities of Egg Freezing - 6:45pm - 7:15pm
Egg-freezing has long been touted as the solution to our fertility woes. But is the expense, coupled with the relatively low rates of freezing that result in a live birth really worth it? Journalist Nichi Hodgson explores the pros and cons.'
Host - Nichi Hodgson, Journalist and Broadcaster
3. Top 3 mindset skills needed to navigate our way through the hormonal fluctuations of perimenopause and menopause- 7:30pm - 8:00pm
During this session Becky will share 3 mindset shifts needed to cope better during this stormy season of life. These will not be your average tops tips. Becky likes to get underneath the bullsh*t and give real, meaningful advice and may just surprise you! Mood swings, anxiety, low confidence, health worries, low mood, sweats, you name it, these mindset shifts will help with them all. She will also offer step by step practical advice about how to start making these shifts in your life right away.
Host - Dr Becky Quicke, Clinical Psychologist (aka The Menopause Psychologist)
<< Day Seven, Wednesday 27th Jan: Reboot Your Sleep 😴 >>
1. Dream Analysis - Q&A - 6:00pm - 6:30pm
Did you know your dreaming mind is the most powerful part of who you are? Whether you are flying through the air, running from a tornado or giving birth to a three headed baby, your dreams are filled with ideas, warnings, inspiration and solutions, and they are being given to you every single night! Find out how to unlock your dreams and change your life with our dream expert.
Host - Lauri Loewenberg, Dream Expert
2. Bed Time Routine - Self-Guided Face Massage - 6:45pm - 7:15pm
Lauren will take you through a guided facial massage to promote sleep exclusively for Clementine. It will activate the nervous system that controls your bodily function whilst you rest with a number of other benefits that will be explained. You will leave feeling rested with a clear mind and ready for bed.Host - Lauren Doherty, Facial Massage Specialist
3. Sleep Hygiene Expert & Author- 7:30pm - 8:00pm
Dr. Harris will talk sleep basics, with a focus on holistic, non-medicated practices. She will discuss sleep loss as a natural response to stress, when you should consider making habit changes, and introduce some evidence-backed options to help you sleep better.
Host - Dr Shelby Harris
<< Day Eight, Thursday 28th Jan: Reboot Your Sex Life 🔥 >>
1. 10 Ways to Revolutionise Your Sex Life- 6:00pm - 6:30pm
10 Inventive, Imaginative Ideas to get you SEXCITED Again
Sex life more "doom 'n' gloom" than "boom boom boom"? Was the last time you said "Oooooh" when you yawned?!
In this fast-paced and fun talk, designed to bring a smile to your faces (as well as other places), Alix Fox (Script Consultant on Netflix's Sex Education; award-winning writer and presenter on shows such as Audible's KINK!, The Guardian's Close Encounters, BBC Radio 1's Unexpected Fluids andThe Modern Mann podcast; Best Sexual Health Ambassador 2020, ETO Awards) helps to revitalise your appetite for sex and masturbation, no matter your situation - single or coupled up - by offering a heap of fresh, intriguing ideas about sex toys, role plays, exercises and approaches you may not have heard of before. If one suggestion doesn't float your boat or tickle your pickle, no probs - the next one might be more your style, as this is a sexploration of alllllll sorts, intended to whet your sexual appetite and get you looking forward to bedtime again...and not just to pass out exhausted after 2020.
Host - Alix Fox, Writer, Broadcaster & Sex Educator
2. 5 Ways to Reboot Your Sex Life as a Parent - 6:45pm - 7:15pm
Whether you are a parent to newborns or have children in their teens, your sex life can studder and stop. Learn how to rebuild intimacy and strengthen your family making everyone in it more happy – including you.
Host - Andrea Balboni, Relationship Coach
3. Own your Sensuality - 7:30pm - 8:00pm
Has lockdown put a strain on your relationships with other humans, including the relationship with yourself? There is a silver lining in every challenging situation. This presents an opportunity for self reflection and growth. This session will help to align the practices in your life; allowing you to reconnect mindfully with your sensuality.
Host - CEO & Founder of Lora DiCarlo
Join us and our amazing community of women to help reset and REBOOT 2021.
Ticket price - £20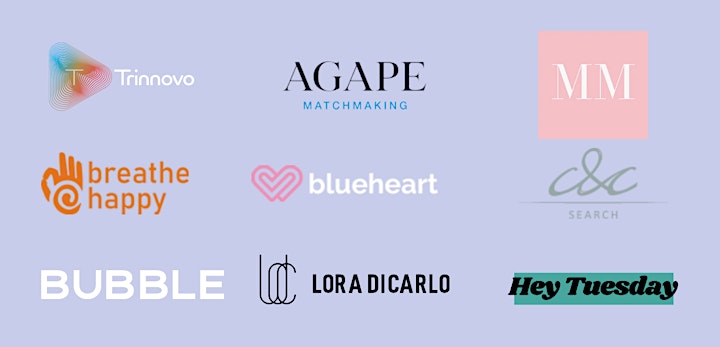 Date and time
Location
Refund policy
Refunds up to 1 day before event
Eventbrite's fee is nonrefundable.