Description
Reclaiming, Honouring & Remembering Sisters With Love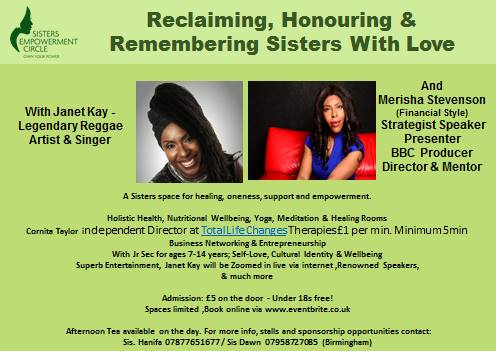 Bring along a memory or photo of a Sister who has Empowered you from the past or present as we join our Circle to continue our Legacy of Love & Duty.
For the Healing of a Lifetime!
With Janet Kay - Legendary Reggae Artist & Singer live via Zoom
And Merisha Stevenson - Strategist speaker, Presenter, BBC producer,Mentor and more.
Date: Saturday 31st March 2018 Time: 2 - 5 pm - Doors open: 1.30 pm Venue: Malika House 81 George St Lozells Birmingham B19 1NS
A Sisters space for healing, oneness, support and empowerment.
Holistic Health, Nutritional Wellbeing, , Meditation, Healing Rooms, Cornita Taylor, senior Massage Therapist. https://www.facebook.com/profile.php?id=100007217894766

Business Networking & Entrepreneurship
With Jr Sec for ages 7-14 years; Self-Love, Cultural Identity & Wellbeing
Tickets: £5 on the door, - Under 18s free!
Please register via www.eventbrite.co.uk
Afternoon Tea available on the day.
For stall and sponsorship Dawn 07958 727085 Hanifa 07877651677