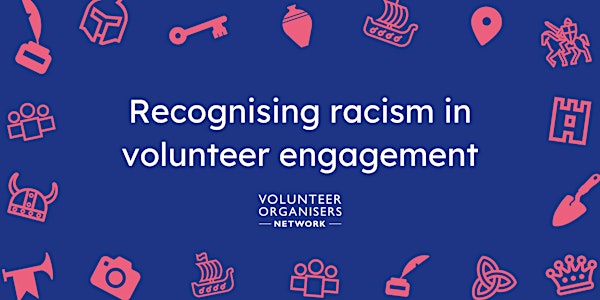 Recognising racism in volunteer engagement: Make Your Mark knowledge share
Are you a heritage volunteer organiser in Scotland?
About this event
Join our free online event to talk with people in similar roles, share your volunteer organiser insights, ask questions and pick up practical tips.
------------------------
The Black Lives Matter protests of 2020 renewed calls for racial justice and systemic change. Volunteerism is not exempt from these calls - the structures, policies and processes by which many organisations engage volunteers are built upon white supremacy culture.
For the Volunteer Organisers Network's next event, we'll be hearing about recognising racism in volunteer engagement from Faiza Venzant, Executive Director of the Council for Certification in Volunteer Administration (CCVA).
From a young age, Faiza Venzant's parents instilled a strong sense of volunteerism in herself and her two older brothers. They, as immigrants to Canada from Uganda in the early 70s made a successful transition into Canadian life with the help of many generous volunteers. A volunteer herself from a very young age, she has been an advocate for volunteer engagement and excellence in volunteer management for the last 22 years. As a facilitator for the Community Action Poverty Simulation, Faiza is passionate about equity and access amongst volunteers and leaders of volunteers.
Faiza is the Executive Director with the Council for Certification in Volunteer Administration and active member and volunteer with Volunteer Management Professionals of Canada (VMPC) and Association for Leaders in Volunteer Engagement (AL!VE.) She has been certified in volunteer administration since 2016.
In 2018, Faiza published her first children's book entitled, My Mamma Wants to Eat Me Up! As a mother of two young boys, she has not actually eaten any of her children.
In her talk, Faiza will define white supremacy culture and explore how it plays out in volunteerism. She will show how volunteer onboarding, management and evaluation practices were inherited from colonialism, and suggest more inclusive ways of engaging volunteers.
After the short 20 minute presentation, there'll be time for a Q&A and general networking discussion. As a peer-to-peer support network, we encourage knowledge-sharing, so we're keen to hear what experiences other volunteer organisers may have with anti-racism in volunteer engagement.
------------------------
ABOUT THE EVENT ORGANISERS
The Volunteer Organisers Network, formerly known as HVOS (Heritage Volunteer Organisers Scotland) provides peer-to-peer support for heritage volunteer organisers in Scotland.
The Volunteer Organisers Network is part of Make Your Mark, a campaign to increase the number and diversity of heritage volunteers in Scotland. Make Your Mark supports volunteer managers by connecting heritage volunteer coordinators across Scotland, sharing best practice in inclusive volunteering, collating and promoting heritage volunteering opportunities and lobbying for more support for Scottish heritage volunteering programmes. Visit the Make Your Mark website to learn more about how to join the campaign.
------------------------
ACCESSIBILITY
This session takes place via Zoom, an online video call link. If you would like advice on engaging with this virtual platform, please get in touch (network@makeyourmark.scot) with any questions and we'll be happy to help. The session will also have live captioning.
------------------------
HOUSE RULES
We aim for our events to be safe and harassment-free and the Volunteer Organisers Network has a zero-tolerance policy on harassment and bullying.
We expect all attendees to speak with respect. Anyone who uses offensive, discriminatory or threatening language or gestures will be removed from the event immediately.
To report any abuse you think we missed, please contact us (network@makeyourmark.scot)
------------------------
BOOKING
Booking is essential to receive the Zoom event details. Our emails may end up in your junk mail folder, so either add Eventbrite to your address book or check the folder before the event begins.
------------------------
ADDITIONAL DETAILS
If you have any questions, please don't hesitate to contact us on Twitter (@VolOrganisers) or email network@makeyourmark.scot.