Event Information
Refund policy
Contact the organizer to request a refund.
Eventbrite's fee is nonrefundable.
Get the training you need from the experts to help your company compliantly and responsibly handle vulnerable consumers within the UK.
About this event
Almost every organisation will interact with consumers who, at times, will find it harder than usual to make informed decisions about the choices offered to them, due to their circumstances.
Challenging personal situations may be unexpected, short-term or long-lasting; either way, they may affect your customers' ability to interact with your business and will need to be considered so you can better support the customers' needs.
In their February 2021 Financial Lives Survey report, the UK's Financial Conduct Authority noted that 53% of UK consumers currently show one or more characteristics of potential vulnerability (27.7 million) – based on their health, financial resilience and capability, and on life events that could be having a detrimental impact on them. The coronavirus pandemic has already affected these statistics with the FCA's October survey already showing a 15% increase on the numbers from the February survey.
Furlough and redundancies are creating financially vulnerable circumstances, Lockdown and social isolation or distancing are adding to mental health concerns, bereavement and restrictions around funerals have led to a whole new way of grieving. All of which are layered upon more traditionally understood vulnerable circumstances. The people affected are your customers, supporters, donors, volunteers as well as your own workforce - it's essential not to lose sight of the humans involved.
Ask yourself, does your organisation always know when you are interacting with a consumer in a vulnerable circumstance? Can you easily identify those needing reasonable adjustments and are you able to offer alternative solutions rather than inadvertently making a difficult situation even more challenging? If the answer to any of these questions is "no" then this is the session for you!
This masterclass has been designed by vulnerability experts from within the direct marketing industry and is relevant to all organisations who interact with the public. It's designed for those at either an introductory or intermediate level of knowledge. It will benefit a broad range of employees working with consumers in vulnerable circumstances. During the masterclass you will:
Learn to appreciate that vulnerability is complex and changeable - helping you recognise vulnerability when you see it
Participate in breakout groups
Understand what reasonable adjustments can be made and decide which are the most appropriate for your consumers
Learn about the impact on your staff of handling contacts with customers and understand how to best support your teams
Take away a practical e-book to take away and share in your organisation
Masterclasses are run by Elaine Lee of ReynoldsBusbyLee Ltd and Jacqui Workman of KMB Ltd, who have been championing the needs of Vulnerable Consumers for over a decade as co-chairs of the DMA's Vulnerable Consumers Working Group and have been running these sessions for more than five years.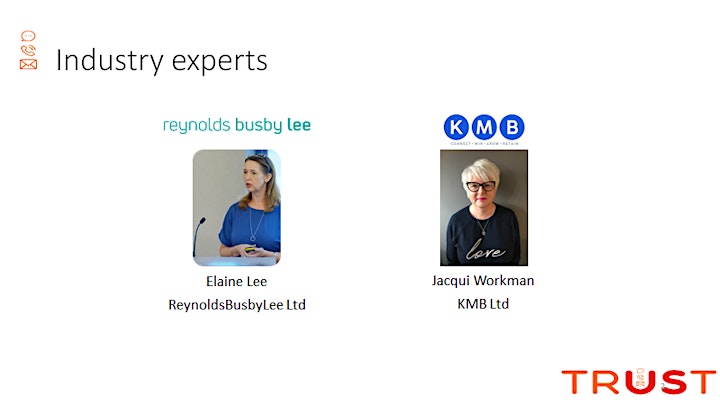 Date and time
Location
Refund policy
Contact the organizer to request a refund.
Eventbrite's fee is nonrefundable.