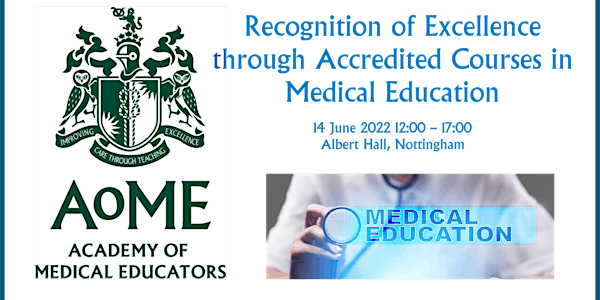 Recognition of Excellence through Accredited Courses in Medical Education
Location
Albert Hall
North Circus Street
Nottingham
NG1 5AA
United Kingdom
Refund policy
Refunds up to 30 days before event
Eventbrite's fee is nonrefundable.
Are you a leader of PG Certificate / Diploma & Masters programmes in Medical or Healthcare Education? Join AoME for a half-day symposium
About this event
Recognition of Excellence through Accredited Courses in Medical Education
Albert Hall, Nottingham, 14 June 2022 12.00 – 17.00
We invite all organisers of PG Certificate / Diploma & Masters programmes in Medical or Healthcare Education to join us for a half-day symposium.
We will discuss
• The professionalisation of the medical education workforce
• Accreditation of programmes by the Academy of Medical Educators
• Details of the new Accreditation Plus programme
Over the last two decades, leaders in healthcare education have recognised the importance of the professionalisation of medical and clinical education. The Academy of Medical Educators accreditation for programmes is aimed at appropriate 'recognition of prior learning' for educators of practitioners and students of medicine (including physician associates), dentistry and veterinary surgery. Accreditation of courses provides an independent validation of programme quality judged against the Academy's Professional Standards.
Over 50 courses, currently, receive this accreditation.
Recognising that many courses already contain (often significant) elements of reflection, from 2022 the Academy will invite Course Leads & Institutions to apply for a new Accreditation Plus scheme. This new scheme will make conversion from programme completion to Academy Membership much simpler. For courses already accredited we will simply ask for evidence of the reflective element to add to the course profile that we hold. For courses without a reflective element at the level the Academy would expect, graduates can still apply for accredited membership via the existing route.
This half day symposium offers the opportunity for Leaders of Healthcare Education programmes to discuss the benefits of the courses available to early career development and, together with AoME, the professionalism of tomorrow's workforce. We will cover the level of reflection required by the Accreditation Plus scheme, and the practical benefits of AoME partnership, giving medical educators the confidence and the skills to progress in their chosen roles.
We are delighted to work with course leads, providing a network and forum to discuss with peers the future demands and best practice in the healthcare education sector. It is our intention to make this symposium a regular event.
This event runs the day prior to the Academy of Medical Educators annual academic meeting on 15 June, which you may also be interested in attending. Full information on AoME 2022 conference can be found here. In addition for 2022 we are delighted to host a conference dinner on the evening of 14 June and would be delighted for you to join us in this extra networking event. Ticket options for symposium only, symposium and main conference and conference dinner are included in the registration page.
Recognition of Excellence through Accredited Courses in Medical Education has been approved by the Federation of the Royal Colleges of Physicians of the United Kingdom for 4 category 1 (external) CPD credit(s). Full conditions of approval are listed in RCP guidelines.
Terms & Conditions
All efforts will be made to present the programme as detailed. However, the organising committee reserves the right to make changes to the programme, exhibition or related social events, for any cause beyond its reasonable control.
The conference organisers are not liable for any loss or inconvenience caused as a result of such alteration.
Cancellation policy for registration and conference dinner:
Cancellation must be received in writing to info@medicaleducators.org AoME will refund registration fees as follows:
- by 5pm 14 May 2022 - 25% administration fee
- after 5pm 14 May 2022 - No refund , however transfers will be allowed.