Description
Introducing re:cognition, an innovative and fun hack weekend open for all developers to come along and try out something new.

Microsoft's Cognitive Services (formerly Project Oxford) has some incredible APIs to play with. Following the huge success of last years Kinecthack London, we're putting together another hack weekend based on natural, intelligent and fun new ways of interaction.
Organised by Moov2 supported by Microsoft UK Developer Experience Team.

---


Build projects like these (click for info):




Find more ideas and projects, click here.
---
Event theme
Our theme for the event is around natural, intelligent ways of interacting with devices and we're putting in place 3 areas of technology for the hack;
1) Hack on any platform (web/mobile Windows/IOS/Android) making use of Microsoft's Cognitive Services REST APIs which offer cloud-based services for;
Vision

Speech

Language

Knowledge

Search
2) Hack on the Windows 10 Universal Windows Platform, making use of some of the natural interaction APIs for Speech, Facial Detection, Cortana voice assistant, Pen and Ink.
3) Hack on the Windows 10 desktop platform, making use of some of the specialist cameras out there - the Kinect for Windows V2 and the Intel RealSense camera.
*We'll have a small library of loaner hardware for teams who want to hack with Pen, Kinect, RealSense but don't have the kit.
---
Take a look back at last year's event...
Click on the image below (opens a new window).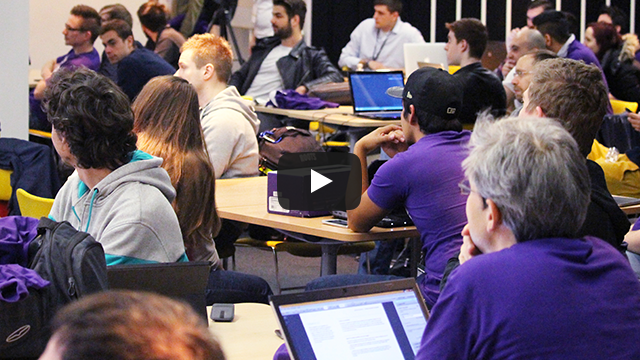 ---
Frequently asked questions
Do I have to be on Windows?
No. Because Cognitive Services runs as a suite of web APIs you can access them from any platform on any web-enabled device. We're looking for web apps, mobile apps, desktop apps, games, even IoT experiments so you can work on your preferred platform. For those who do choose to hack on Windows 10, you can make whatever mix you like of on-device and cloud services.
Do I need to bring my own computer?
Yes. Unfortunately due to the number of attendees we're unable to provide computers for all. We will however have a limited library of loaner hardware available on a first-come-first-served basis.
Will there be prizes?
Yes. We have some amazing prizes in store that will be annouced soon. re:cognition is not a competitive event but stand out efforts will be rewarded.
Will there be food?
We will be providing food and drink for all attendees. We will do our best to accommodate for all tastes and diets but if you have special requirements please be prepared to make your own arrangements.
Is there a theme/challenge?
We have no fixed theme or challenge set but we will be expecting participants to make use of either the Cognitive services APIs or Windows 10 Universal Windows Platform or Windows 10 desktop platform or any combination therein. Beyond this you can mash-up with any other technologies or platforms you like.
Do I need to enter as a team/individual?
Either. Come as a team and work on something together or come by yourself and lone wolf or join with others. Best bet is to come ready with an idea you can work on but feel free to ditch that and help others or come up with new ideas of your own.
Organiser of re:cognition
Moov2 are a web and mobile development agency based in the New Forest, UK who love organising community tech events. When they're not doing that and focusing on "real work" they offer web and mobile development services to the video games industry (yeah okay, that's not really work either).