'A child could do that!'. Embrace your inner child and experiment with finger painting!
About this Event
Fiona will guide us to re-discover our inner child at this Art for Wellbeing session. We'll draw a self portrait, before colouring it in with finger painting!
The current situation is stressful for many of us, and you may be yearning to go back to a time when things were more simple, carefree and innocent. This workshop will allow us to reflect on our childhood, tapping into our imagination to take us on exciting journeys. Do you remember what your drawings and paintings were like when you were young?
Firstly, we will lose ourselves by relearning a skill; drawing a self portrait with the opposite hand to the one you write with, with our eyes closed. This will create lively and experimental lines. We will then add colour using primary colour paints, red, yellow and blue... with our fingers! Collage will be used to add details to your artwork. This is where you can take a walk down memory lane - did you enjoy having a flower in your hair? A favourite pendant round your neck? Fake tattoos? What made you smile? We'll cut these out and add to our self-portrait to create a finished artwork.
You'll need:
A4 or A3 thick paper (cartridge paper recommended)
Black pen
Red, yellow, green, blue and white paint (acrylic, gouache, poster paint are all suitable - anything that can be spread easily!)
Bowl of warm water and paper towels/old cloth (to wash hands afterwards)
Mirror
Old magazines, photographs, newspaper clippings, scraps for collage (think about imagery relating to your childhood memories)
Glue stick
Recommended for: 10+ (children will require adult supervision). No art experience required.
Language: English
Workshop Leader: Fiona Tong
Artist Profile:
Fiona has worked with Ricefield Arts as a Community Workshop Leader since 2017. She is a visual artist and her work is experimental and free flowing. Her practice explores perception and seeing beyond what meets the eye, engaging in a dialogue between the self, awareness, space and spirituality through colour and line compositions, and this is often reflected in her workshops.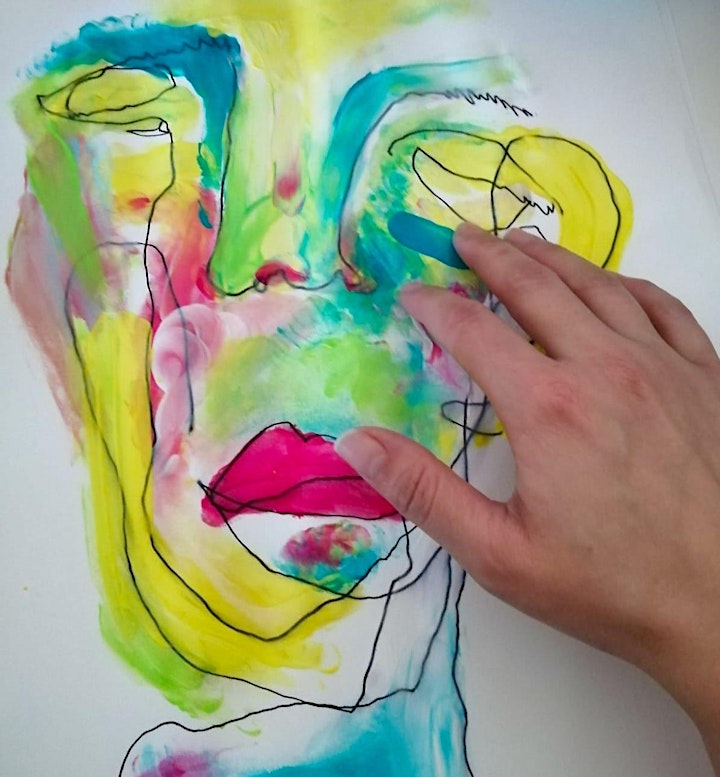 Joining the workshop:
The workshop will be delivered via Zoom. You will receive a Zoom workshop link and password to join the workshop after registration. Please join the workshop on time.
We require participants to turn on their webcam/video to take part in this workshop. This is to allow our workshop leader to check on the progress of participants and offer personalised guidance & support where needed.
Important:
Participants are expected to adhere to our online event Code of Conduct. We will be kind, respectful and patient towards each other in a positive and supportive environment. Abusive actions or language will not be tolerated. You can read the full Code of Conduct on our website.
As this is an online workshop, Ricefield Arts is not able to assess any safety hazards for participants remotely. We are not able to take any responsibility associated to your safety. By registering, you agree to take full responsibility for your own health and safety when taking part in our online workshop in your own home.
The images used in this listing may be subject to copyright.