Event Information
Refund policy
Contact the organiser to request a refund.
Eventbrite's fee is nonrefundable.
The British Association for Modern Mosaic will be hosting the annual Forum online for 2021. See below for all the details.
About this event
Please note that all times given below are UK time (GMT+1)
Friday 8th October 2021: 19.30
Online Private View of our current exhibition, Look Back and Smile.
This event is FREE but you will need to choose a ticket to attend. There will be a tour of the exhibition and a detailed look at some of the works, as well as short interviews with some of the participating artists.
Saturday 9th October 2021
Online BAMM AGM and FORUM 2021
BAMM AGM: 10.00
If you do not wish to join us for the Forum, but wish to join the AGM, please choose the appropriate ticket and you will be issued with a log in access code a few days before the event. Otherwise your Forum entry will also allow you into the AGM (Annual General Meeting - members only for voting purposes).
BAMM Online Forum, RECONNECT, 11.00-17.30
A series of three presentations, each followed by a live Q&A session. Each talk will focus on a different aspects of contemporary mosaic making and conservation.
Programme (see below for more details of the speakers)
11.00: Naomi Watts-Kitto. Restoration of the Baptistry Mosaic at Chester Cathedral
12.00 : Tessa Hunkin. The Hackney Mosaic Project
13.00 : Lunch
14.00: Julie Sperling. Connecting around a Cause
If you can't watch all day on 9th October, admission to this event will give three months of exclusive access to the recordings of the presentations and Q&As.
15.30: Mosaic Make-along with special guest, Rachel Sager: Join us to help create a communal artwork for our upcoming exhibtion, Constellations. See below for more details. This session will not be recorded.
ACCESS WILL REQUIRE INTERNET CONNECTION AND ZOOM (free download).
OUR SPEAKERS
Naomi Watts-Kitto
Naomi Watts-Kitto is a conservator and has worked at Chester Cathedral since the beginning of 2019. Having previously worked on conservation projects around the country, she initially came to Chester as a private contractor with Cliveden Conservation, to work on the restoration of the Erasmus Chapel Salviati mosaic, a memorial piece dedicated to Thomas Brassey from his family.
Naomi is currently working on the restoration of the Baptistry mosaic, a project that is anticipated to take 5 years to complete from start to finish. The aim is to fully restore the mosaic so that the Baptistry can be a fully functioning space, and access to St Anselm's Chapel can be reopened.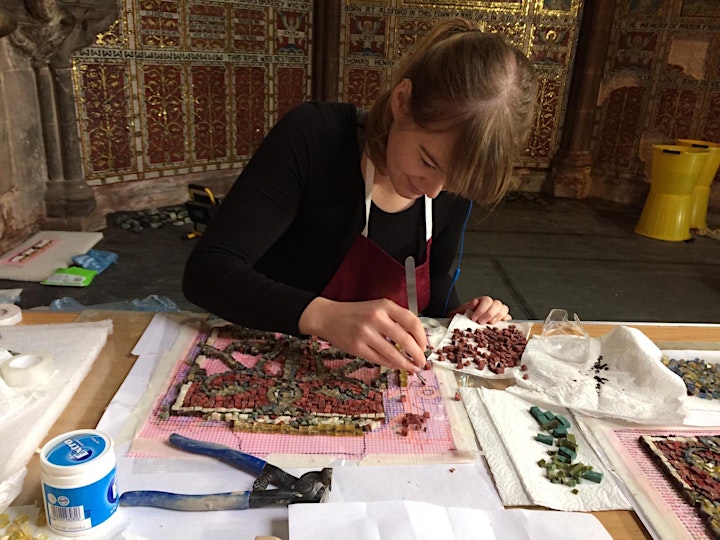 Tessa Hunkin
Tessa Hunkin trained and worked as an architect before joining Emma Biggs at Mosaic Workshop in 1989. Together they built up a thriving mosaic studio, undertaking public and private commissions for a wide range of clients. She worked with different artists on major projects at Westminster Cathedral and has written a number of books about mosaic. In 2011 she set up the Hackney Mosaic Project.
The Project makes mosaics with a group of volunteers including vulnerable adults in recovery from mental health and addiction problems. It provides a useful and sociable activity for people who might otherwise be socially isolated. Together they have made large scale public commissions in and around Hackney as well as smaller private commissions.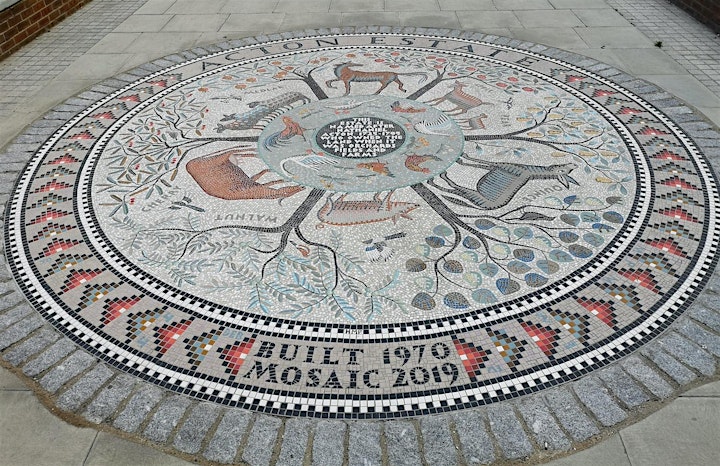 Julie Sperling
Julie Sperling is an award-winning Canadian mosaicist camped out at the intersection of art, environment, science, and policy. Since 2014, she has dedicated her artistic practice almost exclusively to the issues of climate change and the Anthropocene. She has served as the City of Kitchener's Artist in Residence, and the collaborative climate action mosaic she made with the community is now part of the city's permanent collection. She firmly believes in the important role that artists can play as advocates, activists, and change-makers.
As part of her 2017 Artist in Residence project for the City of Kitchener, Julie brought the community together to make small mosaics focused on climate action, which she later assembled into a larger community-driven mosaic. Two years later, she brought people from all around the globe together (albeit virtually) with her mosaic, "Communion." In this talk, Julie will explore both projects, reflecting on how, despite their differences in spirit/intent, process, and outcome, they both ultimately brought people together to start a conversation and to be part of something bigger than themselves. She will also offer her thoughts on the role of mosaic in connecting people to make a positive change in the world.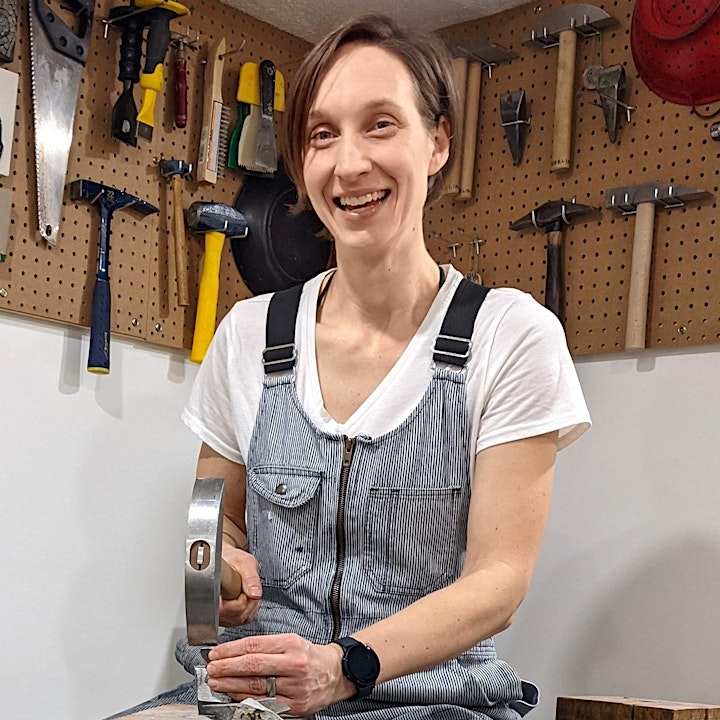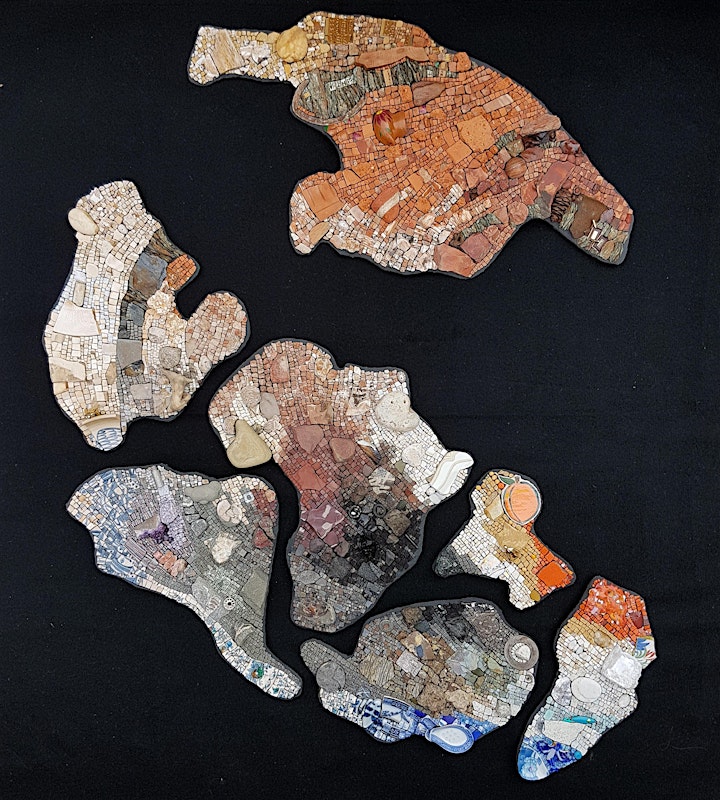 THE MOSAIC MAKE-ALONG
Join us for some creative mosaic making. We will be encouraging participants to make a small mosaic 'jewel' as a contribution to a collaborative installation piece for Constellations, an exhibition taking place at Chester Cathedral in spring 2022.
Working on a small scale requires specific skills and we are delighted to have guest artist, Rachel Sager, with us to share some useful techniques during the session. Rachel will be joining us from Pennsylvania, USA, the home of the Ruins Project (https://ruins.sagermosaics.com/) that we heard about in her presentation at last year's Forum.
This is a great opportunity to get creative in the company of others and participate in a prestigious exhibition of work by BAMM artists from across the UK, Europe and USA. As well as picking up lots of hints and tips for working at a small scale, there will also be a chance to socialise in smaller groups. Whilst we encourage everyone to make something for the exhibition piece, this is not at all mandatory. You can work on a current project of your own if you prefer or simply watch the session and enjoy the company!
More details about the project, along with a materials list, will be shared with all participants in advance of the event.
Date and time
Location
Refund policy
Contact the organiser to request a refund.
Eventbrite's fee is nonrefundable.