Description
Reconnect To Your Power, Purpose & Creativity. Understand how Energy works (I will be introducing Theta Healing®) & Start Manifesting More of What You Desire
Are you ready to take your life to the next level and start manifesting more of what you desire?
Discover how to clear self-limiting beliefs, reconnect with your power & purpose and discover how to manifest results you desire in your life whilst anchoring your dreams in a visual collage. Set within the stunning surroundings of Cannizaro Park at the luxurious Hotel Du Vin, Wimbledon, London, this 1 day retreat will be led by Amelia Critchlow.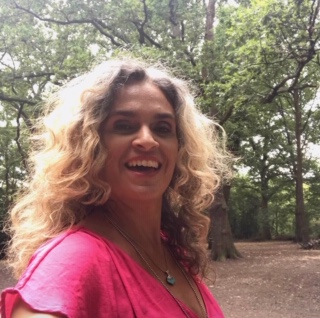 Who's This Day For?
This day is for you if you're good at manifesting SOME things you want in your life, but other things are just NOT happening.
You've read the books, set the goals and even taken action, but certain intentions just aren't materialising. If this sounds like you, then this one day retreat and experience is for you!
Harnessing the power of meditation, belief and energy work (I will be showing you techniques I've used over the years), we start to get to the bottom of what is stopping you from reaching certain desires and what is creating your current circumstances.

What You Will Get From The Day...
On this one day retreat, I will be introducing what Theta Healing® is and demonstrating powerful strategies to clearing blocks and understanding how it's possible to manifest more of what you want and the results you desire. You will also understand how to use your energy and un-tapped power AND get creative in order to really get to the heart of your positive manifesting and creating abilities. You will be designing a delightful visual to take away and take you forward in an even clearer way - no previous arty skills are necessary by the way :) I have been using this technique for years.
This day is strictly for gorgeous souls ready to grow and ready to see how it's possible. Spending the day with other like-minded individuals is powerful as we share our stories and insights, plus you get to spend a day with me where I will be sharing my gems and you get to ideas-storm and ask me questions in person too all within a live setting and with a small group.
We will be surrounded by one of the most beautiful green spaces in and around London to help nurture our dreams, clear thoughts and ground us for a deeper connection to the manifesting process.
This is a meditative, yet energizing and creative day on many levels as I take you through how Theta Healing® works and how it can specifically benefit you + I share different methods to manifest. Discover how it's possible to align your energy to create your dreams and see how to CLEAR limiting beliefs stopping you from reaching your desired goals and then replace with new beliefs allowing you to take some serious – yet fun! – action in order to know how to start achieving your goals with more clarity.
We then get to dust off our creative skills with a delicious delve into creating an art piece that will double as a visual connection to your dreams with a 'Dream-setting Collage' (no art skills needed!). I will share tips and techniques to not only to create the most delightful collages, but also honing in on what it is you wish to manifest in your life. You are welcome to bring your own images to this day either in the form of printed material, your own photos or whatever calls to you, however all necessary materials will be provided on the day too.
"I really enjoyed Amelia's workshop. She has a special gift of being able to hold a space of calm acceptance and self-tuning where transformation can take place. I would definitely recommend working with Amelia!"
Mel Larsen
Dream Project Coach
Tell me more....
The day runs from 10am – 4.30pm
Starting at 10am with Organic herbal teas and smoothies there will be an opportunity to meet and chat to your fellow retreat-ees :)
At 10.30am, we will start the day's events with introductions, a meditation and intention-setting with the group.
We will then dive in to understanding energy, how it works (or doesn't work) with you and what you can do – and how the Theta technique works.
We will look at how to clear beliefs that are blocking you from manifesting something specific you would like in your life right now.
There will be time in Cannizaro Park at your own leisure to really tune in and identify what it is you desire right now. Nature is a great healer and supports a space for thoughts and energy to clear and for us to 'ground' which is vital in a day-and-age of busy-ness particularly if you live in a city where energy is always buzzing.
Whilst this is powerful work we will also being having fun when building our dreams and realizing our great potential, power and creativity.
FAQ's:
1. How much does it cost?
This 1 day retreat with me costs £147 (the price of a single 1 hour 1:2:1 Theta Healing® Session together), however, if you book with a friend you can purchase a ticket for £120 each. I know the power and benefits of this work where the value you will receive is priceless!
2. How Do I Pay?
You can pay right here on this page by clicking on the buttons (either a single person purchase or the 2 person purchase).
3. How will lunch be provided?
There are various options. Space provided to sit and each your own lunch - if you choose to bring a packed lunch - in the warmth of the hotel (our own private area). There is also Cannizaro Park where you can eat lunch and take a walk. Wimbledon Common is opposite Hotel Du Vin and across the common is Wimbledon Village where there is an array of cafe, pubs, restaurants and other eateries for you to choose from. Hotel Du Vin also has food in their beautiful 'The Orangery Restaurant' which overlooks the park and then there is 'The Lounge' area which sells lighter lunches with a bar & seating area. You have many choices open to you!
4. Will there be breaks?
There will be a morning break a lunch break and an afternoon tea break. Organic Herbal teas and jugs of water will be provided throughout the day (there will be no caffeine at this event so you may wish to bring your own flask of coffee or 'normal' tea if this is your preference).
5. How do I get there?
Hotel Du Vin, Wimbledon has a carpark in the hotel grounds with FREE PARKING. You can also travel to Wimbledon Overground (from Waterloo or Victoria) and in the same location is Wimbledon District line tube station, and the hotel is a 15 minute walk from there, or a short bus ride (No. 93) or you can get a cab from the station to the hotel.
6. How long is the day?
Registration opens at 10am where you have time to arrive, settle in, have a herbal tea or smoothie and meet fellow retreat attendees. Then we start at 10.30am. Lunch will be from 1pm -2pm with a short break in between and the afternoon session runs from 2-4.30pm with a short break in between.
7. How many people will be on the Retreat?
There will be a maximum of 14 people to keep it a small and personal experience.
8. What do I need to bring/wear?
Bring clothes for all weathers it's the UK! Maybe an extra layer if it gets cold and footwear that allows you to walk across the park (allowing for rain etc) and for the activities themselves, just wear something comfortable and casual.
9. I'm not artistic – will it work for me?
The art/creative part of the day requires NO previous art experience at all! I am fully trained and qualified in teaching art and collage is one of the most accessible creative skills for everyone. I will be guiding the whole way through with a no-pressure environment.

10. Do I need any pre-qualifications and/or experience and knowledge of Theta Healing®?
No, not at all. This is open to everyone and levels of experience (or no experience). It is a day that's been designed to be fun and informative, introducing Theta Healing® and doing some of the Theta techniques as well as being creative too.
I look forward to welcoming you on this wonderful 1 day Retreat Experience :)
Amelia.xo
www.soulspacehealers.uk
About Amelia:

Having trained and taught in visual art and creativity for over 15 years with a BA & MA in Fine Art and as a qualified tutor and workshop leader, I have helped hundreds of people tap into their creativity and creative problem-solving abilities to re-discover their purpose and move forward with their life.
Within the last year I've become an Advanced Theta Healer® Practitioner and have brought together my skills and experience to offer 1:2:1 bespoke sessions in Creativity and Theta Healing®. I did this having realised the biggest block for people living a fullfilled, creative and purposeful life was stuck energy in the form of sub-conscious, self-limiting beliefs (and unhealthly lifestyles) which stops them getting from where they are to where they want to be. When these blocks are removed - along with conscious creative activity & more healthy lifestyles - people can step back in to the driving seat of their own life and live a life they truly desire; one that's in alignment with their passion, purpose and values.
Live a life you love today!
Please note my MONEY BACK GUARANTEE - if you stay until the very end of the day and DON'T feel you love it or its value you can request your money back :)