RECORD OF A TENEMENT GENTLEMAN - Films of 1947

Tuesday, August 15, 2017 at 8:30 PM (BST)
Event Details
Films of 1947

RECORD OF A TENEMENT GENTLEMAN
 Dir.: YASUJIRO OZU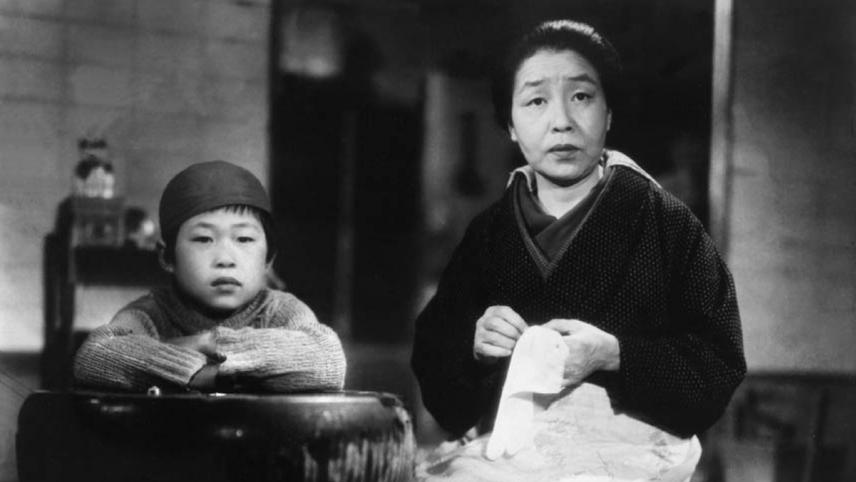 Yasujiro Ozu's first postwar film, Nagaya shinshiroku, is as delightful as his comedy I Was Born, but . . . and twice as profound. Its makeshift family reflects Japan's shaken institutions, and its setting—the lower-class section of downtown Tokyo—reflects Japan's postwar economic hardship. What irony that the character who sets the plot into motion, Tashiro, is a fortune teller. Japan's future is clouded and indeterminate.
     Kohei, the small son of an itinerant carpenter, attaches himself to Tashiro, who brings him home to his tenement to the dismay of his actor-roommate. They decide that Tané, their widowed neighbor, should take the boy in for the night. Tané wants no part of Kohei, but he is left there and, so, she complies. Attempts to find the motherless boy's father fail, and Kohei tries Tané's patience with his recurrent bed-wetting. But the two slowly bond, and Kohei becomes for a while a cherished part of Tané's life.
     For a while; Ozu is cinema's great poet of transience, impermanence. A key shot consists of discarded newspaper pages blown by wind across the ground. The image, poignant, refers to Japan's postwar army of abandoned children. Can anything restore the nation's fortunes? Perhaps; but Kohei's young father shows up one day to claim his son, expressing charming gratitude.
     Kohei and Tané: each wears a pudgy, sour face. Chouko Iida beautifully plays Tané. Thus Ozu's great pre-war tragedienne, best known for maternal roles, now plays a reluctant surrogate mother or grandmother—and she is hilarious when expressing disapproval of the boy, deeply moving once her heart opens up to him, and devastating upon her loss of him.
     The film ends by showing anonymous young boys in a park. Two share a cigarette: the obliteration of Japanese childhood.
-Dennis Grunes
 .
FILM STARTS AT 8.30 PM
72 mins

Please do not eat in the cinema
 .
Please DO NOT book a seat if you are not sure of your availability! Seats are limited and each booking reduces the number of seats available to others. If you cannot attend, please cancel your reservation as soon as possible by going to "MY TICKETS" on the email from Eventbrite: this will release your seat to someone else.

If the film is SOLD OUT, there will be an automated waiting list, which will contact you if/when a seat becomes available.

Upon leaving the cinema, please make a donation towards our running costs and support your club.  Thank you!

When & Where

Sands Films Cinema
82 Saint Marychurch Street
SE16 4HZ London
United Kingdom


Tuesday, August 15, 2017 at 8:30 PM (BST)
Add to my calendar
Organizer
Sands Films Studio is a film production facility servicing films and TV since 1975. The Studio is also home to The Rotherhithe Picture Research Library which is an educational charity providing a free visual reference library to designers and students. Since 2005 Sands Films Cinema Club has provided regular programmes of film screenings and live events with a non-commercial agenda of culture, education and politics. Most screenings are free and supported by donations, subscribers and shareholders. Visit Sands Films website to discover ways of getting involved with Sands Films.