RECOUP Webinar 2020 - Plastics Resources and Recycling: Opportunities & Challenges Within Reuse and Refillable Strategies
About this event
This event, aimed at anyone involved or interested in the plastics and recycling industry, will focus on opportunities and challenges within reuse and refillable strategies.
AGENDA
10:00 am - Login, housekeeping and instructions.
10:05 am - Chair welcome.
10:10 am - Opening - introduction to RECOUP - Anne Hitch, RECOUP.
10:15 am - Chair scene setting- Trevor Nicoll, President of CIWM.
10:20 am - Libby Peake, Head of Resource Policy, Green Alliance.
10:35 am - Stephen Clarke, Head of Communications, TerraCycle and Loop Europe.
10:50 am - Trewin Restorick, Founder and Chief Executive Officer, Hubbub.
11:05 am - Catherine Conway, Founder and Director, Unpackaged Innovation.
11:20 am - Q&A session.
11:40 am - Chair round-up.
11:45 am - CLOSE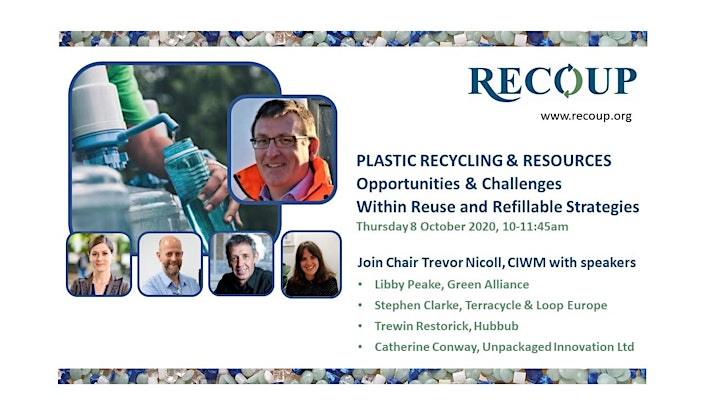 Organiser of RECOUP Webinar 2020 - Reuse and Refillable Strategies