RECOUP Webinar 2020 - Plastics Resources and Recycling: Opportunities & Challenges Within Rigid Plastics
About this event
This event, aimed at anyone involved or interested in the plastics and recycling industry, will focus on opportunities and challenges within rigid plastics.
AGENDA
10:00 am Login, housekeeping and instructions.
10:05 am Introduction by Chair: Stuart Hayward-Higham, Technical Director, Suez
10:15 am Paul East, Packaging Sustainability Manager, RECOUP
10:25 am James Kay, Director, Resource Efficiency Wales.
10:40 am David Walsh, Chief Executive Officer, Impact Recycling
10:55 am Kinza Sutton, Head of Public Affairs & Sustainability, Plastipak.
11:10 am Q&A session.
11:40 am Chair round-up.
11:45 am CLOSE
The session will be recorded.
Delegates are invited to submit questions for answer at the end of the session.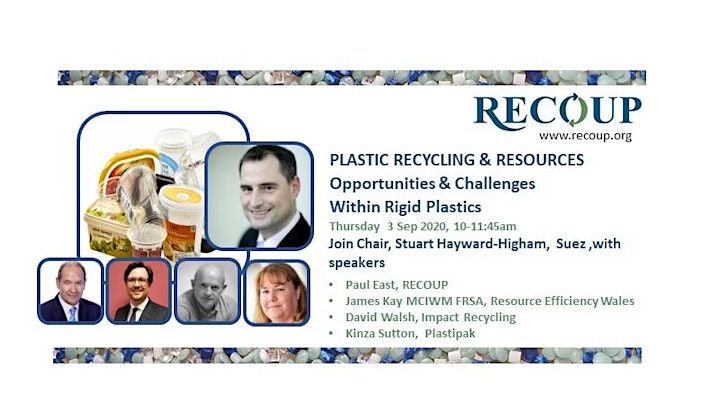 Organiser of RECOUP Webinar 2020 - Rigid Plastics