Event Information
Location
Southampton Sports Centre
Thornhill Road
Southampton
SO16 7AY
United Kingdom
Recreational Football match. A great way to keep fit, meet new people and just play football.
About this event
For more info on Recreational football please visit Recreational Football
Recreational football is simple concept, it's about playing football for the love of the game rather than competition. It's an organised meet up with some mates for a kickabout, if you don't have any mates in the area it's a great way to make some.
Each venue has it's own league, unlike some leagues ours are set up so you play for yourself rather than a team, this means you don't need to rely on a team of mates who can play each week. The games are set up so you play when you want so it fits around family and work commitments, new players are always welcome to join at any point in the season.
Players need to be over 18 years old but all shapes, sizes, fitness levels and skill levels are welcome .
Covid-19 .
On arrival and exit please use the hand sanitizer provided.
If you have any of the symptoms of Covid-19 please stay away. More info can be found here- Covid-19 NHS symptoms and guidelines
The games are laid back and fun, its a chance to get out and socialise while kicking a ball about.
Please bring your own water/ drink.
Thanks you for your support and stay safe
The Rules of Recreational Football
The rules of recreational football are slightly different to the full game, this is to make the game more enjoyable and reduce the risk of injury.
Non Contact (or as close to non contact as possible).
No aggressive play, this includes verbal abuse towards other players.
Games last an around an hour, take breaks as and when you need them.
Smaller sided games (up to 9v9).
No slide tackles.
No offside rules.
Throw ins are replaced with kick ins.
All games are played on either 3g or astro turf pitches so only astro turf or moulded studs allowed.
Shin pads are advised but not essential.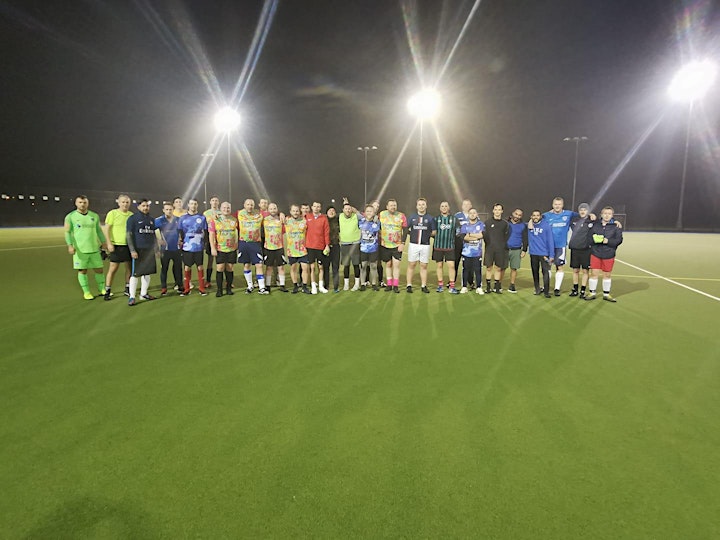 Location
Southampton Sports Centre
Thornhill Road
Southampton
SO16 7AY
United Kingdom