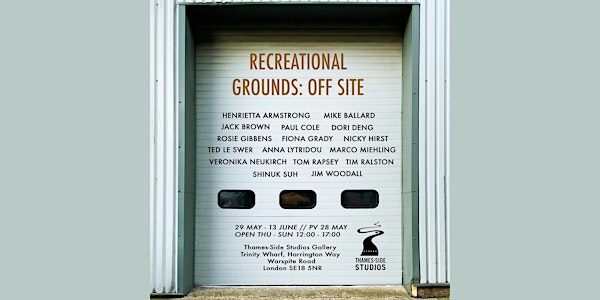 Recreational Grounds : Off Site exhibition
Location
Thames-Side Studios Gallery
Harrington Way
Warspite Road
London
SE18 5NR
United Kingdom
Join us for the Recreational Grounds takeover at Thames-Side Gallery in SE London.
About this event
Since 2018 Recreational Grounds has been inviting artists to create site-responsive art works in an unconventional venue, a vacant car park on the Aylesbury estate in Elephant and Castle, London. The project has enabled artists to challenge their practice and work in new ways to fulfil a unique brief. The exhibition Recreational Grounds : Off Site presents this concept in a new venue and takes the project off-site.
For this exhibition the curators have selected artists from previous editions of Recreational Grounds alongside a few new names. The decision to present the artists in a more formal gallery space is an opportunity to test the values and principles of Recreational Grounds, keeping the intuitive, improvisational and ephemeral aesthetic but asking the artists to re-interpret the project for a new setting. The artists will create site responsive work that will look to explore themes initially developed in previous editions of Recreational Grounds, reflecting on how their work and ideas may have changed and grown with time.
Featuring Artists:
Henrietta Armstrong, Mike Ballard, Jack Brown, Paul Cole, Dori Deng, Rosie Gibbens, Fiona Grady, Nicky Hirst, Ted Le Swer, Anna Lytridou, Marco Miehling, Veronika Neukirch, Tom Rapsey, Tim Ralston, Shinuk Suh and Jim Woodall.
Curated by Fiona Grady, Anna Lytridou and Tim Ralston.
Online events and performances to engage with the exhibition and discuss narratives around Recreational Grounds will take place during the exhibition.
A Recreational Grounds publication will be launched at the exhibition. This will catalogue the previous editions of Recreational Grounds and contain commissioned writing on these alternative, artist-led exhibitions.
Please note - we are offering bookable slots for the duration of the exhibition and will be ensuring social distance
(Images below: Tim Ralston / Anna Lytridou / Nicky Hirst / Dori Deng / Paul Cole)