RECRUITING TALENT 2019: New Approaches for a New Era
Description
Join us on Friday 19th July 2019, 9-12, for this free event, to learn, share and discuss new approaches to recruiting your talent. (followed by lunch and exhibitor marketplace).
Find out how you can …
Meet your Future Workforce Needs
The full impact of Brexit remains to be seen, however EMC data from their QES (Quarterly Economic Survey) highlights that 68% of businesses struggle to recruit. With a clear skill shortage and the evident challenges with recruitment; what do we do differently to recruit our talent? What is the likley impact of Brexit? and what funding is available to recruit and upskill your future workforce? to find out - book your place to attend!
Adopt Innovative Approaches to Recruitment
The labour market in Britain is currently very tight, with record employment as well as unemployment at its lowest since 1975. With job creation outstripping the number of available workers, employers are having to compete harder to attract the right talent to sustain and grow their business. Come along and hear from employers who are adopting innovative approaches to recruiting thier talent.
Reap the Benefits of Diversity and Inclusion
Discover how to truly champion Diversity and Inclusion and how this can result in increased sales and an enhanced employer brand. See how diverse teams work better, are more productive, more creative and have increase retention.

---
Our Speakers

Elizabeth Fagan - The Future of Workforce Skills in D2N2 and the Boots Approach
Michael Weedon - Not Just Big Business: SMEs and Recruitment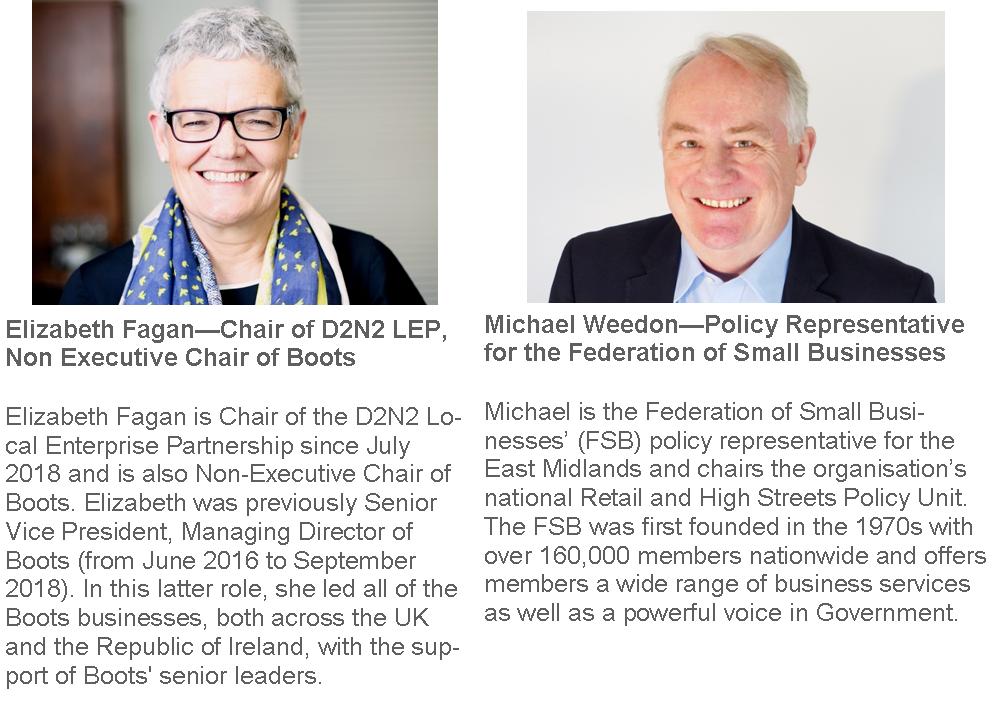 ---
Our Workshops
Our interactive and informative workshops will enable you recruit more effectively. Hear from employers, specialist support services and providers.
The option to attend a maximum of two workshops – limited spaces per workshop.
Access to Finance & Skills Support Within D2N2

(WORKSHOP SOLD OUT)

Diversifying Your Workforce: How To Recruit Inclusively (WORKSHOP SOLD OUT)
Unlocking Hidden Talent (WORKSHOP SOLD OUT)
Apprenticeship Panel: Recruiting Your Future Workforce

(WORKSHOP SOLD OUT)

Employment Law: Likely impact of Brexit on Recruitment

(WORKSHOP SOLD OUT)
If you are interested in attending a workshop, which is sold out - please ask at registration on the day. Spaces may become avalible due to cancellations.
For more details on the content of each workshop – click here.

---
Our Exhibitor Marketplace
Speak to our exciting range of providers, chosen to exhibit on the basis of the strength of support they can offer you to recruit.
The Marketplace will be live from 08:30 (during registration) until 1pm (during lunch & networking)
A market place directory will be available to take away on the day.

---
Our Sponsors

---
Our Contributors
D2N2 Local Enterprise Partnership, Federation of Small Businesses, D2N2 Growth Hub, Nottingham Jobs, Nottinghamshire Fire and Rescue, DWP, The Prince's Trust, Experience Works, Groundwork Greater Nottingham, All About Demolition, Motor Point, Derby City Council Apprenticeship Hub and Flint Bishop Solicitors.

---
Register Today!

We welcome attendance from directors / managers (within small, medium and large size business), who have an influence on, or responsibility for, the recruitment of your talent.
We would particularly welcome attendance from our D2N2 LEP Priority Sectors; Transport Equipment Manufacturing, Transport & Logistics, Health & Social Care, Construction, Visitor Economy, Low Carbon, Life Sciences, Food & Drink Manufacturing and the Creative & Design Industries.
This is a free event and places are limited.

---
FAQs
Lunch
Refreshments will be provided on arrival and during breaks at the event and a buffet lunch will be provided at the end of the event.
Parking and Access
There is plenty of parking available in and around Pride Park, with easy access to all major road networks. A list of parking options will be sent to you closer to the time.
Derby College entrance is opposite the Derby City Train Station (Pride Park exit) so perfect if you are travelling by train.
If you have any additional support needs please inform us during your event registration process.
Photography
By attending this event, you give BBO permission to film & photograph you for use in event related press releases and future publications. If you have any concerns, please contact Sandra Casey via sandra.casey@d2n2lep.org.uk or 07498 721167.
Further Questions?

For any questions about the logistics of the event please contact Sandra Casey via sandra.casey@d2n2lep.org.uk or 07498 721167.
For any questions about the content of the event,its relevance to your business or exhibting contact Sabina Talib 'BBO Stakeholder Manager for Derby City via sabina.talib@emc-dnl.co.uk or 07548 224445.