In this interactive virtual roundtable event you'll discover how modern recruiting organisations are using data and programmatic technology.
About this event
In the midst of an economic recovery, organisations are still facing a myriad of challenges to attract qualified and diversified candidates at scale, while keeping costs low. Data is a critical component to making the right decisions and increasing your ROI.
Being data-driven is no longer a buzzword; it's how modern talent acquisition and recruitment teams track and measure performance, make decisions, and demonstrate value. So what does it mean for recruitment advertising? This is all about ensuring you have the data you need at your fingertips to make the right decisions for your talent acquisition goals and budget, to use data to fuel better performance in your hiring funnels, and to demonstrate the ROI of your recruiting investments.
In this virtual roundtable, designed for high-volume employers, we will introduce you to a carefully selected group of management-level peers, all with similar goals and challenges. You will be able to exchange valuable insights and best practices in an intimate and highly engaging environment around how modern recruiting organisations are using data and programmatic technology to win candidates and drive better, more efficient recruitment outcomes.
What's being discussed
Understand what data you have at your fingertips – and how to use it
How to resource on volume while creating a great candidate experience
Strategies for effectively measuring your success
Building a future-proof, data-driven strategy
… and much more!
Who will be attending?
In-house Recruitment Leaders and Heads of Talent Acquisition from a wide spectrum of companies, all with ongoing hiring needs, to exchange strategic insights and best practices in an intimate and engaging environment from companies including Asda, BCA, Bupa Dental Care, Capita, Defra, EY, Gilead Sciences, Janssen, Kier Group, Lloyd's Register, Mondelez International, NTT DATA, Nuffield Health, PepsiCo, TCS, The Open Data Institute, UK Ministry of Defence, VSH, XPO, Zurich... to name but a few!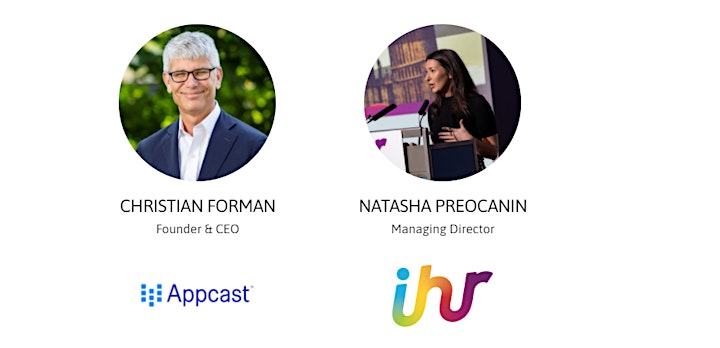 Event agenda
14:00 – Opening announcements
14:05 – Guest speaker presentation
14:15 – Interactive roundtable discussion
14:55 – Closing comments
15:00 – Event close
Total duration: 1 hour

Appcast is the global leader in programmatic recruitment advertising technology and services. With advanced technology, unmatched market data and a team of the industry's best recruitment marketers, Appcast's technology and services manage over half a billion dollars in job advertising annually on behalf of more than 1,500 clients.
Organiser of Recruitment Data to Develop An Effective Job Advertising Strategy
IHR is the largest and most engaged community for In-house Recruiters. Our 20,000+ community benefit from over 70 live and virtual events each year ranging from our 1000-strong exhibitions and high profile awards to exclusive half-day breakfasts and targeted dinners for Recruitment Leaders. We also produce industry leading digital whitepapers, webinars and leadership videos alongside high value community forums and an all-inclusive supplier directory. Membership is free, why not join today? https://inhouserecruitment.co.uk/join