Recruitment Directors' Roundtable 2019

Wednesday, 4 December 2019 from 14:00 to 17:30 (GMT)
Event Details
Join us at a Recruitment Directors' Roundtable in 2019 to get a taste of the full Recruitment Network member experience in an afternoon. All welcome to attend; TRN members, potential TRN members, Recruitment Directors and recruitment agency business owners.
Dates: Tuesday 12th February, Thursday 14th March, Wednesday 10th April, Tuesday 7th May (BIRMINGHAM), Wednesday 12th June, Tuesday 23rd July, Thursday 19th September and Wednesday 4th December 2019
Register now for a date that suits you and we'll confirm your place as soon as possible
UKRecruiter is working in partnership with The Recruitment Network to host a series of taster session events alongside industry experts and guest speakers. You'll receive an afternoon of unrivalled recruitment advice where they'll help you examine, fix and plan for your future.
The afternoon will cover hot industry topics and give you the chance to get a health check of your business but also discuss some of the biggest opportunities and challenges you are facing as a business leader.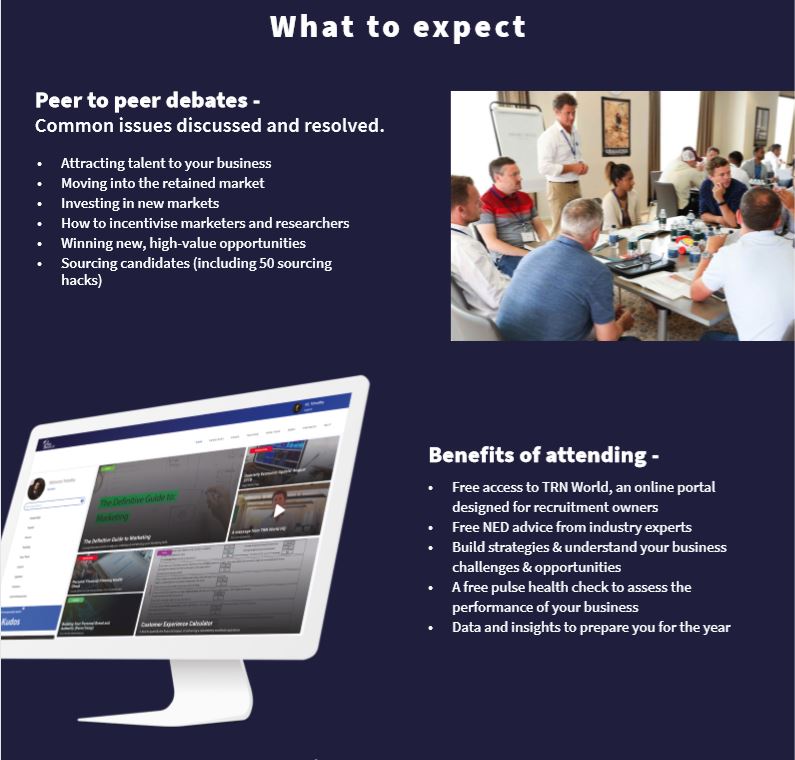 We will run a number of interactive breakout sessions throughout the afternoon which will be facilitated by our industry experts. This will be your opportunity to discuss your business with our experts and peers in a controlled environment.
If you've been to a Directors Event before - don't worry it's the same great content and format. If you are looking to join The Recruitment Network - this event will give you a taste of the full Recruitment network member experience in an afternoon. If you've never come across either of us before but are a recruitment director or agency owner then you'll still benefit from the event - with no obligation to do more than attend. We'll solve your businesses biggest issues
Save This Event
When & Where

venue to be confirmed after booking

central London
United Kingdom


Wednesday, 4 December 2019 from 14:00 to 17:30 (GMT)
Add to my calendar