Event Information
Refund Policy
Contact the organiser to request a refund.
Eventbrite's fee is nonrefundable.
About this Event
Working from a photograph of a beautiful red rose, the symbol of love and desire, you will learn to draw and paint in a relaxed environment. Karen will guide you, with demonstrations and examples, through the basics of line drawing and shading with pen, using the 'stippling' method. You will learn to apply the one colour of watercolour paint in layers of washes to build upon depth. There will also be the option to apply water droplets to your rose and Karen will demonstrate how to create these, thinking about light and shadow.
This workshop is aimed at people with some basic drawing experience but complete beginners are also very welcome. It will last approximately 2 hours with a 10 minute optional break halfway through. This time can also be used to ask Karen questions about her own work or get some more 1 to 1 guidance.
The materials needed have been kept fairly simple in order to keep costs down and hopefully you may have most of these lying around the house! However if you would prefer to have a package delivered out to you with all the materials, please choose this ticket option for an additional £6. (Please note this option is only available for those in the UK and will not be available 10 working days prior to the day of the workshop to allow for delivery on time. You will also need to make sure you have the Other Items on the list as these will not be included)
Materials List:
- Sharp HB pencil
- Rubber ( a putty rubber is preferable but a normal one will be fine)
- A piece of water-colour paper - A4ish! (preferably hot-pressed but any will do)
- Thin pointed round paintbrush (size 3 or 4)
-WATERPROOF fine line black pen (size 0.2 or 0.3) Please make sure this is waterproof otherwise the paint will make it run. (Uni Pin are a good, inexpensive brand option)
- Red watercolour paint (suggested; cadmium red or alizarin crimson)
Other items:
- a few pieces of kitchen towel
- water pot
- paint pallette - a china saucer is fine
- something circular to draw around (sellotape roll, small saucer; - this will determine the size of your rose.)
You will receive a link to this Zoom workshop 24 hours prior to the event. There will be two photographs that I will email out to you that I suggest you print out if you have the option or have them to view on another screen (phone/tablet). Don't worry if this is not possible, the images will be shown on the screen during the workshop for you to work from.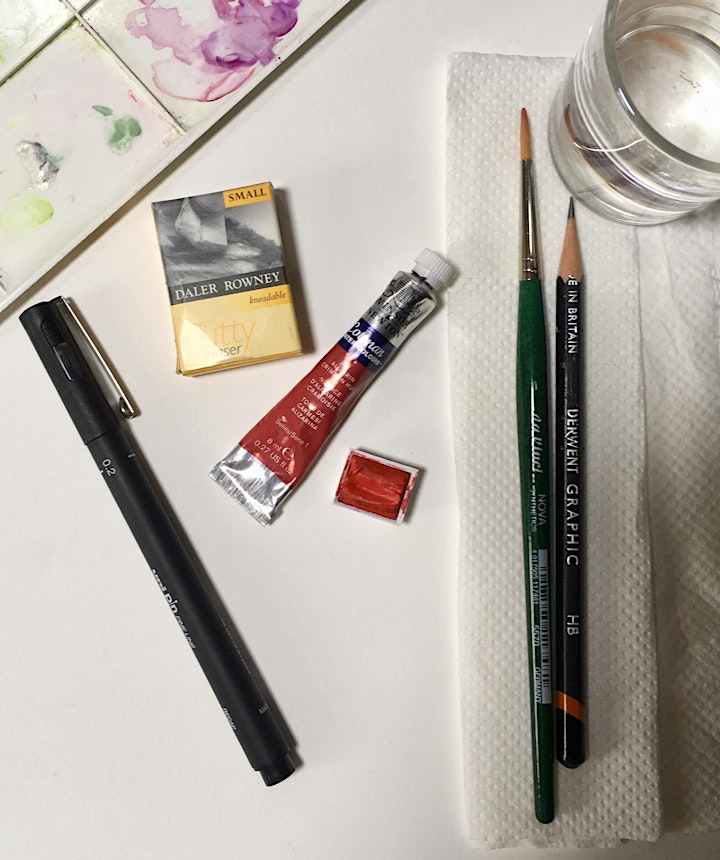 Location
Refund Policy
Contact the organiser to request a refund.
Eventbrite's fee is nonrefundable.