Understanding Parental Conflict and Its Impact on Child Outcomes: How can I use the evidence base to support parent relationships?
About this event
The eLearning can be completed in preparation for attending classroom training, or as stand alone learning. It is a package training which consists of 4 modules. Each module will take between 30-45 mins to complete, there is a breakdown of content below. Once you begin your eLearning, you will be able to access the eLearning modules for a further 6 months.
Speak to your manager if you would like to complete this eLearning. After signing up please allow 5-6 working days to receive your log in from Knowledge pool, who is the provider of the software for this program. If you havent received your log ins in this period please email help@knowledgepool.com
Module 1: Understanding Parental Conflict and its Impact on Child Outcomes
• An introduction to the evidence.
• Relationship dynamics and stressors.
• Understanding and recognising parental conflict.
• The impact on children.
Module 2: Recognising and Supporting Parents in Parental Conflict
• Research, child outcomes and early intervention.
• Conflict in relationships.
• Recognising the signs of relationship distress.
• Introduction to intervention.
Module 3: Working with Parents in Conflict
• Enhancing interparental relationships to improve child outcomes.
• Working with couple relationships.
• Parental Conflict conversations - toolkit techniques.
• Other sources of support.
Module 4: The Role of Supervisors and Managers
• Knowledge, skills and competencies.
• Parental Conflict conversations - toolkit techniques.
• Overcoming barriers/challenge.
• Supervisory conversations.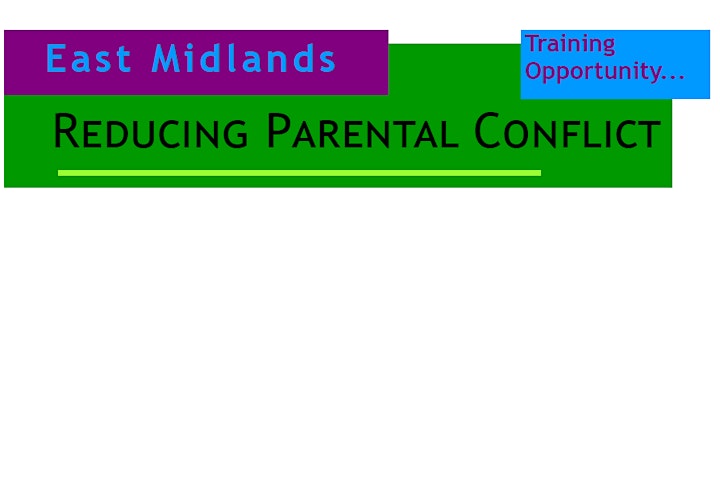 Organiser of Reducing Parental Conflict E learning
The Reducing Parental Conflict Programme is funded by the DWP based on EIF research. In the East Midlands we are taking a regional approach, working together to share resources and plan for positive change for children and families.
What is the aim of the Reducing Parental Conflict Programme?
The overarching aim of the programme is to support local areas to make progress towards an integrated system-wide response to the reducing parental conflict evidence base by end of March 2021, to ultimately improve child outcomes and reduce the need for costly specialist services in the future.
The programme intends to achieve this by:
continuing to build the parental conflict evidence base through ongoing evaluation as part of a test and learn approach
supporting and enabling local authorities and their partners to understand the evidence base and to agree and adopt a system-wide approach to developing appropriate local service provision
Since 2015, DWP has been working with a small group of local authorities to test ways of addressing parental conflict, as part of the Local Family Offer. Lessons learned from these areas highlighted the need for strategic dialogue and for practitioner training. This learning has been used to develop the grant funding opportunities outlined in this document, for all top tier local authorities across England.
For e-learning please go to
https://www.eventbrite.co.uk/e/78152533331
to book your online log -in.
Please do not book online learning if you are already attending any classroom training. As you will be still send an e-learning log-in for having registered to classroom training.
Many Thanks