Description
Welcome to Redux Saga!
Here we go with our next hands-on meetup (bring your laptop!), this time we'll be teaching redux-saga. Redux-saga is a Redux middleware for handling side effects. Think of side effects as things that are asynchronous (like an AJAX request) and impure (change the state of the app).
We'll see how redux-saga solves these problems and why it's awesome. We'll write some clean async code and even better tests!
To attend this workshop you must have experience with React and Redux. We won't explain React or basic Redux concepts.

Agenda
• 6:30pm to 6:45pm: Mingle & Setup
• 6:45pm to 7:30pm: Talk "Intro to Redux Saga", by Alex Lobera, Tech Lead at LeanJS
• 7:30pm to 9pm: Hands-on Workshop. You'll have to work in pairs to implement some sagas and tests. There will be mentors to help you and provide individual feedback.

Requirements
A computer with node (at leat v4.4.5 LTS) and git installed. You should be familiar with React and Redux.

Sponsors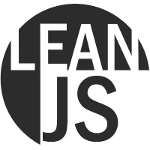 LeanJS is a boutique of excellence focused on Lean, JavaScript, UX, Agile, and people.