Description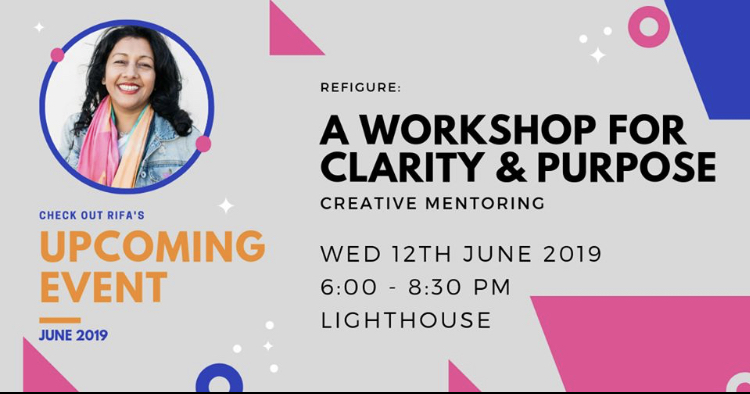 Refigure presents:
REFIGURE: a workshop with Rifa for clarity & purpose
Wednesday 12 June 2019 - 6PM to 8.30PM (6.30PM start)
TIME FOR YOU
It's time for a special Refigure event, a space for you to reflect, refocus and reframe. Are you at a crossroads? Struggling to work out the next steps? I can help you refigure it out and help take you to the next level of satisfaction, clarity and happiness. After one of these sessions, one woman quit her job and set up her new freelancing business. Others have found more focus and regained confidence.
THIS WORKS
Rachel Finch of Brighton Digital Women said:"Rifa is one of the most caring and intuitive people I have ever worked with. Her wellness workshops and coaching have helped direct my path and inform my purpose. I would highly recommend her sessions and workshops to anyone looking to get back in touch with themselves and others on a meaningful level."
GET THE GOLD
I'm running this evening event so we can meet in person and I'll share with you my top techniques that really work. I have a thriving coaching and mentoring business, helping women in tech, design and creative industries with their careers. If you are getting confused about your direction or are wondering if you're doing the right thing, I can help you with practical tools and tips to take away that really work. I'll also take you through some guided meditations so you'll leave refreshed and lighter. Plus you'll meet some awesome, professional women, just like you!
INVEST IN YOU
Book now as places are limited. If you buy a ticket for you and a friend, you get £10 off the total price. Win, win! Antony Mayfield of Brilliant Noise said: "Rifa has a vision for how mindfulness and self-compassion are vital to both our personal well-being and the performance of teams and organisations. But visions are the easy part. What makes Rifa so remarkable is that she has the skill and the will to follow through and create change with this work. I've taken part in Rifa's workshops and guided meditations several times. She's inclusive, practical and effective - an approachable, clever facilitator and I'd recommend working with her if you can."
WHO AM I?
I'm Rifa, I've been mentoring and managing designers, programmers and creative people for over 20 years. I am an advanced meditation teacher, regularly visiting my teachers in India. I run SheSays Brighton and Spring Forward Festival - events for women in tech and my events are always motivating and uplifting.
Book now for this evening event, let's spend some quality time together and I'll share with you my secrets. If you'd prefer to have a one-to-one private session with me, get in touch: rifa@rifa.co.uk or 07968982136 - for more info about me: RIFA.CO.UK
I can't wait to see you!
Rifa x