Sales Have Ended
Registrations are closed
I'm afraid the ticket sales for our Conference has now ended.
Sales Have Ended
Registrations are closed
I'm afraid the ticket sales for our Conference has now ended.
Join us for the Women in Defence UK 10th Anniversary Virtual Conference and reflect, recognise and roar!
About this event
Wednesday 8th and Thursday 9th September, join Women in Defence UK as we celebrate our 10th anniversary.
Opening the conference is the Permanent Secretary of the MOD - David Williams CB. We have Times columnist Mary Ann Sieghart talking about her book 'The Authority Gap' and Paralympian, Jade Jones-Hall, discussing goal-setting and ambitions. Learn how Aviva 'levelled up' paternity, surrogacy and adoption pay and leave to match maternity pay and leave and how successful that's been. Join Judi James (Big Brother - Body Language expert) and explore whether marketing is still sexist with Jane Cunningham and Philippa Roberts? Pick up some work-life balance hacks from Dr. Almuth McDowall or learn about how mental fitness is as important as physical fitness from Johanna Hooper, and what we can do to manage it.
We're excited to welcome an audience from right across the defence enterprise, united both by shared passion for equality and by unique positions as agents of change within defence.
With thanks to our Professional Self Area Sponsor - PA Consulting; both days promise to be inspirational and incredibly special for those lucky enough to bag a place.
#WeAreWomenInDefence
#WiDConf2021
#WiD10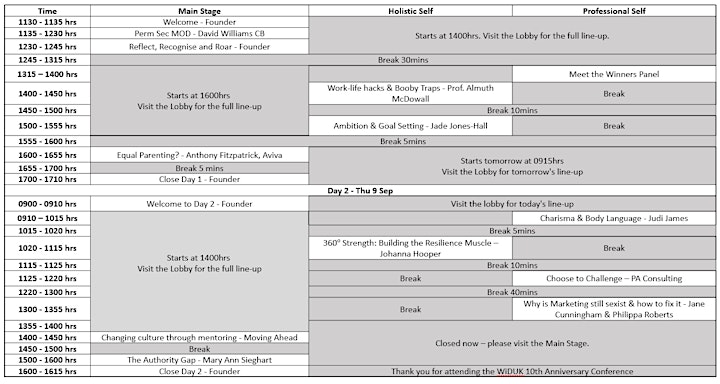 Meet the Speakers and Panelists
Angela Owen OBE - Founder Women in Defence UK
Permanent Secretary David Williams, MOD
Mary Ann Sieghart - Keynote speaker and Author of 'The Authority Gap'
Anthony Fitzpatrick, Aviva - Head of Colleague Experience and Employment Policy
Prof. Almuth McDowall, BSc, MSc, PhD, CPsychol, AFBPsS - Professor of Organisational Psychology, Director of WorkLife Consulting.
Jade Jones-Hall - British Paralympian and Commonwealth Games Gold and Bronze Medallist.
Judi James - Author and Body Language Expert
Johanna Hooper CMgr MCMI - Director of Limitless Performance, Former Royal Navy
Jane Cunningham & Philippa Roberts - Co-authors of 'Brandsplaining: Why Marketing is still sexist and how to fix it'; Co-founders and Directors of PLH Research
Woman of the Year Winners Panel - Col Lucy Giles, Beth-Marie Norbury, Michelle Partington, Phillippa Spencer OBE, Wg Cdr Alison McLean.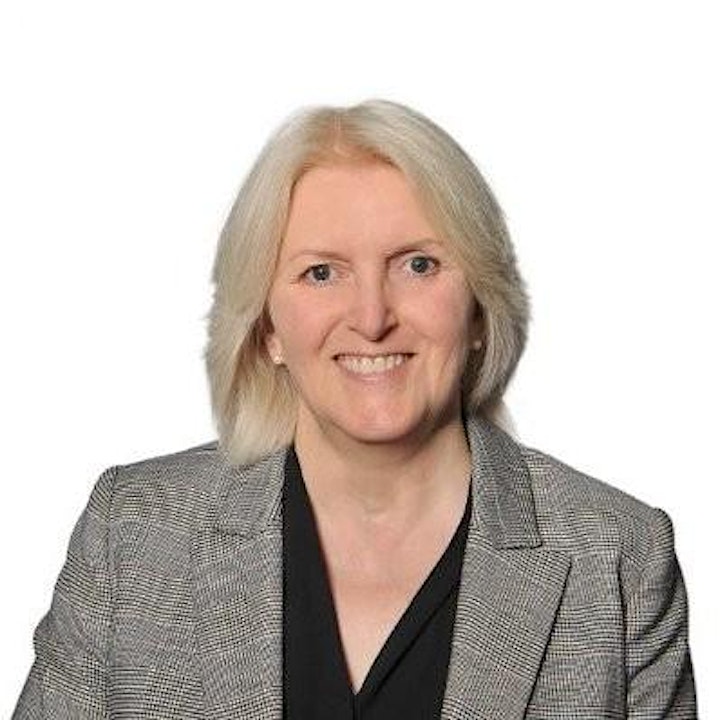 Angela Owen OBE
Angela is delighted to welcome you to the Women in Defence UK 10th Anniversary Conference!
Angela's Army career spanned 30 years and included tours in the UK, Germany and NI during the 'Troubles'. One of the very first mothers to re-join after the rules changed in the early 90s, Angela has always cared deeply about helping women progress with a passion for equality of opportunity. After leaving the Army in 2008, she joined PA Consulting, working in the Defence and Security Sector. In 2011, Angela founded Women in Defence UK, best known for its annual Awards, now in their 6th year, ground-breaking cross defence sector mentoring programme and its collaborative work with the MOD and industry on the Women in Defence Charter.
In addition to Women in Defence UK, Angela is a Senior Advisor to PA Consulting, member of the CMI Women's Committee, a Vice Patron of the Royal Air Force Air Cadets Council, a Companion of the CMI and a judge for the CMI Management Book of the Year. She has recently reprised her early (Commonwealth Games and Combined Services) athletics career and enjoys sprinting in Masters competitions, albeit much more slowly than in the 1980s. She was appointed OBE in the New Years' Honours List 2021 for her services to women who work in the Defence Sector. An exceptionally proud mother of a son and daughter, she is now an equally proud grandmother of two glorious granddaughters!
MARY ANN SIEGHART
Author of "The Authority Gap"
Mary Ann Sieghart spent 20 years as Assistant Editor and columnist at The Times and won a large following for her columns on politics, economics, feminism, parenthood and life in general. She has presented many programmes on BBC Radio 4, such as Start the Week, Profile, Analysis, Fallout and One to One. She chaired the revival of The Brains Trust on BBC2 and recently spent a year as a Visiting Fellow of All Souls College, Oxford, where she researched her book, The Authority Gap, on why women are taken less seriously than men. She has chaired the Social Market Foundation think tank, is a Visiting Professor at King's College London, and sits on numerous boards.
JUDI JAMES
Author and Body Language Expert
Author of multiple books, including The Body Language Bible, Being Confident and The You Code, Judi makes regular TV and radio appearances and features regularly in newspapers.
Judi is also a keynote speaker at conferences and runs workshops and coaching sessions for leading businesses in the UK. Judi has had her own body language series, Naked Celebrity on CH5, appearing as a regular guest on BBC and Sky News. She has also worked on shows like Strictly Come Dancing and X Factor and was a regular guest on Big Brother's Psych programmes.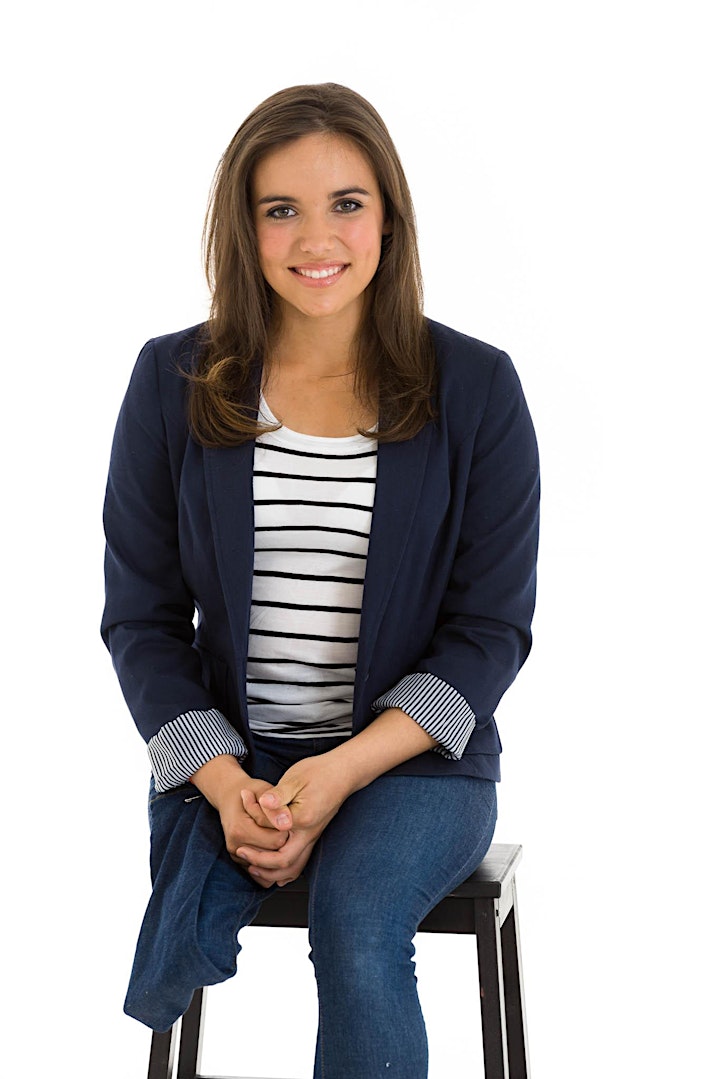 JADE JONES-HALL
British Paralympian and Commonwealth Games Gold and Bronze Medallist
Jade Jones-Hall competes in the T54 category and is one of the most exciting talents in British Paralympic sport. Since her debut in London 2012, she since went on to win medals in the Commonwealth games, European & World Championships, Rio 2016 Olympics and the World Paratriathlon World Cup; impressively dominating in multiple disciplines including 400m, 800m, 1500m, paratriathlon and marathon.
An extremely self-assured and ambitious young athlete she was shortlisted for BBC Young Sports Personality of the Year, has commentated for Channel 4 during the IPC World Championships and has recently completed a law degree.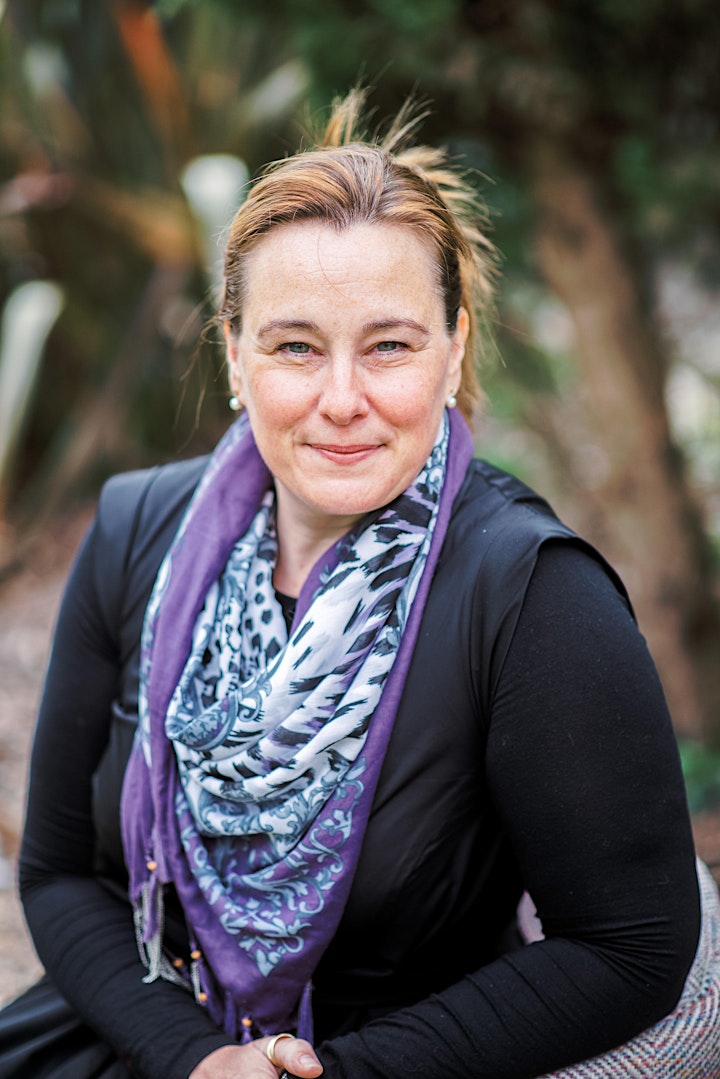 JOHANNA HOOPER CMgr MCMI
Former Royal Navy / Director of Limitless Performance
Johanna is a retired Naval Officer and former management consultant. Her love of developing others to achieve peak performance is the main impetus behind her most recent change in careers. Johanna is now a leadership and performance coach who specialises in transforming business owners and executives from "accidental leaders" into "leadership legends". Part of her work involves getting into the psychology of a leader's performance and addressing issues such as stress, confidence, attitude and motivation.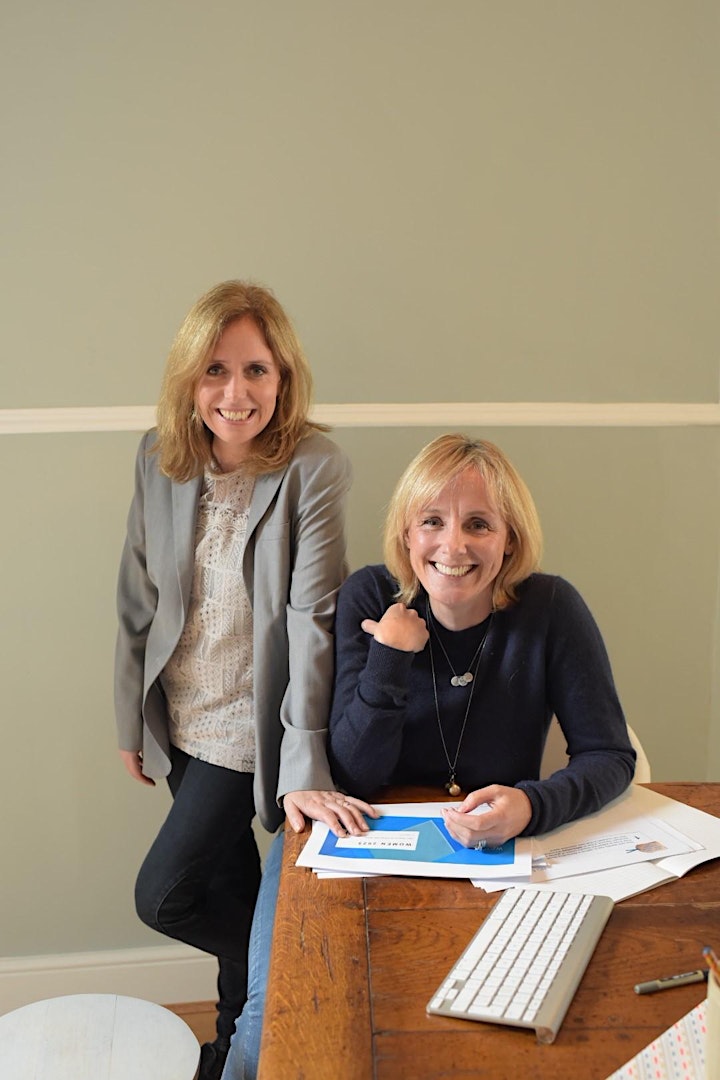 JANE CUNNINGHAM & PHILIPPA ROBERTS (She/Her)
Co-authors of Brandsplaining: Why Marketing is still sexist and how to fix itCo-founders and Directors of PLH Research
Philippa Roberts and Jane Cunningham are the co-authors of a new book 'Brandsplaining: why marketing is still sexist and how to fix it' published this year by Penguin. https://amzn.to/2VfN8fz
The book - described by Penguin as a cross between Invisible Women and Ogilvy on Advertising – is based on 15 years of market research with female audiences. It examines how and why sexist tropes continue to dominate, the strengths and failings of 'fempowerment' communications, and the 'sneaky sexism' that now characterizes much of modern marketing. The authors then propose a set of ten innovative principles – built out of their research – to create marketing that is fresh, exciting and, at last, sexism free.
Described by Dr Aarathi Prasad as "an outrageously important book. Erudite, funny and deeply engaging" Brandsplaining has been an Amazon Bestseller since its launch earlier this year.
Jane and Philippa are also the co founders and director of the research agency PLH: the UK's leading research consultancy specializing in female audiences.
LinkedIn profile: https://www.linkedin.com/in/jane-cunningham-35615315/#
Company website: plhresearch.com
Instagram: @plhresearch
Organiser of Reflect, Recognise, Roar - Women in Defence UK 10th Anniversary Conference