Description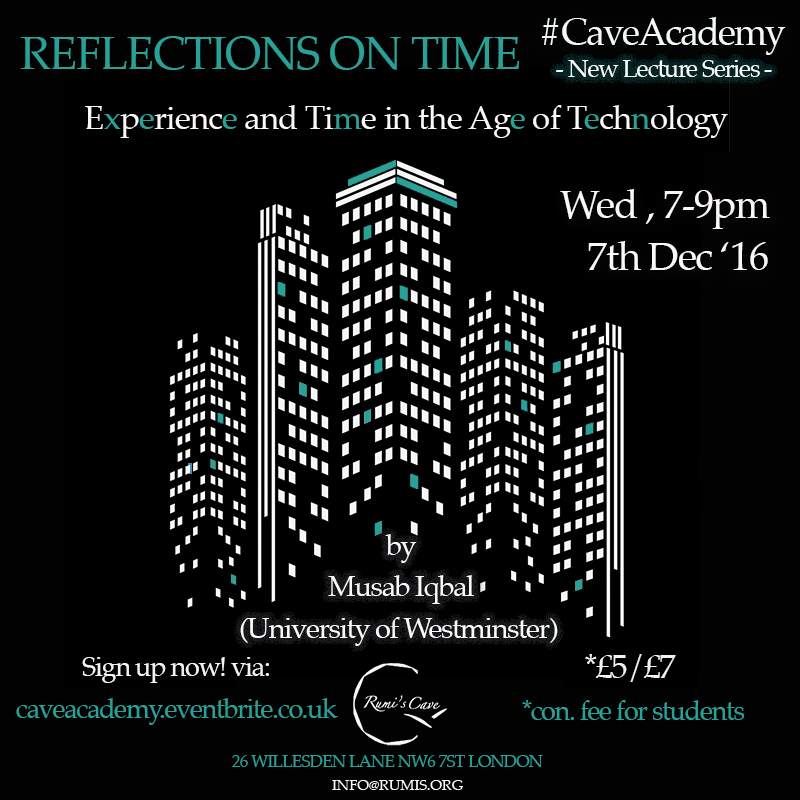 New Lecture Series at #CaveAcademy
REFLECTIONS ON TIME
4-week lectures led by Musab Iqbal - PhD candidate, University of Westminster -
Wednesdays 7-9pm / @Rumi's Cave
7 – 14 -21 – 28th December 2016
We are delighted to announce the next season of lectures entitled REFLECTIONS ON TIME: Thinking and Experience through poetry, media, technology and scholarship.
#CaveAcademy – seasonal lectures continue at Rumi's Cave with an educational focus. This initiative was founded on the principle that those in power should not have a monopoly on knowledge; and so our aim is to empower people at a grassroots level.
Our next season is entitled REFLECTIONS ON TIME and will consist of 4-week lectures led by Musab Iqbal who is currently a PhD candidate in Media and Communication Department from University of Westminster, where he also teach undergraduate and postgraduate students.
The format of these classes will consist of 2-hour seminars every Wednesday evening from 7-9pm starting from October 7th December 2016. There will be recommended reading available throughout to make the most of the sessions. Further details for each seminar are available below.
Please register your interest to attend by emailing info@rumis.org with the subject #CaveAcademy or easily register via :

caveacademy.eventbrite.co.uk
The fee for the whole course is £25 and there is a concession fee of £15 for students and unemployed upon application.
Lecture Programme:
Lecture One: 7 December 2016
Experience and Time in the age of Technology
What is experience in the world? How experience is worldly and other worldly? What is taking our experience away and how we experience time when the technology is distorting and compressing it. Can we experience the pure time or the timeless time amidst noises and images?
Lecture Two: 14 December 2016
Thinking through Poetry
From what is thinking to how we are not thinking is what lecture will focus on and through poetry and poetic tradition. It will explore how thinking through poetry is not only essential but also thinking is a poetic thing. The lecture will explore the theme through some mystical and philosophical poems.
Lecture Three: 21 December 2016
Media and Violence
What is the relation between media and violence today? How media perpetuates violence through not only representation but also through language and knowledge? How the construction of time in media can lead to violence? What is the fate of thinking in times of mediated violence?
Lecture Four: 28 December 2016
Combating violence through thinking and scholarship
How thinking is essential to counter violence? What is the role of a scholar in times of violence? How scholarship can help us to understand and counter the violence we face today.
Lecturer:
Musab Iqbal is a former journalist, news editor, social activist and a bi-lingual poet. He is currently engaged in a PhD project on notion of historical time and cyclical violence which is an interdisciplinary work. His interest is in continental philosophy, mystical poetry, political philosophy, media and representation labour history, and Islamic philosophy among other things.