Fireside Chat series features people, ideas and projects in open and reproducible research.
About this event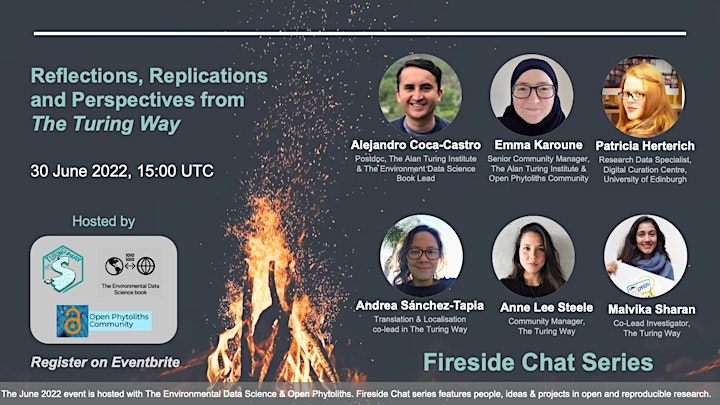 On 30 June 2022, 15:00-16:30 UTC (in your timezone): the next fireside chat will take place on the topic: "Reflections, Replications and Perspectives from The Turing Way".
Chaired by Malvika Sharan and Anne Lee Steele, this panel will feature insights from Patricia Herterich, Emma Karoune, Andrea Sánchez-Tapia and Alejandro Coca. These individuals take on different roles in The Turing Way and more broadly in data science communities promoting best practices for open, reproducible and inclusive research. Patricia will share reflections from her work as a data specialist and one of the founding members of The Turing Way. Emma will talk about her experience of working with a variety of research communities, from health to archaeology and facilitating knowledge transfer via The Turing Way. Andrea will share about her work in biodiversity, plant cology and open science, as well as her role as a translation and localisation co-lead in The Turing Way. Alejandro will share how his research in data science intersects with The Environmental Data Science Book, which he has built on the principles and models established in The Turing Way. Alejandro is also a Translation and Localisation co-lead. We will also facilitate open discussions with attendees to learn about their perspectives via a shared document (links shared upon registration).
The Fireside Chat series features experts, champions and their projects from across different international communities in reproducibility, open research, ethics, collaboration and everything in between. This event is hosted by The Turing Way - a community-led handbook on data science and research, The Environmental Data Science Book and Open Phytoliths Community.
We invite interested communities to get in touch with us to host a next session (email: theturingway@gmail.com) and help catalyse cross-community collaboration and knowledge sharing.
About the speakers
Alejandro Coca-Castro (pronouns: he/him) is a Postdoctoral Research Associate of the Data Science for Science and Humanities programme at The Alan Turing Institute. He holds a PhD in Physical Geography with a MSc. in Environmental Monitoring, Modelling and Management at King's College London (KCL, United Kingdom). He has 10+ years of experience in applied artificial intelligence and data science, in particular for Earth Systems, Agricultural and Environmental sciences. He has contributed to a wide variety of international institutions developing pipelines and tools to process and analyse data (spatial and non-spatial) for decision making. Driven by a genuine passion for open science and technologies with social impact, he is the lead of the Environmental Data Science book, active member of the Pangeo Europe network, former participant and mentor of the Open Life Science programme, and one of the co-leads of the Translation and Localisation team of the Turing Way.
Andrea Sánchez-Tapia (pronouns: she/her) is a Colombian biologist (she/her) with a background in Biodiversity Informatics, Ecological Niche Modeling, and Plant Ecology. She holds a BSc in Biology (UNAL, Colombia), a MSc in Ecology (UFRJ, Brazil), and a PhD in Botany (ENBT-JBRJ, Brazil). She has a deep interest in Open and Responsible Science. She has been a member of R communities of practice since 2017. She is a certified Carpentries instructor, a member of R-Ladies, and one of the co-leads of the Translation and Localisation efforts in The Turing Way.
Patricia Herterich (pronouns: she/her)is a Research Data Specialist at the Digital Curation Centre (DCC). She joined DCC in September 2019 to work on the European Commission funded project FAIRsFAIR. Before moving to the UK, she has worked as a data librarian at CERN's Scientific Information Service working closely with software developers to deliver data and code sharing solutions. In 2016, she joined the University of Birmingham as Research Repository Advisor, providing training and advice on research data management and managing the University's institutional repositories. Patricia is a member of the Digital Preservation Coalition's Advocacy & Community Engagement Subcommittee. She is a Software Sustainability Institute Fellow, an Open Life Science programme mentor and licensed Carpentries instructor.
Emma Karoune (pronouns: she/her) is a Senior Community Manager for the Turing RSS Lab and the DECOVID project. She is a core contributor to The Turing Way, and a member of the Bookdash planning committee, helping to build resources and training for other researchers. Emma is a specialist in Archaeobotany with a PhD from the Institute of Archaeology, University College London, and as well as her role at The Alan Turing Institute, Emma is the Principal Investigator on the FAIR Phytolith Project with Historic England and Universitat Pompeu Fabra funded by EOSC Life. She is also involved in a project to develop the use of phytolith research in British archaeology by developing a comprehensive and open reference collection. Emma writes a blog called The Open Archaeobotanist and regularly gives talks about her open archaeological work. Emma is a Software Sustainability Institute Fellow focusing on promoting a more accessible and inclusive research culture. She is also working with ELIXIR-UK as a FAIR Data Stewardship Training Fellow to develop training resources for FAIR data management. Emma works closely with the Open Life Science Programme as a mentor and expert. All of her research and community building embraces an Open Scholarship approach in which she is striving to develop more open and sustainable research practices within her discipline and beyond.
About the facilitators
Anne Lee Steele (pronouns: she/her) is the Community Manager for The Turing Way at the Alan Turing Institute, where she facilitates a collaborative resource for reproducible data science, and supports an open source community in developing practices for researchers and practitioners around the world. She has worked on a variety of projects remotely in the open ecosystem, including at the Internet Society, Wikimedia Deutschland, and Open Knowledge Foundation.
Malvika Sharan(pronouns: she/her) is a senior researcher for the Tools, Practices and Systems research programme at The Alan Turing Institute. She co-leads The Turing Way project that aims to make data science reproducible, collaborative, ethical and inclusive for researchers around the globe. She is a co-founder of Open Life Science, a mentoring and training programme, a Software Sustainability Institute fellow, Open Bioinformatics Foundation board member, Code for Science & Society Event Fund Selection Committee member, Metadocencia Advisory team member and an active contributor of open source projects. Connect with her on topics including community building, open science, bioinformatics and representation of marginalised members in data science and research leadership. More about her: malvikasharan.github.io.
About the hosting projects
The Turing Way is an open source, open collaboration, and community-driven handbook on Data Science. We involve and support a diverse community of contributors to make research and data science accessible, comprehensible and effective for everyone. Our goal is to provide all the information that researchers and data scientists in academia, industry and the public sector need to ensure that the projects they work on are easy to reproduce and reuse. The Turing Way book currently hosts five guides with over 250 live pages as chapters and subchapters, co-developed by 325 contributors on GitHub.
The Open Phytoliths community was initiated to bring together a global community of phytolith researchers to work on increasing the knowledge of and implementation of open research practices in phytolith research. Our community is being led by the International Committee on Open Phytolith Science (ICOPS) that was created within the International Phytolith Society. We are working on a number of initiatives including training in open science practices, a FAIR data implementation project (FAIR Phytoliths Project) and the development of open publishing guidelines. We aim to be inclusive in the activities that we do and this means taking into account the different challenges that face our global research community. One of our focuses is to make our work fully accessible and we know one of the biggest barriers is language. Therefore, we aim to translate our work into different languages to aid understanding and encourage greater participation in our work - we have already run GitHub training sessions in English and Spanish, and we are currently developing a multilingual website.
The Environmental Data Science book is a community-driven resource showcasing and supporting the publication of data, research and open-source developments in environmental sciences. Our goal is to empower environmental researchers and informatics practitioners in general contributing to a collaborative, reproducible and transparent Environmental Data Science. Integrating actively with The Turing Way, the community has successfully published numerous python-based notebooks covering data visualisation and modelling in different environmental systems. In addition to constant feature enhancements of the GitHub repository, we expect to increase support for other programming communities (R, Julia) and co-working activities (e.g. show and tell sessions) towards improving scientific software practises in the environmental science community.
For more information, or to express your interest to join as a speaker or host, please reach out to The Turing Way team by emailing theturingway@gmail.com.