Want to know how to green your local area and fight climate change? This free training session (online and in person) is for you!
About this event
How can we help to make Brighton and Hove carbon neutral by 2030?
How have other communities reduced their collective
carbon footprint?
Can I plant a tree in my street?
Which plants sequester the most CO2?
This free training will teach you how you can help Brighton and Hove reach carbon neutrality, helping to answer these and many more questions. Biodiversity specialists will share knowledge and ideas to help you to become a Carbon Champion.
The event will take place:
16th September 2021
At Lighthouse, 28 Kensington Street, Brighton
THERE ARE NOW ONLY ONLINE SPACES LEFT @ https://us02web.zoom.us/j/88131782128?pwd=UmFrOHMwUXlzcGNEU0M0dmFBK3k4Zz09
If you would still like to come along in person please tick the appropriate box when you complete your order. If someone drops out we will be in touch to let you know
Aimed at people from communities across Brighton & Hove who want to learn more about what can be done to make our city greener, this event will bring together representatives from Brighton Peace & Environment Centre, Plant Your Postcode, Trees for Streets and Green Infrastructure will showcase the ways communities are transforming where they live to help fight climate change.
There will be refreshments and the chance to network.
Be part of it and help transform your community!
Timetable (please be aware that all times are approximate)
Timetable:
1 to 1.15 p.m. Welcome and introductions BPEC
1.15 to 1.45 p.m. The path to Carbon Neutral 2030 BPEC
1.45 to 2.15 p.m. How can we plant more trees across the city PYP and Trees for Streets
2.15 to 2.45 p.m. Making the city greener and the fight against climate change: Green Infrastructure
2.45 to 3.15 p.m. Break and Networking
3.15 to 4 p.m. Q & A
4 to 4.25 p.m. Actions towards the zero carbon plan for the city - next steps discussion
4.25 to 4.30 p.m. Thanks and close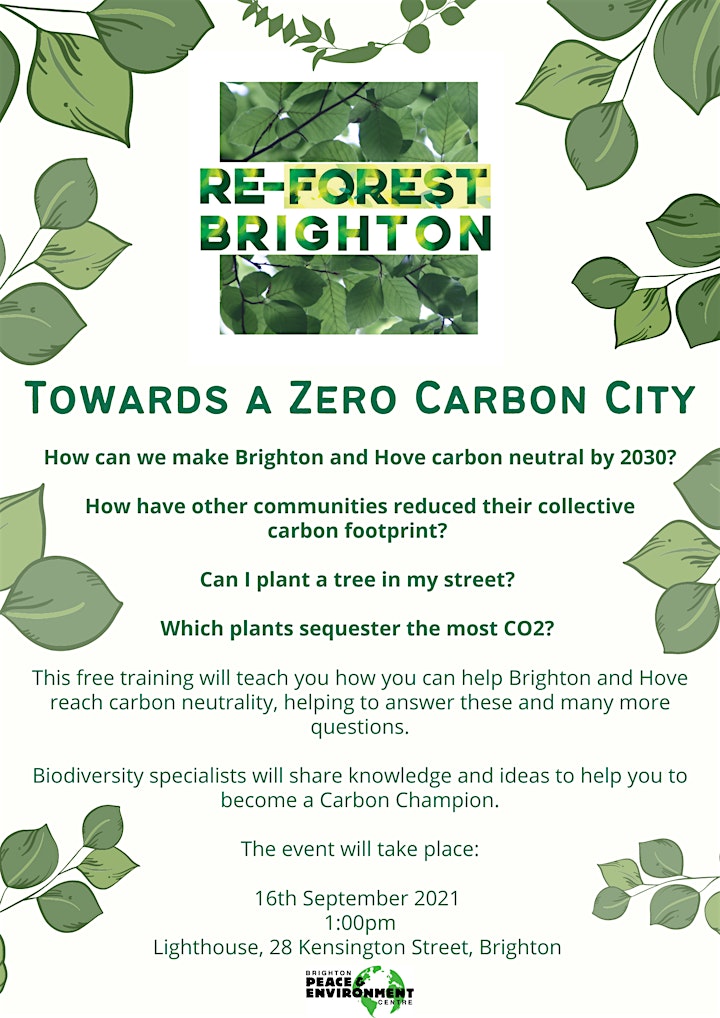 Organizer of ReForest Brighton - towards a zero carbon city