About this Event
The aim of this event is to explore the experiences, impact and significance of those art dealers who fled Nazi Europe and set up in the UK before or during the Second World War. In line with other aspects of culture and enquiry at this time, this experience of dislocation changed the art world significantly as well as the status of particular artists and artistic movements, opening up channels for the dissemination of the new trends of the 1920s and 1930s. Celebrating the 50th anniversary of the foundation of Sotheby's Institute of Art, this event will combine short papers by experts in the field and a panel discussion which will contextualize the experiences and achievements of those who lived through these dramatic times.
Speakers include Richard Aronowitz, Cherith Summers, Fran Lloyd, Sue Grayson Ford, Jutta Vinzent and Lucy Wasensteiner.
Schedule:
14:30-15:00 Registration
15:00-16:00 Speaker presentations
16:00-16:30 Tea/Coffee
16:30-17:45 Panel discussion
17:45-18:30 Networking drinks reception
Speaker Biographies:
Richard Aronowitz, European Head of Restitution, Director, Sotheby's London
Richard Aronowitz is European Head of Restitution, Director, Sotheby's London. Formerly, he was the Head of Research, Europe in the Impressionist & Modern Art Department at Sotheby's London, before being appointed in 2003 as Director & Senior Curator of the Ben Uri Gallery, the London Jewish Museum of Art. He rejoined Sotheby's in 2006 as European Head of the Restitution Department based in London and has led and developed the department ever since. Mr Aronowitz has a BA in Modern Languages from Durham University and an MA in Modern Art History from the Courtauld Institute of Art, where he specialised in German Expressionism. He is a published novelist.
Sue Grayson Ford, MBE, Co-curator, Brave New Visions: The Émigrés who Transformed the British Art World
Sue Grayson Ford MBE has accumulated 40 years' experience as an arts administrator since founding and directing the Serpentine Gallery as a platform for emerging artists. Later, she expanded the programme with exhibitions of international artists such as Giacometti, Saul Steinberg, De Kooning and Henry Moore. She has been Sculpture Director for the Liverpool International Garden Festival, Exhibitions Director at Manchester's Cornerhouse, Director of Wakefield's Centenary Festival and of London's Photographers' Gallery. She initiated the Campaign for Drawing, and ensured that its flagship project, The Big Draw, grew into an international phenomenon, with 1000 + events each year across the UK and 20 other countries. She was awarded an MBE for services to drawing.e British Art World
Professor Fran Lloyd, Director of Postgraduate Research and Co-Director of Visual and Material Culture Research Centre, Kingston University, London
Fran Lloyd is a Professor of Art History at Kingston University and Director of Postgraduate Research. She studied the History of Art at the University of Manchester, specialising in modern and contemporary art.
Fran has published widely on contemporary and modern visual culture, with over 20 years' experience collaborating on a variety of international interdisciplinary creative arts projects and exhibitions across the museums and galleries sector.
Fran Lloyd established the Kingston School of Art Archive at Kingston University and is currently researching émigré artists in post-war Britain and contemporary performance art and activism in Japan.
Cherith Summers, Director, Murphy & Partners
Cherith Summers Trained as an art historian, with an academic background in Museum & Gallery Studies. She has been working in post-war and contemporary art for more than five years in Edinburgh and in London, where she spent several years in the Post-War & Contemporary department at Christie's. She then spent a year as the Art Researcher for the Estate of Francis Bacon, where she oversaw the digitisation of the artist's catalogue raisonné. She continues to work on curatorial and academic projects which take 20th century British art as their focus. At Murphy & Partners Cherith advises clients on contemporary and post-war art. She was the co-curator, with Susan Grayson Ford, of the recent 'Brave New Visions' exhibition at Sotheby's on émigré artists in Britain.
Dr Jutta Vinzent, Senior Lecturer in Modern and Contemporary Art and Visual Culture, University of Birmingham
Jutta Vinzent specializes in modern and contemporary art. She focuses on issues of exile, migration studies and postcolonialism with a particular emphasis on art practices, exhibition cultures, spatio-temporal issues, religion and self/identity formation related to avant-garde, modern and contemporary art in Germany, the UK and their colonies. In this context, Vinzent has become intrigued by the approaches of Entangled History and network theories.
Dr Lucy Wasensteiner, Art Historian and Author
Dr Lucy Wasensteiner is an art historian specialising in the art and culture of German-speaking Europe between 1871 and 1945, with particular focus on National Socialist cultural policy and its international implications. She received her MA from the Courtauld Institute on the topic of German modernist culture in exile after 1933. During the 2011/12 academic year she was a DAAD-funded guest scholar at the Forschungsstelle Entartete Kunst (Degenerate Art Research Centre) at the Freie Universität Berlin. Her doctoral thesis, supervised by Dr Shulamith Behr, reinvestigated the 1938 London exhibition Twentieth Century German Art, the largest international response to the Hitlerian campaign against 'degenerate' art. She was the curator of a restaging of the exhibition, which took place at the Liebermann-Villa am Wannsee in Berlin during autumn 2018, and was co-curator of the London 1938 exhibition at The Wiener Library, London.
Moderator:
Johannes Nathan, Art Dealer and Art Historian
Johannes Nathan is an art dealer and art historian based in Potsdam and Zurich. He is the owner of Nathan Fine Art and Co-Chair of TIAMSA, The International Art Market Studies Association (artmarketstudies.org). He studied Art History at NYU (BA) and the Courtauld Institute of Art (MA, PhD) and has taught Renaissance art history and the history of the art market at the University of Berne, Cologne, Leipzig, Lisbon, New York (NYU), Zurich and Berlin (TU) where he co-founded the Center for Art Market Studies in 2012. He also serves as Editor-in-Chief for the Art Market Dictionary (artmarketdictionary.com) which he initiated with De Gruyter Publishers (Berlin). Among his books are 'Leonardo da Vinci, The Graphic Work' (Cologne 2014, with Frank Zöllner) and 'The Enduring Instant. Time and the Spectator in the Visual Arts' (Berlin 2003, co-edited with Antoinette Friedenthal).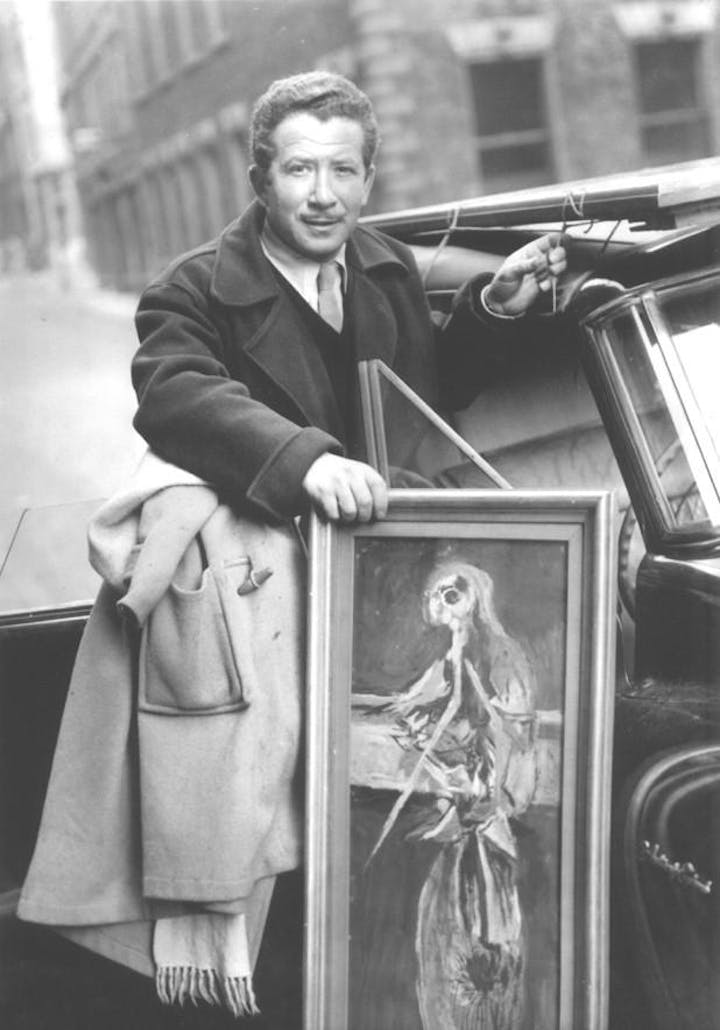 Photo: The Art Dealer, Andras Kalman (1919-2007)