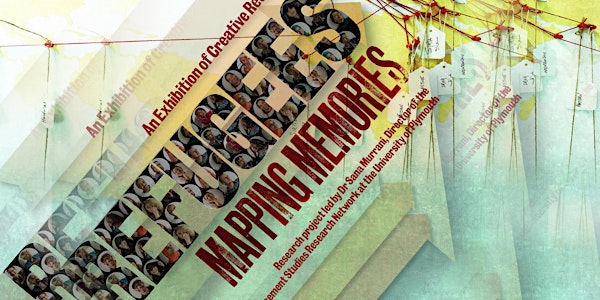 Refugees Mapping Memories: An Exhibition of Creative Recovery
Event Information
Location
UNDER
18 East Street
Plymouth
PL1 3NU
United Kingdom
Description
Creative Recovery is a research project led by Dr Sana Murrani, Director of the Displacement Studies Research Network at the University of Plymouth. In partnership with the British Red Cross, the project is funded by the European Cultural Foundation as part of the Courageous Citizens 2018. The exhibition showcases the work produced by our 12 protagonists (refugees and asylum seekers) with help from the research team over the last 9 month through layered maps as they traced back their memories of home and homeland. Alongside the maps sit photographic portraits of our courageous 12. The project distinguishes itself from large-scale social science studies of refugee experience by engaging at a personal level with participants and encouraging outcomes to emerge from individuals through processes of co-creation with the researcher.
5-8pm 20th of June: The Open Evening will also be an opportunity for an Open Conversation to be had with the participants.
Event is free and everyone is welcome. The exhibition will stay open till Sunday 23rd at 3pm.
Opening hours: Friday 21st 10am-4pm, Saturday 22nd 10am-4pm, and Sunday 23rd 10am-3pm.
Our photographs and graphic design work is courtesy of Carey Marks of Scarlet Design who is our project's Creative Associate funded by the Sustainable Earth Institute. #MappingCreativeRecovery @MappingRecovery
Date and time
Location
UNDER
18 East Street
Plymouth
PL1 3NU
United Kingdom