A six-week group yet personalised therapy that empower you to recover, engage, grow, activate, inspire and discover the new you.
About this event
R.E.G.A.I.N is a funded six-week springboard programme developed to help you rediscover yourself by guiding you forward as you trace your steps backwards.
Note: Registration fee is payable
R.E.G.A.I.N empowers you to:
R - Recover any missing pieces of your life
E - Engage with your purpose
G - Grow in grace
A - Activate hidden potentials and Actualise your goals
I - be Inspired to begin the journey of being all you have been created to be
N - discover the New You
Each cohort run for six weeks, after which a new cohort starts their journey of REGAIN. So if you are not available for one cohort, check our other sessions available and register.
Below is the next available workshop:
27th January to 3rd March 2022
Other sessions will be confirmed
Upon the completion of any of these group workshops, participants can also access free (funded) one to one counselling sessions if needed.
Note: Registration fee of £20 is payable prior to commencing the programme
Registration fee (to show commitment) can be made either by BACS payment or PayPal.
BACS:
Tamar Family Support Unit
Sort Code: 20-54-25
Account Number: 13962792
PAYPAL - tamarfsu2018@gmail.com
To arrange delivery of training materials kindly complete the form via the link below:
https://form.jotformeu.com/211433980585359
Testimonials from previous attendees:
I believe that I am on the road to recovery and taking back my life by God's grace.
Margaret
I believe it is a safe place for me to talk about sensitive issues. the two sessions so far has enabled me to start looking within and realise that there is hope and there is so much more positive things around me which I will start enjoying again by God's grace.
Charlene
If you feel stuck, then this workshop is for you!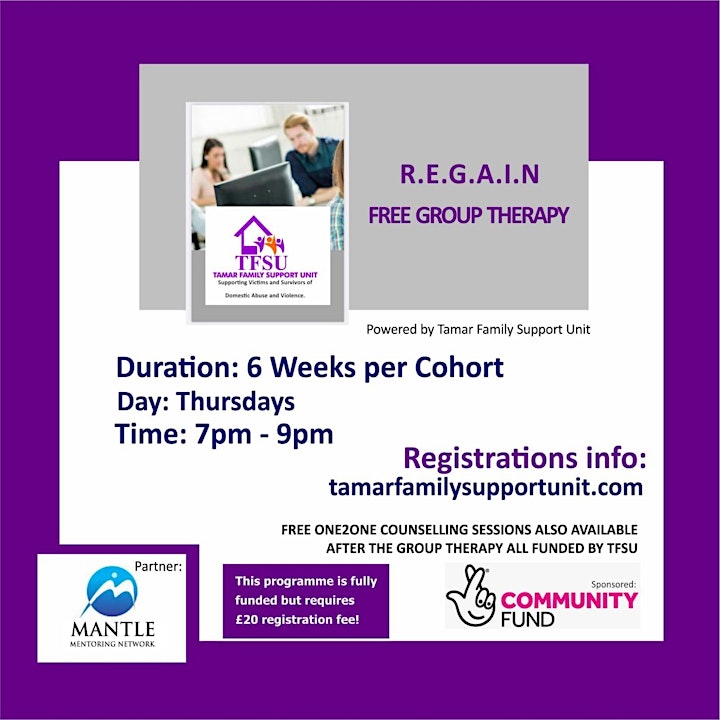 Organiser of REGAIN Funded Group Therapy - only registration fee is required