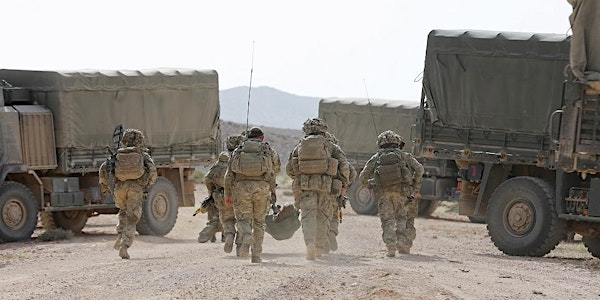 Regenerative Medicine at the Front Line: Stakeholder Demonstration Day
Location
The Royal College of Surgeons
38 – 43 Lincoln's Inn Fields
London
WC2A 3PE
United Kingdom
Join DASA as we showcase innovations developed for Regenerative Medicine at the Front Line Themed and Innovation Focus Area Competitions.
About this event
Join The Defence and Security Accelerator - DASA- as we demonstrate the innovations developed for the Regenerative Medicine at the Front Line Themed and Innovation Focus Area Competitions to stakeholders.
These competitions were led by the Defence Science and Technology Laboratory (Dstl), in partnership with the Academic Department of Military Surgery and Trauma (ADMST) at the Royal Centre for Defence Medicine (RCDM), and run on behalf of the MOD. The competitions aimed to develop innovative technologies from research themes identified from a 2017 scoping study looking at Defence Medical engagement in the Tissue Engineering and Regenerative Medicine (TERM) research space. The resultant research, focused on bioengineered blood and soft tissue regeneration, could not only save lives, but also improve the quality of life for those injured in combat.
We welcome you to join us on Wednesday 8th December to hear about the research and discuss the technologies with their developers. Your engagement, comments and input will be invaluable to help shape the next phase of research and facilitate the translation and exploitation of this novel science.
This event will also showcase research from the wider 'Regenerative Medicine at the Front Line' portfolio to facilitate collaboration. It will be a chance for researchers, funders and other Stakeholders to come together to share ideas and help forge a path to exploitation.
Project Benefits
Approaches in tissue engineering and regenerative medicine hold great promise for the treatment of injured service personnel and the 'Defence Regenerative Medicine Research Strategy' is focused on delivering such advanced therapies in a way suitable for use in the field early after injury.
Funding from a two-phase themed competition has enabled Bristol University to continue its research to engineer a multi-compatible blood type, with an improved storage profile, that could be used to treat military personnel regardless of their blood type.
A project identified at Phase 1 of this competition, delivered by Cambridge University, in collaboration with the Scottish National Blood and Transfusion Service (SNBTS) and the Gene and Cell Therapy Catapult, has enabled the further development of lab-grown platelets.
Both of these projects could transform the logistics of transporting and storing blood component supplies on the front line. In the longer term, first responders like paramedics could also benefit from the portability of a blood supply that is suitable for all.
Phase 2 has also enabled the University of Nottingham to develop a novel approach to preserve and regenerate soft tissue after blast and ballistic trauma through transient gene therapy. Preserving living tissue after injury is critically important, and will significantly improve quality of life.
Innovation Focus Area funding has enabled two suppliers to investigate the potential of two target therapeutics for the maintenance of soft tissue homeostasis after severe injury, and the potentiation of regeneration.
The suppliers presenting are:
Bristol University
Nottingham University
Loughborough University
Oxford University
Lancaster University
University of Portsmouth
Leeds University
Cambridge University
Keele University
Please note:
• registration will close Tuesday 30 November at 12:00 midday.
• the information you provide will be retained by the Defence and Security Accelerator (DASA) to contact you in regards to this event, and any future DASA communications that may be relevant to you. Dstl will also have access to this information for this event. Please indicate on the registration if this is something you do not wish to do
• Dstl and DASA will be taking photos and videos during the event to be used for future communications. No names will be included in the photos. You will be asked for your consent during the registration. If you indicate you do not wish to appear in photos, you will be provided with a specific lanyard on the day to identify you to the photographers for them to avoid