Description
THIS PAGE IS FOR INFORMATION ONLY

a) to book Reggae On Radio event, please use link below

b) to be kept informed of follow up or reggae or music industry related activities, register here.
Reggae On Radio Roundtable
Thursday Dec. 20 2018, 7-8.45pm
Hogg Lecture Theatre, Room L294, University Of Westminster, 35 Marylebone Road, London NW1 5LS (opposite Madame Tussaud's; 2 minutes from Baker Street tube station)
Free. Book now at: http://bit.ly/ReggaeOnRadioRT
The University of Westminster's Bass Culture Research Unit, in association with BritishBlackMusic.com/Black Music Congress and RE:IMI (Race Equality: In Music Industry), presents Reggae On Radio Roundtable, which takes place on Thursday December 20 2018 from 7pm-8.45pm.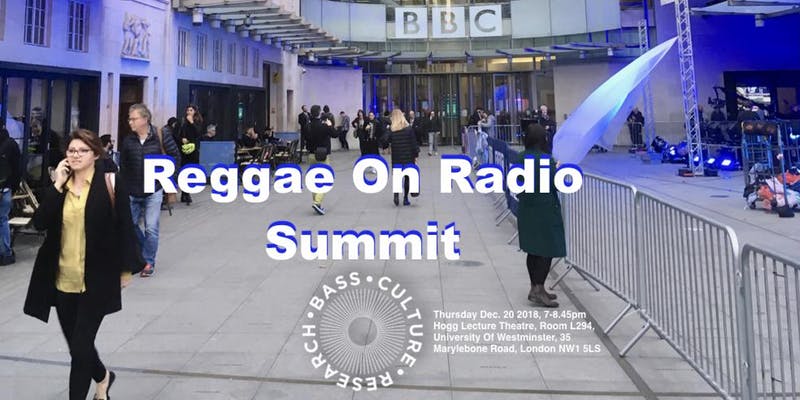 This discussion forum has been convened in response to ongoing concerns on the extent to which there is support for reggae music on British mainstream radio.
Online traffic over the last week or so would suggest that given the impact and continued contributions this music has made to popular music in Britain, it deserves more airtime. The UK has been pivotal in the development of reggae's international profile, which was recently underscored by its inclusion on the UNCECO Cultural Heritage List. So why the lack of support in the on national radio?
Key questions at the roundtable will include:
Is reggae fairly represented on radio?
Is there any on-radio support for the development of new reggae artists?
What is the way forward for getting better representation of reggae on radio?
+ 3 points for moving forward reggae on music
Confirmed panel and special guests include:
Neil 'Mad Professor' Fraser, Mykaell Riley, Kwaku BBM, Kienda Hoji, Winston Francis, Mikey Campbell, Tony Washington, Lloydie Coxsone, more tbc.
Please note that this roundtable is aimed at all Reggae Stakeholders, from fans, musicians, broadcasters, DJs, promoters, managers, academics, to journalists.
Bass Culture/Black Music Research Unit
Bass Culture Research, @basscultured - Bass Culture Youtube - Instagram
BritishBlackMusic.com/Black Music Congress/REIMI (Race Equality In Music Indutry)
www.BBM.eventbrite.com
Links: Neil Fraser at http://bit.ly/REIMIMadProf
For parking please click HERE
Mykaell Riley is Principal Investigator and Director of the Black Music Research Unit, at the University of Westminster.
+ BBM/BMC is planning a pre-Reggae Music Month event for January 2019. If you're not on the BBM/BMC mailing list, either Register for more information on this page, or email bbmbmc@gmail.com to be added to the Reggae list.