RehabWeek`17 - Human Robotics Group & Sensorimotor Control Lab tour
Description
The HRG, led by Prof Etienne Burdet, uses an integrative approach of neuroscience and robotics to investigate human sensorimotor control, and to design efficient assistive devices and training systems for neuro-rehabilitation, which are tested in clinical trials.The HRG is part of the Department of Bioengineering at Imperial College London, which is leading the bioengineering agenda both nationally and internationally.
Dr Faisal's sensorimotor lab (http://www.faisallab.com) combines cross-disciplinary computational and experimental approaches to investigate how the brain and its neural circuits are designed to learn and control goal-directed movements. The neuroscientific findings enable the targeted development of novel technology for clinical and research applications (Neurotechnology) for a variety of neurological/motor disorders and amputees. Key techinques include on the computational side machine learning & stochastic modelling techniques and experimentally we use psychophysics, eyetracking & kinematics, non-invasive electrophysiolog, robotic (with Brain-Computer Interfaces) and funcational imaging.
How to get here:
The nearest Underground station is South Kensington, on the District, Circle and Piccadilly lines.

From South Kensington Tube Station, the campus is only a ten minute walk. Walk north up Exhibition Road, turn left at Prince Consort Road and enter Imperial College through the Royal School of Mines entrance.
The Royal School of Mines building (SW7 2BP) is building 12 in the top right corner of the South Kensington campus map. When you enter the building take the stairs on the left. We are on the fourth floor, in the bioengineering (green) area. Prof Burdet's office is room 4.05.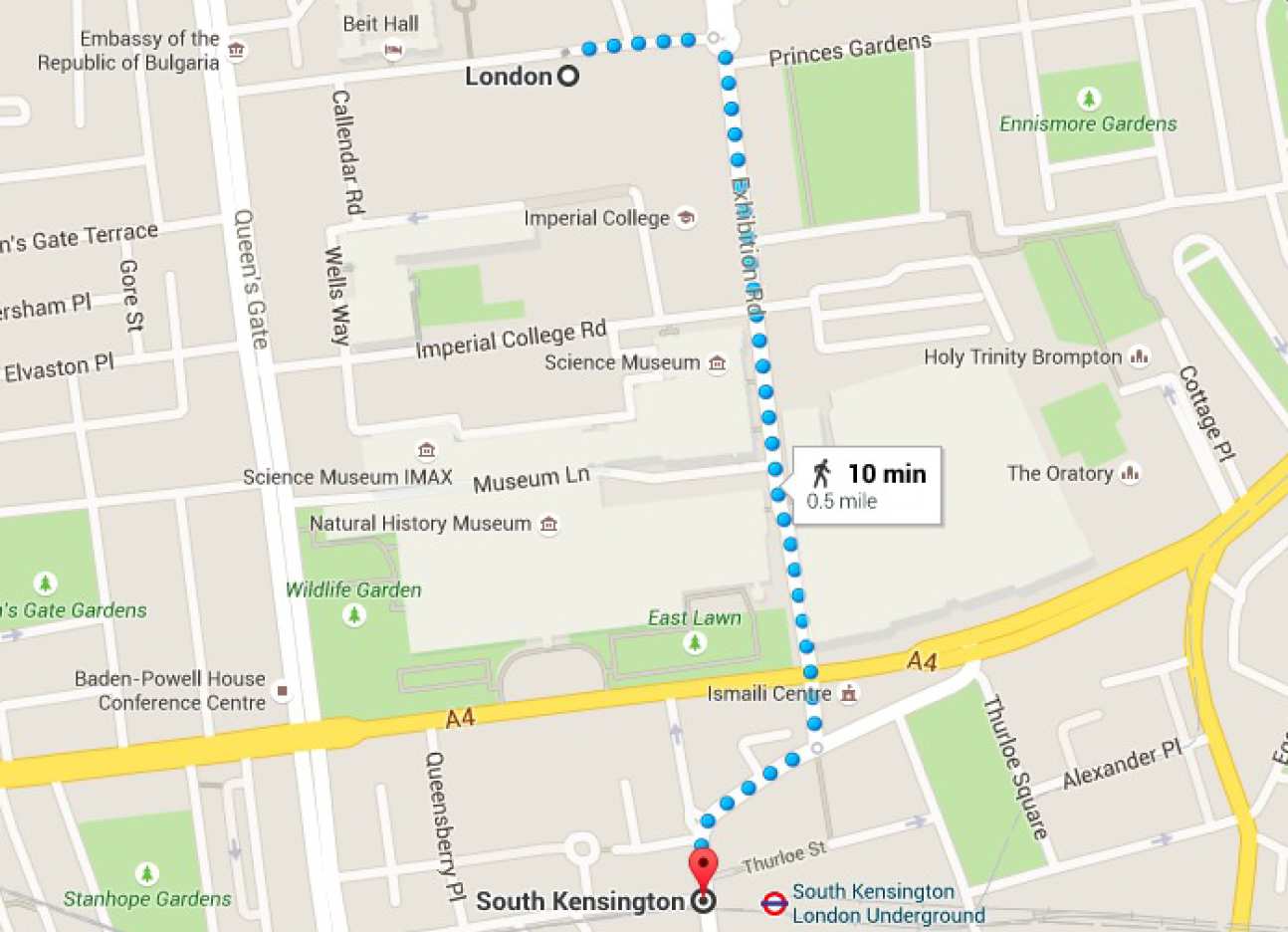 From Heathrow airport
Take the Underground (Piccadilly Line) to South Kensington Station (50 minutes travelling time). Note that Heathrow Express is not directly connected to South Kensington, so it is not recommended (it is also much more expensive).
From Gatwick airport
Take a national rail train to Victoria station (journey time 40 minutes) and then by Underground, (Circle or District Line; westbound) to South Kensington.
Both airports are some distance from central London and a taxi is not recommended for the whole journey. However, if you have to travel by taxi, establish the cost before you get in.
From St Pancras train station
If you arrive to at StPancras station with the Eurostar, you can take the Underground (Piccadilly Line) in the west direction to South Kensington Station, which will take 25 minutes.
By car
Car parking at South Kensington Campus is severely restricted and you are advised NOT to bring a car unless permission has been given. After 18.00, at weekends and during vacations the car park is open to the paying public. Parking in the streets surrounding the College is at pay and display or parking meters for limited periods only.
The postcode to use for satellite navigation to the South Kensington car park is SW7 2BX . Entry is via Exhibition Road.