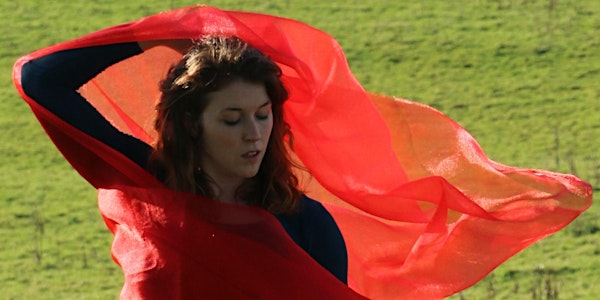 RE:ignite- online movement workshop about empowering women. BSL interpreted
RE:ignite - An online workshop exploring our identities as women through dance, movement and discussion.
About this event
Join Grace, Ellen and Hannah for an evening of holistic and creative dance movement and discussion exploring the empowerment of women and themes that challenge the Elimination of Violence Against Women.
Marking the days of activism against gender-based violence starting on 25th Nov with the Elimination of Violence Against Women day.
#Orangetheworld
BSL Interpretation will be available. Please indicate when booking if you require this.
If you have any access requirements or questions please contact us.
What to expect:
We will begin with introductions and then ask you to have your video on but mute your microphone as we will lead you through some mindfulness techniques and creative movement exploration (which could be done seated or standing). We will then have a structured discussion on the topics of gender, patriarchy, and power. We will have a break in the middle and finish with relaxation exercises.
Why are we doing this:
Ellen and Grace Turner have teamed up with Hannah Uttley to embark on a new dance, community and aerial project funded by #LoveDanceScotland. In this project we will explore the themes that challenge the Elimination of Violence Against Women and it might develop to a performance raising awareness of gender-based violence. This workshop is the first stage of our outreach program. We hope to create an empowering experience for all of the participants and to explore some of the themes within this project that might inform our creative process. In addition to this workshop, we are also seeking written submissions via an online form in which you can share experiences, thoughts, and considerations that you think are important but that you may not want to share during the workshop. All responses within the workshop and the online form will be treated anonymously and confidentially in line with GDPR. Click the link below to go to the form:
https://forms.gle/AbZoueWizG2N5u8p7
Who can join us:
We'd like to invite anyone with an interest in the subject matter who is aged 18 and over and who identifies (or has identified) as a woman.
The workshop is suitable for any level of dancer, there will be seated and minimal movement options.
If you have any access requirements, please let us know and we will aim to accommodate.
Some of the topics may be emotionally triggering and although we will be creating a supportive and caring space, we are not therapists and if you are currently in crisis, we recommend contacting one of the charities supporting our project (Forth Valley Rape Crisis, Edinburgh Rape Crisis Centre and Stirling Women's Aid).
https://www.forthvalleyrapecrisis.org.uk/
https://www.ercc.scot/
https://www.stirlingwomensaid.co.uk/
What do you need:
● Access to zoom - https://zoom.us/download
● We recommend a quiet private space that has enough space for you to move around safely, to lie or sit comfortably.
● A blanket and cushion would be helpful in making it cosy.
● We will be moving so have a hydrating drink ready to hand.
● Booking is essential, please do this via Eventbrite, it's free.
● We will send an email with Zoom link and more detail 1 day before the workshop.
● Please email turnarounddancetheatre@gmail.co.uk if you have any any questions.
This project is supported by the #LoveDanceScotland Recovery Bursaries, presented in partnership by Citymoves Dance Agency, Dance Base Scotland, Dundee Rep & Scottish Dance Theatre and Tramway Glasgow. Supported by the Scottish Government's Performing Arts Venue Relief Fund.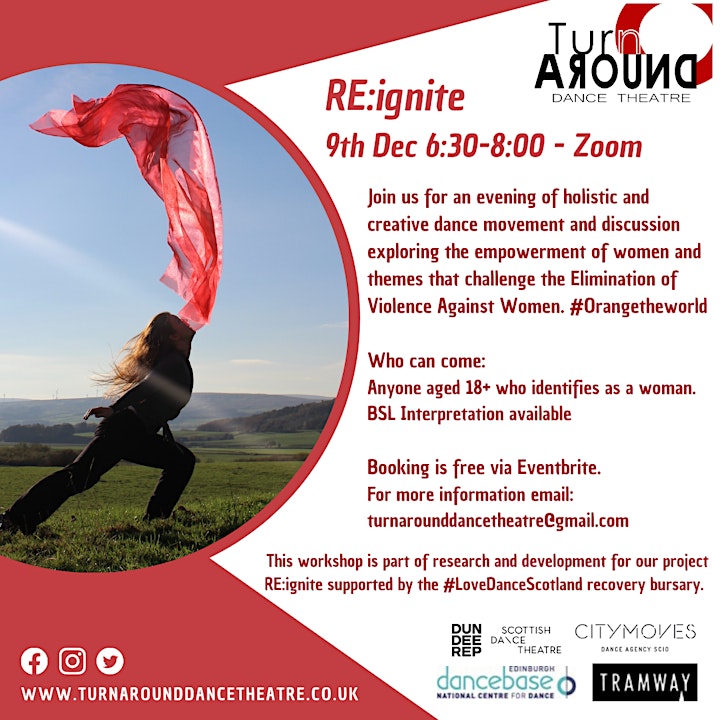 Organizer of RE:ignite- online movement workshop about empowering women. BSL interpreted