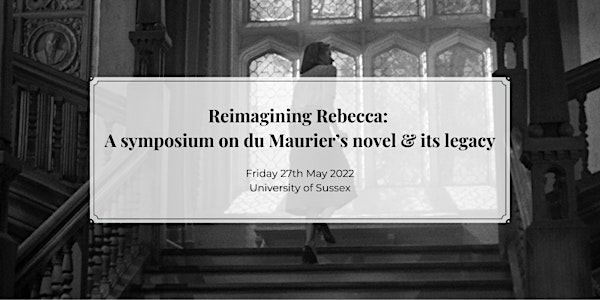 Reimagining Rebecca: A symposium on du Maurier's novel & its legacy
Event Information
Location
University of Sussex
Arts A108
Falmer
BN1 9RH
United Kingdom
A one-day symposium to gather researchers working on du Maurier's novel Rebecca and its many cinematic, literary and cultural adaptations.
About this event
We are delighted to invite you to 'Reimagining Rebecca: a symposium on du Maurier's novel and its legacy', a one day event at the University of Sussex dedicated to exploring Daphne du Maurier's 1938 novel Rebecca and the indelible mark it has left on popular culture.
The proceedings will begin with a keynote from Dr Joan Passey, lecturer in English at the University of Bristol, who will be discussing Rebecca as part of a longstanding Cornish gothic tradition. Shorter papers throughout the day will include explorations of the novel's style and themes, particularly investigating what happens to these when transposed to different media and cultural contexts, prompting wider discussions around the nature of adaptation and legacies of the gothic.
Lunch will be provided alongside tea and coffee throughout the day, and the event is free to attend. We welcome anyone with an interest in du Maurier's work, gothic traditions, and adaptation to join us for this day of discussion.
Programme "Reimagining Rebecca: a symposium on du Maurier's novel & its legacy"
9am Registration
9.30am Keynote "The Cornish Gothic Tradition: Rebecca's Influences and Legacies" by Dr Joan Passey
10.30am Break
11am Panel 1: Rebecca and the Female Gothic
1. Antares Leask - "Danny would know": Mrs Danvers and the trope of the omniscient and meddling housekeeper
2. Amber Moon - "Monsters, rearing to the sky, massed like a battalion": unruly plants, male control and female resistance in Daphne du Maurier's Rebecca
3. Lies Lanckman - Men who hate women: Katla, the gothic double and the second wife
4. Mario Valori - Manderley's a fine and private place
1pm Lunch
2pm Panel 2: Adaptations
1. Ashleigh Taylor Sullivan - Rebecca's resurrection: the effect of literary and filmic revision
2. Rosa Parker - Viewing Rebecca as its own truest-to-form cinematic adaptation
3. Kirstin Bews - The Haunting Sounds of Rebecca: A Comparative Study of 20th and 21st Century Film Music
3.30pm Break
4pm Panel 3: Marketing and Reception
1. Amy Bessent - Netflix and its ghosts: The spectralisation of the viewer in Ben Wheatley's Rebecca (2020)
2. Laura Schmitz-Justen - (Re)Covering Rebecca: A Reception and Marketing History in Book Covers
5pm Short break
5.15pm Drinks and closing discussion
6pm End
Where: Arts A108, University of Sussex, Falmer, East Sussex. The event will also be livestreamed via Zoom for those who cannot attend in person.
When: Friday 27th May, 2022. Registration opens at 9am.
Please note in-person spaces are limited so registration is crucial!
Covid measures: We have limited the in-person attendance to 30 people with an option to watch the presentations via livestream. The room will be well ventilated, and we will provide hand sanitiser. We also ask attendees to wear a mask if possible and suggest to take an LFT before coming.
Directions and Accessibility
Directions to Arts A108 - When coming from the train station, follow the path to the main library square. You will pass the library on your left and enter the Arts A Lecture Theatres Building, which will lead you upstairs. Follow two sets of stairs up (past the lecture theatres), which leads you out of the building and back into Arts A. In the second building turn the first right, which is opposite the Language centre on the left. Follow this corridor to the end where you will find A108 on the right.
The room is also accessible by lift. To access the lift, please go to the Arts Path entrance opposite the Arts Cafe.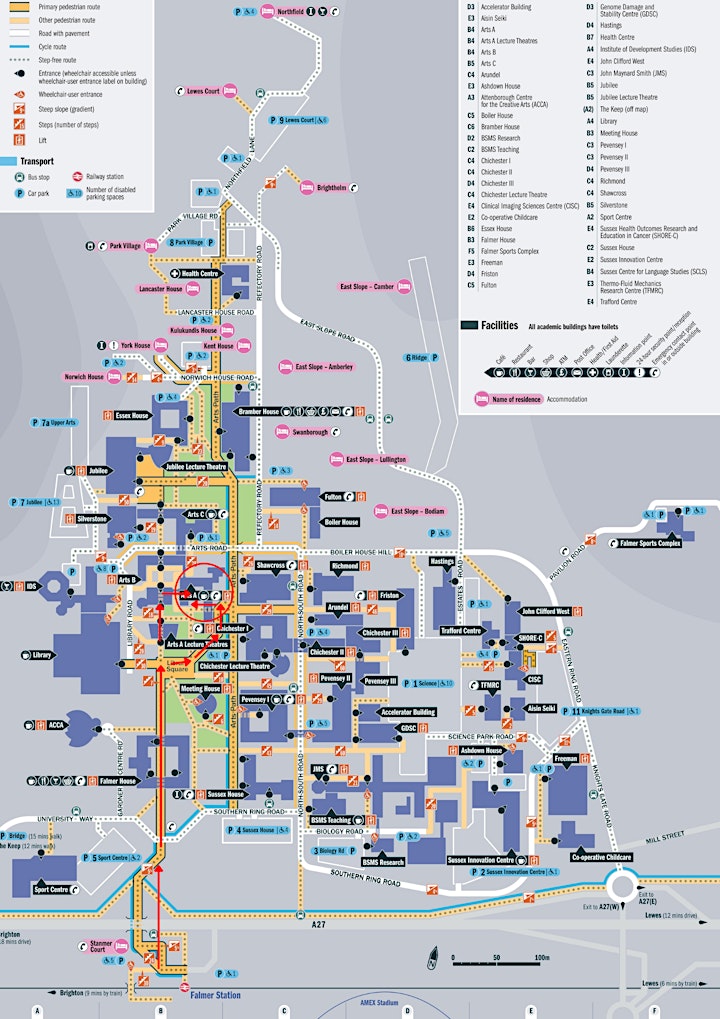 Date and time
Location
University of Sussex
Arts A108
Falmer
BN1 9RH
United Kingdom