Let's turn things around in 2021! Let's Rejuvenate, Reconnect and Revitalise with Heartfulness UK
About this Event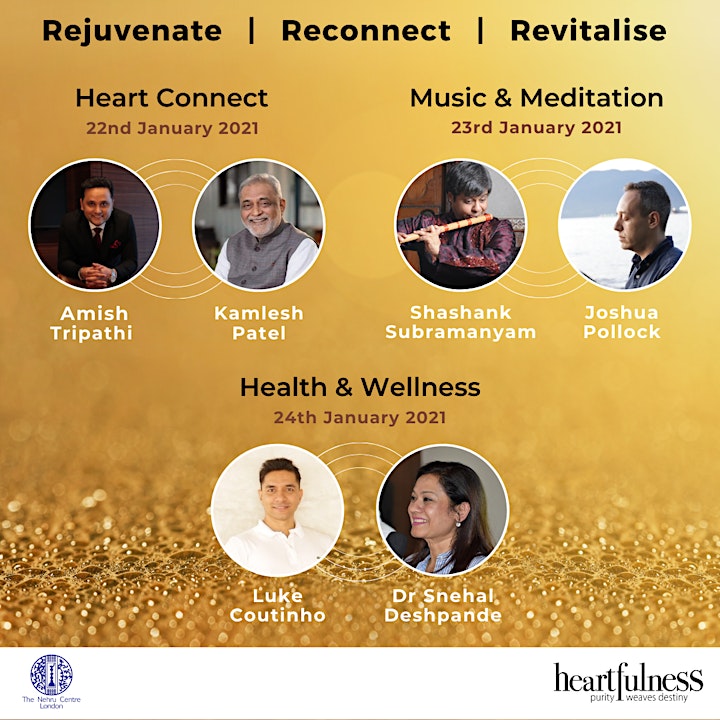 As we bid farewell to the challenges of 2020 and prepare ourselves for the New Year ahead, let's Rejuvenate, Reconnect and Revitalise with Heartfulness UK.
This three-day online event, in partnership with The Nehru Centre (TNC), London, aims to offer its participants a fresh and positive perspective for 2021. Everyone is welcome to attend.
The beginning of a new year provides an opportunity to explore positive habits and new ways of thinking. This event will offer a mix of insightful discussions, wellness talks and musical performances, along with a daily relaxation and meditation session.
Participants will get the chance to unwind and connect with themselves at a deeper level. It will also help us initiate positive new habits and ways of thinking – which are more vital than ever, to help us face the ongoing crisis with optimism and adaptability.
Event dates
Fri, 22 January 2021 at 4pm UK time
Discussion between Amish Tripathi (Author and Director of The Nehru Centre, London) and Kamlesh Patel (Heartfulness Global Guide) on how to keep inner balance and calm amidst the current pandemic, and on transferring wisdom and knowledge across the generations.
Guided relaxation and meditation
Sat, 23 January 2021 at 4pm UK time
Conversation between Grammy nominated flautist Shashank Subramanyam, and Joshua Pollock, classically trained violinist and co-author of The Heartfulness Way
Musical performance by Shashank Subramanyam
Guided relaxation and meditation
Sun, 24 January 2021 at 4pm UK time
Food for thought on health and well-being: conversation between Luke Coutinho, wellness expert and best-selling author, and physiotherapist Dr Snehal Deshpande
Guided relaxation and meditation
Location
Online event
Who can attend?
All are welcome to join this event.
Speaker Profiles
Amish Tripathi: Amish is a diplomat, author and columnist. He has taken over as the Director of The Nehru Centre in London in October 2019. Amish has been listed among the 50 most powerful Indians by India Today magazine in 2019. Forbes India has regularly ranked Amish among the top 100 most influential celebrities in India. Amish was also selected as an Eisenhower Fellow, a prestigious American programme for outstanding leaders from around the world, in 2014.
Amish published his first book in 2010 and has written 9 books to date. His books have sold 5.5 million copies, and have been translated into 10 Indian and 9 international languages. Amish is an alumnus of the prestigious Indian Institute of Management (IIM), Calcutta. He worked for 14 years in the financial services industry before turning to writing.
Kamlesh Patel: Also known as Daaji, Kamlesh Patel is the fourth global guide in the Heartfulness spiritual tradition. Formerly a successful businessman in the USA, he is now spiritual guide to millions across the world, a best-selling author (The Heartfulness Way, Designing Destiny) and changemaker.
Daaji is also an innovator and researcher, equally at home in the inner world of spirituality and the outer world of science, blending the two into transcendental research on the evolution of consciousness, and expanding our understanding of the purpose of human existence to a new level.
Shashank Subramanyam: Grammy nominated flautist maestro Shashank Subramanyam began performing for the general public at the age of six in 1984. He has established a successful career in the field of Indian classical music over 35 years, within India and internationally. He is the youngest recipient of the prestigious Sangeet Natak Akademi Senior Award for the year 2017, bestowed by the Hon. President of India.
Shashank is presently considered one of the best Bamboo Flute artists. His logic-defying virtuosity is the result of a magical innate talent coupled with the best possible training. He has elevated the reputation of the bamboo flute by his playing techniques, of which 'the multi flute transposed fingering technique' and 'the dual octave production' have won him world acclaim. He has done extensive work in the area of harmoniously integrating the vocal and instrumental styles of Carnatic to a unique style of his own.
Joshua Pollock: Joshua Pollock, co-author of the bestselling book, The Heartfulness Way, teaches meditation internationally, and has lectured at companies and institutions including Amazon, Google, the New York Times, the World Bank, and Columbia University, and has been featured in prominent media such as ABC, NBC, and CBS television in the United States.
A trained classical violinist, Joshua has collaborated extensively with celebrated composer A.R. Rahman on multiple film scores including Ghajini and Delhi-6. He is a familiar face on literary panels across India.
Luke Coutinho: Luke Coutinho is a globally renowned Holistic Lifestyle Coach in the field of Integrative Medicine, best-selling wellness author, and the Founder of Luke Coutinho Holistic Healing Systems Pvt Ltd. Luke's approach towards prevention and healing revolves around four important pillars: Balanced Nutrition, Adequate Exercise, Quality Sleep and Emotional Detox. His programs work towards helping individuals with severe illnesses and lifestyle diseases and reducing their pain and suffering using an integrative approach.
He was recently honoured as the 'Fit India Champion for Lifestyle and Wellness' for the Fit India Movement, a flagship programme of the Government of India launched by the Honourable Prime Minister Shri Narendra Modi in 2019. He was also a part of the 500 most influential people in Asia 2020 Power List by the New York Press News Agency.
Luke has Co-founded RESET - Holistic Living Concepts, a one-of-a-kind facility for individuals who are voyaging towards holistic well-being. He is also the Adviser and Head of Integrative Lifestyle and Nutrition at Pure Nutrition and is associated with the Lifeness Science Institute (LSI) as the chief programme mentor for UG and PG courses in Integrative Nutrition and Dietetics. He is currently working on a project to build a sustainable food chain across the country.
Dr Snehal Deshpande: Physiotherapist and author, Dr Snehal Deshpande is an eminent and highly qualified member in the physiotherapy fraternity. With more than two decades of experience in the field of paediatric physiotherapy she has developed and maintains the highest standards in the field of child care and paediatric rehabilitation.
She is a Consultant at Care Continuum, Head of Dept ASCC at ARTEMIS Hospital ; Gurgaon and Pediatric Physical Therapist at Dr LH Hiranandani Hospital, Powai