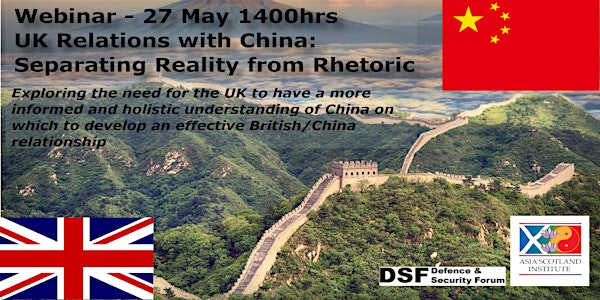 Relations with China: Separating the Reality from the Rhetoric
This webinar will define the reality from the rhetoric of UK/China relations in a global context and the need for an informed UK policy
About this event
Relations between China and the West are worryingly fraught. The United States is aggressive on several fronts, of which trade is one. China's anger about the United States broader motivations for this position, combined with its revisionist desire to reduce US influence, create the real danger that one party may over-react. Even without a calamitous over-reaction it appears we face a problematic and damaging 'clash of civilisations' in which other countries and regional blocks will have to choose sides.
There is an urgent need to break this downward spiral of aggressive rhetoric driven by simplistic, binary perspectives. Europe could deal with China in a more nuanced manner than the United States, but on current evidence it seems reluctant to do so. Given that the UK's future is outside Europe it is now essential that it has an independent, informed and balanced perspective on China.
In the UK - on one hand, there appears to be a lack of interest in understanding China and more worryingly on the other, an anti-China lobby aligned to the damaging rhetoric coming out of the Whitehouse. China is a threat in some areas, but it is a positive force in others. There is a therefore a need for the UK to have a more informed British perspective on China. Post COVID and in the context of BREXIT, the UK needs to reboot its foreign policy and build healthier, equitable and ethical bilateral relationships with its international partners, and China is an essential place to start.
The Panel
The Defence and Security Forum in conjunction with the Asia Scotland Institute present the following panellists to address these issues and take questions:
Sir Sherard Cowper-Coles KCMG LVO, Chair of the China-Britain Business Council
Professor Rana Mitter Professor of the History and Politics of Modern China; Director of the University of Oxford China Centre; Fellow of St Cross College
Professor Steve Tsang, Director, SOAS China Institute
Moderators:
Lady Olga Maitland, President Defence and Security Forum
Roddy Gow OBE, Chairman Asia Scotland Institute