Relations with Dead Remains in an Era of Living/Dying Alone by Prof Anne Al...
Description
School of East Asian Studies at the University of Sheffield
Public Seminar
Relations with Dead Remains in an Era of Living/Dying Alone
By Professor Anne Allison

Living and dying alone has increasingly become the new state of social existence in Japan. With high aging/low birthrate demographics, more and more Japanese are older; fewer and fewer are getting married or giving birth; and single households are on the rise. Whereas once the individual lived with other people—family, neighbors, kin—today the state of having "no one to depend on" (miyori ga nai) is an ever increasing reality as one faces death. Reflecting and capitalizing on this social fact, new services and initiatives are emerging that cater to the "ohitori-san" (single subject). In what is a new trend in "end-of-life market" (shūkatsu, 終活), my presentation will look at one particular business: companies that handle the clean-up and disposal of belongings of the deceased.
Taking over a duty that once befell one's closest kin, ihin seiri gaisha relieve this burden for those too busy to do it (for a dead parent or relative) or for those lacking family or children to carry it out for themselves. What they offer is a service of care—caring for the material attachments a person has made in life as they prepare to detach from the world in death. But ihin seiri geisha cater to another kind of materiality as well: the waste of "lonely dead" who, having died alone, leave disintegrating remains behind. Called in to do "special clean-up," the workers don full-body protective gear and ozone machines to attack the rotted matter and smell: caring by relieving neighbors and landlords of the encumbrance of neglected death. How do these two forms of attendance to the matter of the dead line up in the work performed by these companies servicing ihin—belongings of the deceased? And what does this work—a form of care that (also) treats waste—say about changing attitudes regarding death in a society becoming increasingly singlified? The relationship between living and dying, bodies and things, and waste and spirituality is what I track here through the rising popularity of businesses that tend to the belongings of the deceased.
Speaker Biography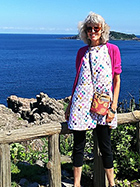 Anne Allison is Professor of Cultural Anthropology at Duke University. A specialist in contemporary Japan, she studies the interface between material conditions and desire/fantasy/imagination across various domains including corporate capitalism, global popular culture, and precarity. Allison is the author of Nightwork: Sexuality, Pleasure, and Corporate Masculinity in a Tokyo Hostess Club (1994), Permitted and Prohibited Desires: Mothers, Comics, and Censorship in Japan (1996), Millennial Monsters: Japanese Toys and the Global Imagination (2006), and Precarious Japan (2013). She is currently conducting research on new demographic/social trends in Japan involving death, solo sociality, and self-management of (one's own) mortuary and post-mortem arrangements.