Location
The Engine Room
High Street West
Sunderland
SR1 3HA
United Kingdom
Relationship building (networking) including Gin tasting, menu sampling & a talk by the Walking With The Wounded
About this event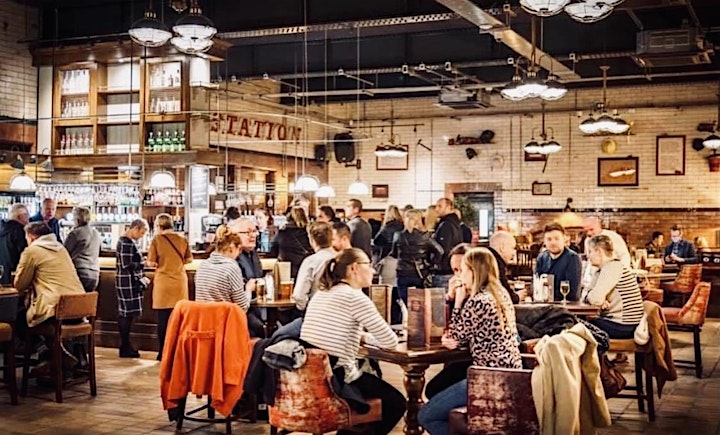 Following numerous successful events in the north of England we are back in Sunderland.
We are delighted to announce we have partnered with Pub Culture to bring you our "doing business how it used to be done" networking event to their fabulous town centre location 'The Engine Room'.
The event will include a relaxed afternoon of networking, Gin tasting, menu sampling, a talk by the Walking With The Wounded Charity to tell you all about the amazing work they do.
Hosted in a large open area of the venue with access to the bar for guests to order drinks, to relax, mix, mingle & socialise after a hard day's graft.
What to expect.....
✨ A complementary glass of fizz on arrival to guests (or a soft drink e.g., orange juice for drivers)
✨ Welcome a relaxed social atmosphere
✨ Opportunity to network and grow your connections
✨ The chef will serve a selection of taster dishes from a brand-new kitchen/menu (The Engine Room)
✨ Gin tasting (WL Distillery)
✨ A presentation by the Walking With The Wounded Charity
✨ Raffle to raise money for Walking With The Wounded
YOU DO NOT NEED TO BE A MEMBER TO ATTEND THIS EVENT
But If you want FREE or reduced entry you do!
💥 Top tip, Become a member to get reduced or FREE event prices.
Membership options
Full Membership (Business, Charity/CiC, Individual or Consortium) allows FREE entry.
Standard Membership (free), allows reduced price entry compared to a Non-Member
Add a membership option to you cart now via https://takeapunt.group/membership. Use coupon code: FIRSTYEAROFFER to get 10% discount
You are just registering your interest via Eventbrite.
This is NOT your booking
All ticket must be booked via :
https://takeapunt.group/shop/Sunderland-13-07-22-p466636137
You won't pay the Eventbrite handling fee
Take a Punt or TAP for short - Brings together businesses & organisations, in a relaxed social environment to create connections and build relationships.
For hundreds of years people have done business in a social setting as well as in the boardroom.
But In the last 20 years this has been frowned upon, and replaced by emails, PowerPoint presentations and more recently Zoom/Teams.
The result being; the loss of the personal touch.
TAP is turning back the clock; "Doing business like it used to be done" by Meeting in person, over a drink (maybe some food) so you can mix, mingle and chill out.
We hate the word 'networking', we believe in saying "Relationship Building."
It's a sad fact, that lot's of people have some fantastic ideas, but for whatever reason they don't tick the boxes or the computer says "NO" to any type of funding. With this in mind as the group expands a number of 'founders' will get a chance to 'pitch' the ideas both online and at events.
Members (if they wish) will be able to 'take a punt' on the ideas/people & projects that others sometimes won't.
Many company owners forget; when they started out someone took a 'gamble' on them. Whether it was with a loan, equity investment or even just helping to open some doors. 'Pay it forward' join 'Take a Punt'.
To find out more about TAP (join here or https://takeapunt.group/membership)
WL Distillery
WL Distillery is a Sunderland based company founded by Scott Wilson-Laing https://www.linkedin.com/in/scott-wilson-laing/ with a number of award winning products.
WL Distillery 'First Edition'
A beautiful gin inspired by our distillers grandad's garden. Expertly balancing Juniper with touches of Braeburn Apple, Conference Pear, Raspberries and Blackberries
Wilson's Gin Club 'Watermelon & Liquorice'
A refreshing gin crafted using Juniper with the cool refreshing flavours of Watermelon and Mint balanced with the crisp taste of Lime and expertly finished with a twist of Liquorice
More info can be found at https://wldistillery.com/