Event Information
Refund Policy
Contact the organiser to request a refund.
Eventbrite's fee is nonrefundable.
About this Event
RELATIONSHIPS DNA - AN ONLINE WEBINAR
Relationships are a good indicator of the state of one's unconscious mind. Although they are not the only measure, they also give a good indication of how fulfilled and joyful one's life is.
If we look at the world as it is now, a stable relationship is considered to be a foundation to succeed in life. Stability in a relationship means you have companionship, intimacy, and connectedness. This gives you the support and confidence you need, to achieve whatever you want in life. If you haven't got this then it's not impossible, but it becomes difficult to succeed in life.
You may have noticed how some people have it all. They don't seem very different from you in terms of how they look or how they work but they just seem to do better than you. What is it that separates them from you?
Vishal believes that it is all down to your unconscious mind. He believes that it is not about luck. It is about how you are conditioned and limited that prevents you from having a loving relationship and that is what this online webinar 'Relationships DNA - An Inside Out Approach' is all about. How is it that you can de-condition your unconscious mind and connect with your true self in order to get the results in your relationship that are rightfully yours.
A mindfulness based relationship coach, grounded and of loving personality, emanating immense power, Vishal works through time and space to bulldoze your blocks, in the process empowering you and unlocking the tiger within.
WHO IS THIS WEBINAR FOR?
This webinar is for anyone who is looking for an ideal partner or who wants to thrive (not just survive) in their relationship. If you are currently experiencing or have experienced any of this in your previous relationships, then this webinar is for you :
Are you insecure and have lost the certainty in your relationship?
Have you lost passion and intimacy in your relationship?
Are you in a controlling and manipulative relationship?
Have you lost that deep connection with your partner?
Do you find it difficult to be yourself and are you always doubting yourself?
Is it difficult for your partner to understand you?
Do you feel like you have no support, even though you are in a relationship?
YOU WILL LEARN
THE 5 SHIFTS THAT PEOPLE, (JUST LIKE YOU) ARE MAKING TO ATTRACT THEIR IDEAL PARTNER OR THRIVE IN THEIR CURRENT RELATIONSHIP
In this webinar Vishal will take you through FIVE SHIFTS that you need to make in order to transform your relationship or attract your ideal partner. He will share with you the secrets that he used to make quantum leaps in his own relationship.
Attend this webinar and transform your life and your relationship! In order to get your ticket register as soon as possible. Limited tickets available.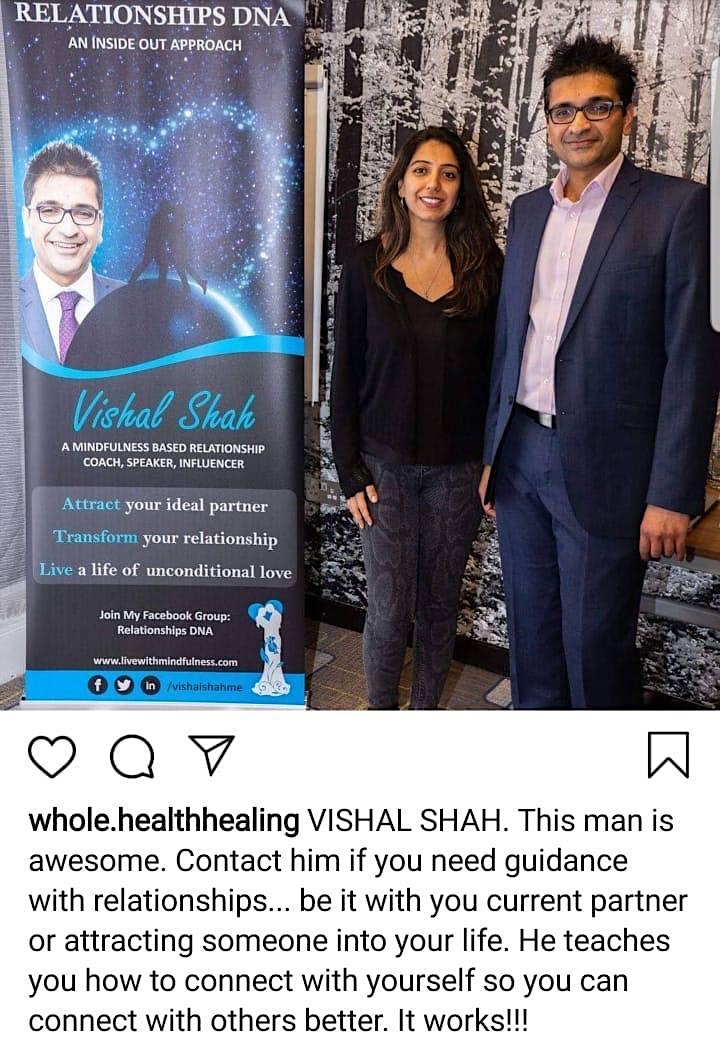 Date and Time
Location
Refund Policy
Contact the organiser to request a refund.
Eventbrite's fee is nonrefundable.