Relauching GeogEd: 'Geography and the student experience' conference
Launching the 'Geography and Education Research Group' of the Royal Geographical Society: 'Geography and the student experience' conference
About this event
To celebrate the Higher Education Research Group becoming the Geography and Education Research Group (GeogEd) we are hosting a conference at University of the West of England on 16th December 2019.
The event will be structured around re-launching the group and providing a networking opportunity for participants interested in either or both of the themes of the Research Group and the overlap between the them. The broad theme of the conference is centred around 'Geography and the student experience', and we look forward to stimulating reflections upon the experiences of geography students (in whatever context from primary school through to higher education); students experiences of geography; and the geographies of these experiences.
This day-long conference will explore geographies of education and pedagogy in geography perspectives, and the interrelationships between the two themes. Participants are invited to submit a 150-word abstract about their work in any areas of research across the Geography and Education Nexus. The format of the presentation will be varied on the day including:
· 15 minute presentations
· 2 minute incubator discussion presentations followed by approximately 10 minute discussion on the topic
· Posters
Ticket prices include refreshments of tea and coffee, but do not include lunch. Before the event, we will share details of the different food outlets on campus (to suit different dietary requirements and budgets).
Guidance for conference submissions:
Please indicate your preferred format for your presentation on the abstract form, but please be aware that we may not be able to guarantee your preferred format.
Please submit your abstract via the following link: https://uwe.onlinesurveys.ac.uk/geoged_confernece
Deadline: 12:00 noon 21st October 2019.
Presenters will be notified if their abstract has been accepted and in what format on 4th November 2019.
Connected event:
There will also be a structured writing workshop on the 17th December 2019.
The goal of this event is to write a series of short comment/discussion articles for Area narrating the Research Group changes to a wider disciplinary audience and to provide a long term record of the discussion and decision to expand the focus of the Research Group. Each article (2000-3000 words) will contribute to a narrative charting where the Higher Education Research Group (HERG) has come from, and where it is going as the Geography and Education Research Group (GeogEd). These will then be submitted to Area to undergo the normal peer review process.
Participation in the writing workshop is by application only please see further here: https://uwe.onlinesurveys.ac.uk/geoged_writinggroups.
Deadline for applications: 12:00 noon 21st October 2019.
If you are invited to participate to the workshop, you will receive a link to be able to register and pay for the structured writing workshop. There will be option to register and pay as a Full paying participant (£20 + ticket fee) or an Unwaged/student participant (£10 + ticket fee).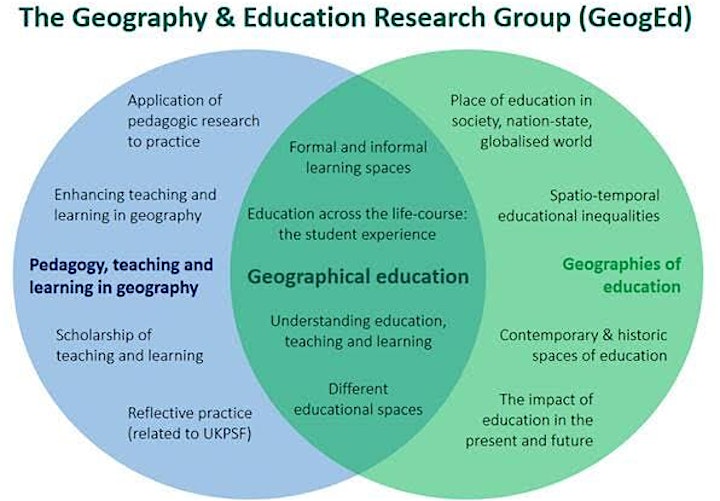 Organiser of Relauching GeogEd: 'Geography and the student experience' conference