Relax + Reflect with Colour workshop with Deborah Withey
About this Event
What colour is YOUR world?
Each of you will most likely have a different answer to that question. This interactive workshop about colour and self-expression will look at why that is and how colour can play a greater part in our daily lives and emotional health.
Our workshop will be in two parts, the first will be a short lecture through visuals to introduce the topic and get us inspired to create. We will look at how colour plays through the history of art and design and in our own bodies.
The second half will be working with colour pigments. No previous experience is necessary in working hands-on with colour. I will gently guide you through the act of colour palette making which can be quite a meditative and thoughtful process. Through the act of doing we will reflect upon how childhood memories, our environment and our personal experiences inform the choice of colour in our palette and in our lives.
I look forward to meeting you and creating with you!
What you will need for the second half of the workshop:
1. Inexpensive watercolour paper or any paper strong enough to not fall apart when wet!
2. A box of watercolours in cakes or tubes (you only need yellow, blue and red)
3. Two paint brushes, a small container of water, some tissues
It isn't necessary to buy expensive art supplies, (unless that is joyful for you!) it's the act of creating and the reflection behind the work that's most important, rather than the result.
This workshop will be hosted on the Zoom meeting platform where we will use our camera and microphones to interact with each other as a group.
To support practitioners in this time of extraordinary circumstances we are offering access to this group for a self-select fee.
The self-select fee is a radical inclusion policy to open learning for all colleagues. The guide price for this event is £20.00, however, we appreciate that income varies greatly in different locations and circumstances. Please contribute what you can to help us maintain inclusive professional training.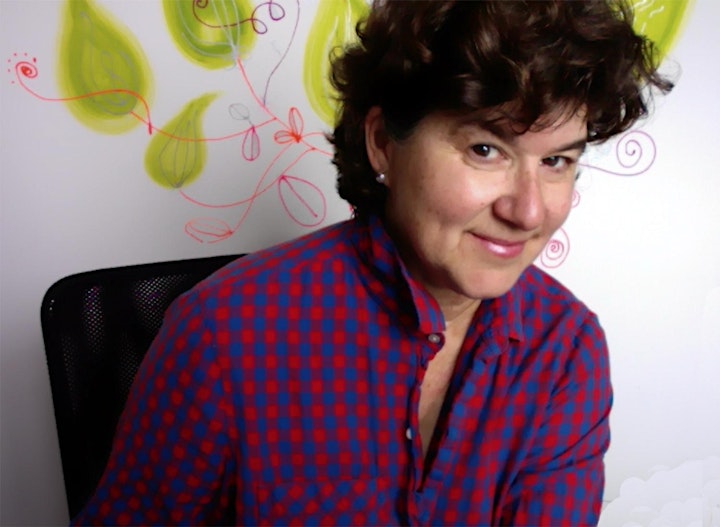 Deborah Withey
Deborah Withey, still in mid-career, received the International Society of News Design's (SND) highest honour, the Lifetime Achievement Award for her work in design, transmedia storytelling, illustration, mentoring and art direction in 2012. As well, she is the recipient of Ball State University's Majeri Award for Excellence and Innovation in Visual Journalism Education. She is an experienced and passionate creative director and lecturer with a demonstrated history of leading, working, and collaborating in the media and health care sector. Her inspirational design-thinking workshops bring out an individual's creativity, rejuvenation of spirit, and self-expression.
Debs has had the rare opportunity to work with both young and older individuals as an expressive arts practitioner for the Arts Council of Wales' Lead Creative Schools and in her role with Age Cymru as artist mentor with the cARTrefu programme of arts in care homes. Deborah works through the medium of art with people of all ages and learning differences and those with emotional and physical health challenges. She has particular experience working with individuals who are trauma-experienced, with aphasia and with forms of dementia. Together with Cheese + Pickles Studio for adults, she owns and runs Henry Hedgepodge Academy of Art for children aged 8 to 17, in The Green Shed in Haverfordwest, Pembrokeshire. Debs delivers her creative therapies sessions both online and face-to-face. She is a Samaritan Listener and mental health first-aider.
Website | https://cheeseandpickles.carbonmade.com/ | https://www.henryhedgepodge.com/
Twitter | @cheeseanpickles
LinkedIn | https://www.linkedin.com/in/deborah-withey/