Relax + Reflect with Colour II workshop with Deborah Withey
About this Event
Set your colour course for the new year!
If you attended the first R+R with Colour this is not a repeat of the workshop held in November 2, but a new exploration of colour use for your own self-care and for those you support.
This interactive workshop about colour and self-expression will discuss how colour can play a greater part in our daily lives and emotional health. Our workshop will be in two parts, the first will be a visual presentation with commentary to introduce the topic and get us inspired to create. We will look at how colour plays out in the history of art, design, fashion, and in our own bodies.
The second half will be working with colour pigments. No previous experience is necessary. Through the act of doing we will reflect upon how childhood memories, environment and experiences inform the choice of colours we use or may want to use in our own colour palette of life. I look forward to meeting you and creating with you!
What you will need for the second half of the workshop:
1. Paper or any paper strong enough to not fall apart when wet!
2. Paint of any kind (you only need yellow, blue and red) or an array of coloured markers.
It isn't necessary to buy expensive art supplies, (unless that is joyful for you!) it's the act of creating and the reflection behind the work that's most important.
This workshop will be hosted on the Zoom meeting platform where we will use our camera and microphones to interact with each other as a group.
To support practitioners in this time of extraordinary circumstances we are offering access to this group for a self-select fee.
The self-select fee is a radical inclusion policy to open learning for all colleagues. The guide price for this event is £20.00, however, we appreciate that income varies greatly in different locations and circumstances. Please contribute what you can to help us maintain inclusive professional training.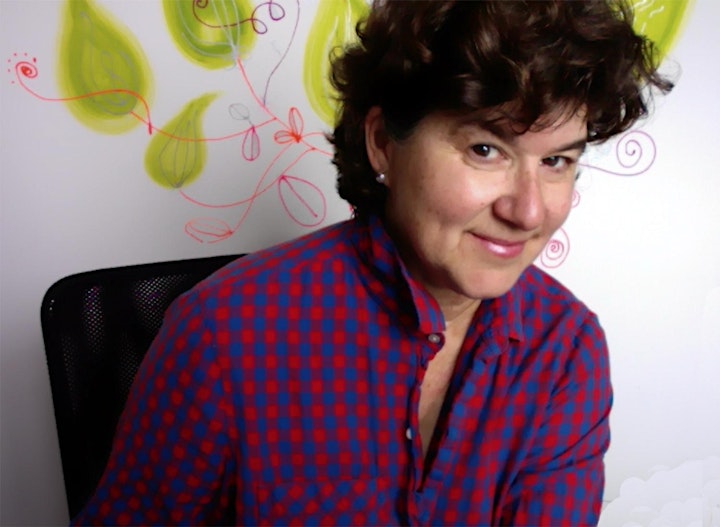 Deborah Withey
Deborah is an experienced and passionate creative director and lecturer with a demonstrated history of leading, working, and collaborating in both the media and mental health care sectors. Her inspirational, empathic, design-thinking workshops for clients and professionals bring out an individual's creativity, rejuvenation of spirit, and self-expression.
Still mid-career, Debs received the International Society of News Design's (SND) highest honour, the Lifetime Achievement Award for her work in publishing as a journalist, designer, transmedia storyteller, illustrator and mentor. As well, she is the recipient of Ball State University's (Indiana, USA) Majeri Award for Excellence and Innovation in Visual Journalism Education. Debs enjoys the wonderful opportunity to work as an expressive arts practitioner in both the USA and in the UK for the Arts Council of Wales' Lead Creative Schools, Age Cymru, as a former artist mentor with the cARTrefu programme of arts in care homes, and through referrals from many charities and councils.
Together with her Cheese + Pickles Studio for adults, she founded and runs Henry Hedgepodge Academy of Arts, in Pembrokeshire, Wales, leading sessions online and face-to-face in her public studio for individuals with learning differences and those with emotional and physical health challenges.
Debs is an associate member of the British Association of Art Therapists (BAAT) a Samaritan Listener, Cruse Bereavement volunteer and mental health first-aider.
Please say hello at https://www.henryhedgepodge.com or at ChoiceTherapies.co.uk
Website | https://cheeseandpickles.carbonmade.com/ | https://www.henryhedgepodge.com/
Twitter | @cheeseanpickles
LinkedIn | https://www.linkedin.com/in/deborah-withey/