Event Information
Refund Policy
Contact the organiser to request a refund.
Eventbrite's fee is nonrefundable.
About this Event
Join us and allow the Sound of the Gongs to open your heart to happiness, joy, and bliss.
Spiritual Healers and Accredited Gong Master Teachers B&J will create healing vibration to help enter your dreams, heal your heart's wounds and replace fear with faith and trust.
Fill in your heart with courage, strength, and confidence. Enhance your wisdom and creativity so you can clearly express yourself and glean insight, blessing, and healing.
Gongs are amazing instruments. They generate powerful, intense healing vibrations which, interspersed with the sound of Tibetan Singing Bowls, stimulate feelings of peace and relaxation. This allows the release of stress, pain, anxiety and enhances well-being.
The Sound of Gongs opens the gates of Love, so you can connect with all.The things you create around yourself and realize just how great a power you have to create your own happiness and well-being.
BENEFITS OF THE GONG BATH:
- deep relaxation
- inner peace
- body and cells rejuvenation
- anxiety and stress relief
- sleep improvement
- emotional release
- pain and swelling relieve
- well-being
- aura cleansing
- intuition awaking
- chakra balancing
- connection with light and spirit
- gaining a deeper knowledge of yourself and your unlimited possibilities
- boosting your intuition by increasing your spirituality
- healing that which aches the soul
BOOKING:
To reserve a space the ticket must be purchased first. The option to Pay on the Door with additional £5, will be possible if there are any free places available only.
Tickets are selling fast! Missed out on tickets to Relaxing Gong Bath by B&J check our website, please.
If you have any questions, contact Jarek directly: 07935 651585 or check www.ifeelgoodtherapy.com, or www.okidesoul.co.uk, please.
CANCELATION POLICY:
Tickets must be booked in advance through I Feel Good Therapy Clinic online. By purchasing a ticket you accept these Terms. Tickets cannot be exchanged or refunded unless the event is canceled by I Feel Good Therapy Clinic, but you are welcome to transfer your place to another person.
If the event is cancelled we will organise a transfer of funds to you between 14-21 days from the date of the event (without eventbrite's fee).
VENUE: should be at The Holistic Centre, but Due the virus his event was converted to ONLINE EVENT, you stay at comfort of your home till further notice
All information are on our website www.ifeelgoodtherapy.com or you can subscribe to our newsletter (email: info@ifeelgoodtherapy.com)
ONLINE EVENTS
Online events will be created on facebook instead of a planned live event. Each one will be set up separately, as a private group for a single gong bath as advertised. After the event the group will be disabled.
How can I join online event?
1/ Purchase a ticket of a regular event
2/ Send us an email on info@ifeelgoodtherapy.com
3/ When you receive a link from us, join private group on fb.
4/ Be ready a minimum of 10min before the event starts, make yourself comfortable. You may light a candle and use some nice relaxing aromatherapy.
5/ We will start promptly as advertised. After that we won't be able to accept your request to join the group.
What if I purchased the ticket for live event and I'm not interested in online event?
If you don't want to join online gong bath* you have to let us know one day before the event starts and you will be able to use your ticket until 5th June. In order to join future live gong bath you have to book your spot in advance with us via info@ifeelgoodtherapy.com, otherwise we may be fully booked.
I want to join online event but I'm not on fb
Unfortunately we can only do it via facebook platform. However, you can always create a temporary profile and send us your ticket to info@ifeelgoodtherapy.com. We will then send you a link, so you will be able join the group.
Is online gong bath working?
Yes, it is. On fb you can see a video of an experiment made by Gong Sound Meditation. Blood analysis after 10 min gong sound meditation via headphones. It shows huge difference in our blood cells under a microscope.
For any questions contact us on 07935651585, please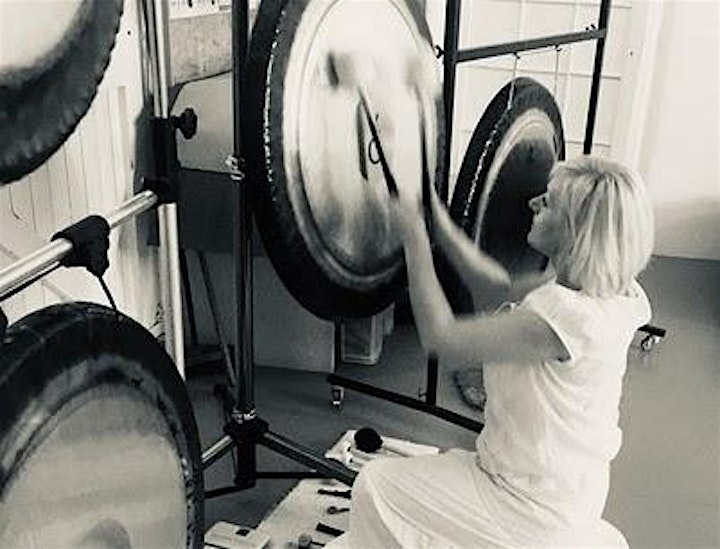 Date and Time
Refund Policy
Contact the organiser to request a refund.
Eventbrite's fee is nonrefundable.