Remedy 6th Year Anniversary
About this event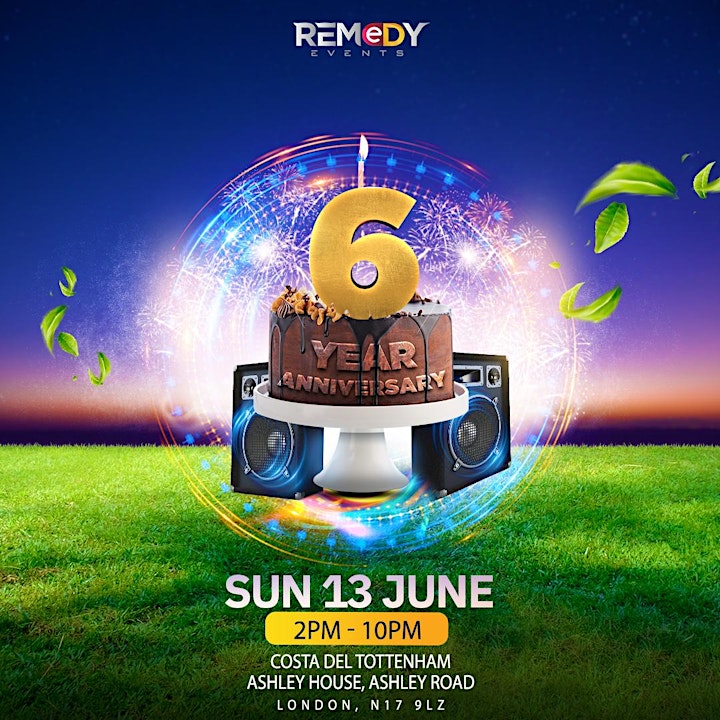 Our first event for 2021 and what better way than to celebrate our 6th Year Anniversary! Gather your fete crew and tell them to come and celebrate with us under the sun. The vibes and energy will be amazing!
- SUNDAY 13TH JUNE 2021
- COSTA DEL TOTTENHAM, ASHLEY HOUSE, ASHLEY ROAD, LONDON, N17 9LZ
- 2PM - 10PM (LAST ENTRY @ 5PM)
- MUSIC BY LONDONS TOP SOCA DJS
- BBQ FOOD ON SALE
- SUMMER SCORCHER DAY PARTY!
🎟️ TICKETS - WWW.REMEDYEVENTS.CO.UK
▬▬▬▬▬▬▬▬▬▬▬▬▬▬▬▬▬▬▬▬▬▬▬▬▬▬
DJ'S:
DJ Triple M
DJ Tate
Prince Vern
DJ Armani
DJ Nate
Deejay Dee
▬▬▬▬▬▬▬▬▬▬▬▬▬▬▬▬▬▬▬▬▬▬▬▬▬▬
This event is strictly 18+
Photo ID is required to gain entry
Only Government issued ID is accepted.
SOCIAL DISTANCING MEASURES APPLY. PLEASE WEAR A FACE COVERING UNLESS SEATED AT YOUR TABLE.
▬▬▬▬▬▬▬▬▬▬▬▬▬▬▬▬▬▬▬▬▬▬▬▬▬▬
Follow Remedy Events on Social Media:
Instagram: www.instagram.com/remedyevents
Twitter: www.twitter.com/remedyeventsuk
Facebook: www.facebook.com/remedyeventsuk
#RemedyEvents #TeamRemedy